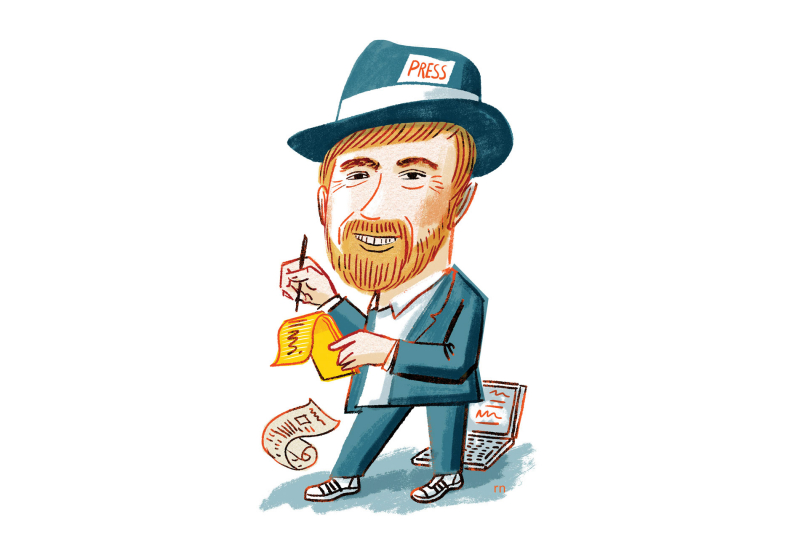 Deep Digging
Journalism flourishes in syrup country thanks to Paul Heintz '06.
Heintz is passionate about holding powerful Vermonters accountable. As the new editor-in-chief of VTDigger, a member-supported, nonprofit online news site founded in 2009, he focuses his reporters on deeper dives and investigative pieces. His publication has 25 news employees, nine business staffers, and about 650,000 unique readers each month. VTDigger also has a budget of roughly $3.5 million. "Paul has risen to a place where he is Vermont's preeminent newsperson right now," says Jim Welch, VTDigger's interim executive director.
"One thing that we've done, which I'm really proud of, is we have created partnerships with many community weekly newspapers around the state," Heintz says. "We allow those newspapers to print our stories for free." Heintz relishes working with people early in their careers who are eager to sharpen their journalistic chops. "I can tell that many will be stars in the field in no time."
A history major, Heintz worked as op-ed editor at The Dartmouth. Before joining VTDigger as managing editor in 2021, he spent nine years at Seven Days, a Vermont weekly, where his investigative story on the ease of buying an AR-15 rifle in a Vermont parking lot won him recognition as the New England Society of News Editors' Journalist of the Year in 2017. He's also reported on alleged abuse in the Vermont prison system. Heintz lives in Williston, Vermont, with his wife, their two sons, and a dog. 
"Journalism is a really challenging profession," he says. "It is low paying, there is very little job security, and it can be extraordinarily stressful. But it is also immensely rewarding and so much fun every day. There are few other jobs like it."