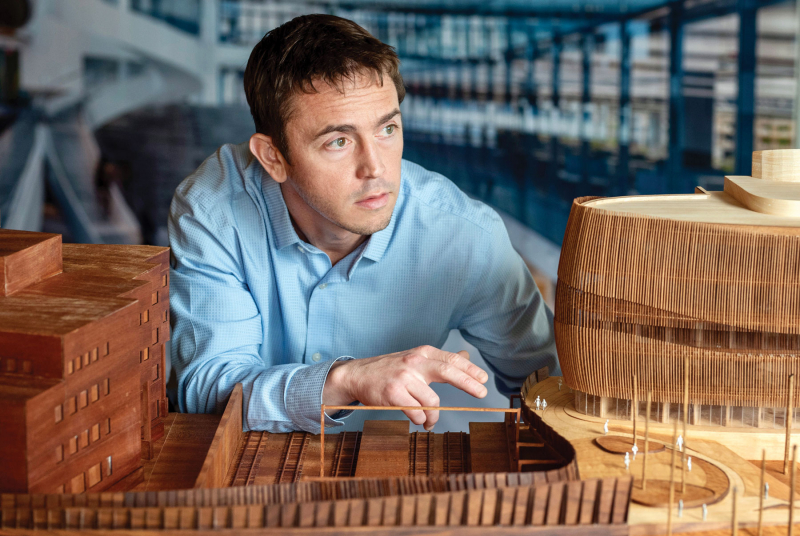 Building Bridges
Architect Parke MacDowell '07 takes a hands-on approach.
The American Institute of Architects honored MacDowell with its 2022 Young Architects Award. He has "demonstrated exceptional leadership and made significant contributions to the architecture profession," according to the institute. 
MacDowell was the project architect on an award-winning, 320-foot pedestrian bridge in Boston that crosses five rail lines and links Northeastern University's north and south campuses. Known as PedX, the dramatic undulating bridge consists of upright, weathered steel panels that overlap like fish scales but are angled to offer city views. It connects to the university's new interdisciplinary science and engineering complex, and a 180-foot walkway extends to a research center now under construction. The bridge's patina of rust is warm and earthy. "It's an aggressive piece of architecture," says MacDowell, a senior associate architect at Payette in Boston who majored in engineering and studio art.
MacDowell's understanding of construction processes helped him communicate architectural priorities to the building crews, according to Andrew Pramberger, construction project manager with Skanska, which built the bridge. "Parke was very collaborative and had a willingness to listen to our concerns," Pramberger says. "He understood the constraints that we saw, was willing to engage, and we could drive to a common goal. That direct relationship greatly helped the end product."
MacDowell—who lives in Boston's North End with his wife, also an architect, and their three daughters, ages 8, 5, and 2—is his firm's first fabrication manager. He leads teams that create models and mockups that translate architectural visions and design nuances into something concrete clients and builders can grasp. "There's something about 'making' that clarifies ideas and elevates the design process," MacDowell says. "Clear ideas enable decisions, and that's what moves projects forward." A collaborative approach also generates a sense of shared authorship. "The hallmark of a successful project," he adds, "is one where many different people can say, 'That's my project.' "