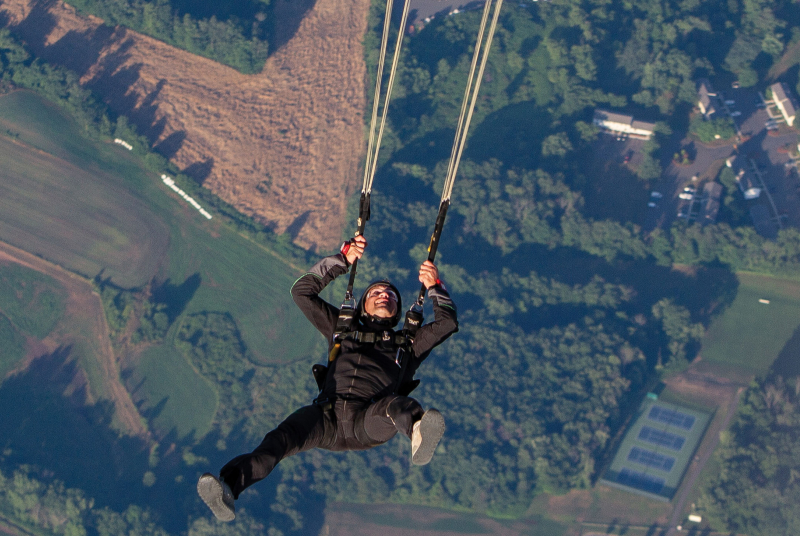 Parachute Power
Skydiving expert Tim Miller '03, Th'06 shares the joy of freefall.
When Miller began skydiving, he figured it would be dominated by macho, adrenaline-junkie daredevils. "It was quite the opposite—it's quite spiritual and transformational," he says. His friend, a Vietnam War veteran with severe post-traumatic stress syndrome, found that skydiving gave him the ability to calm the voices in his head and glean spiritual fulfillment. "Taking our lives in our own hands has a tremendously palliative effect," Miller explains. "Existence is a mortal condition, so we need to make the most of the time we have now—to relax and enjoy life." 
Miller, who first jumped out of an airplane in July 1999 and has jumped slightly more than 2,000 times since, has written a new handbook for skydiving students that the U.S. Parachute Association (USPA) plans to publish in January. Unlike the USPA's intimidating 238-page Skydiver's Information Manual 2023-2024, which is jam-packed with technical information and rules, Miller's handbook is more approachable and conversational in its coverage of the basics for beginners. 
"He had the perfect marriage of a writing background and working as a skydiving instructor and was able to meld that together," says Ron Bell, USPA's director of safety and training. "We're super happy with the product he came up with." The USPA is reworking its student program and online instruction based on Miller's book. 
"My inspiration for the manual was actually the old Boy Scout Handbook," says the author. "It was loaded with useful information and a workbook section in the back. There are a lot of things in skydiving you need to just practice." Miller, who plans to work as a skydiving instructor this summer, applies lessons he has learned teaching the sport to his career as a consultant who helps scientists use storytelling to communicate their research and ideas. For several years he was a visiting assistant professor of digital media and design with the University of Connecticut Science of Learning and the Art of Communication Center.