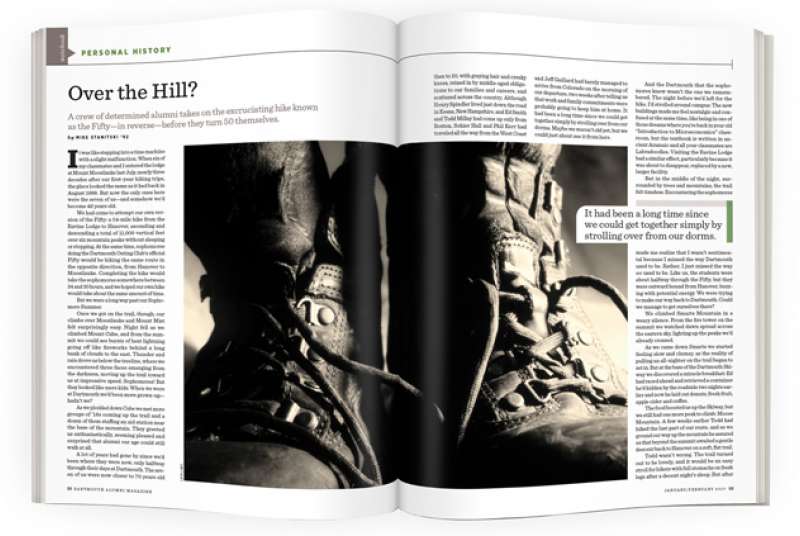 Over the Hill?
A crew of determined alumni takes on the excruciating hike known as the Fifty—in reverse—before they turn 50 themselves.
It was like stepping into a time machine with a slight malfunction. When six of my classmates and I entered the lodge at Mount Moosilauke last July, nearly three decades after our first-year hiking trips, the place looked the same as it had back in August 1988. But now the only ones here were the seven of us—and somehow we'd become 46 years old.
We had come to attempt our own version of the Fifty: a 54-mile hike from the Ravine Lodge to Hanover, ascending and descending a total of 11,000 vertical feet over six mountain peaks without sleeping or stopping. At the same time, sophomores doing the Dartmouth Outing Club's official Fifty would be hiking the same route in the opposite direction, from Hanover to Moosilauke. Completing the hike would take the sophomores somewhere between 24 and 30 hours, and we hoped our own hike would take about the same amount of time. 
But we were a long way past our Sophomore Summer.
Once we got on the trail, though, our climbs over Moosilauke and Mount Mist felt surprisingly easy. Night fell as we climbed Mount Cube, and from the summit we could see bursts of heat lightning going off like fireworks behind a long bank of clouds to the east. Thunder and rain drove us below the treeline, where we encountered three faces emerging from the darkness, moving up the trail toward us at impressive speed. Sophomores! But they looked like mere kids. When we were at Dartmouth we'd been more grown-up—hadn't we?
As we plodded down Cube we met more groups of '18s coming up the trail and a dozen of them staffing an aid station near the base of the mountain. They greeted us enthusiastically, seeming pleased and surprised that alumni our age could still walk at all.
A lot of years had gone by since we'd been where they were now, only halfway through their days at Dartmouth. The seven of us were now closer to 70 years old than to 20, with graying hair and creaky knees, reined in by middle-aged obligations to our families and careers, and scattered across the country. Although Henry Spindler lived just down the road in Keene, New Hampshire, and Ed Smith and Todd Millay had come up only from Boston, Sohier Hall and Phil Kerr had traveled all the way from the West Coast and Jeff Gaillard had barely managed to arrive from Colorado on the morning of our departure, two weeks after telling us that work and family commitments were probably going to keep him at home. It had been a long time since we could get together simply by strolling over from our dorms. Maybe we weren't old yet, but we could just about see it from here.
And the Dartmouth that the sophomores knew wasn't the one we remembered. The night before we'd left for the hike, I'd strolled around campus. The new buildings made me feel nostalgic and confused at the same time, like being in one of those dreams where you're back in your old "Introduction to Microeconomics" classroom, but the textbook is written in ancient Aramaic and all your classmates are Labradoodles. Visiting the Ravine Lodge had a similar effect, particularly because it was about to disappear, replaced by a new, larger facility.
But in the middle of the night, surrounded by trees and mountains, the trail felt timeless. Encountering the sophomores made me realize that I wasn't sentimental because I missed the way Dartmouth used to be. Rather, I just missed the way we used to be. Like us, the students were about halfway through the Fifty, but they were outward bound from Hanover, buzzing with potential energy. We were trying to make our way back to Dartmouth. Could we manage to get ourselves there?
We climbed Smarts Mountain in a weary silence. From the fire tower on the summit we watched dawn spread across the eastern sky, lighting up the peaks we'd already crossed. 
As we came down Smarts we started feeling slow and clumsy, as the reality of pulling an all-nighter on the trail began to set in. But at the base of the Dartmouth Skiway we discovered a miracle breakfast: Ed had raced ahead and retrieved a container he'd hidden by the roadside two nights earlier and now he laid out donuts, fresh fruit, apple cider and coffee.
The food boosted us up the Skiway, but we still had one more peak to climb: Moose Mountain. A few weeks earlier Todd had hiked the last part of our route, and as we ground our way up the mountain he assured us that beyond the summit awaited a gentle descent back to Hanover on a soft, flat trail.
Todd wasn't wrong. The trail turned out to be lovely, and it would be an easy stroll for hikers with full stomachs on fresh legs after a decent night's sleep. But after more than 24 sleepless hours covering 45 miles, we trudged through the last 10 miles as if on a forced march. With only three miles to go, we were hit by a violent microburst of a storm that blasted its way through Hanover on winds of 60 miles per hour, knocking out power and smashing trees through roofs. 
Fortunately, the only thing that fell on us was rain and hail, and after the storm blew past we were so close to the trailhead that we could hear people on the Dartmouth soccer field through the trees.
By now, though, every step hurt. During the first 30 miles of the hike I'd thought we should do it every year. For the next 20 miles I'd scaled back that plan to maybe doing another Fifty in 10 years or so. Now I found myself vowing never again to set foot off pavement. Then the trail turned right and we staggered onto the soccer field, dazed but done. Back at the Hanover Inn we discovered that the storm had knocked down two trees on the Green. Forget changing since we were students—Dartmouth wasn't even the same as we'd left it the day before.
In 26 years the sophomores we passed on the trail will be as old as we are now. They'll be lamenting changes to the College as they knew it, the same way alumni have been doing since Eleazar Wheelock added a second room to his log cabin. They'll reminisce about long-gone places they once knew, such as the old Ravine Lodge, by then just a distant memory. And we'll be 72 years old.
But I don't suppose the trail will have changed much. We'd better start training.  
Mike Stanitski lives in Port Chester, New York, and teaches English at Rye Country Day School.