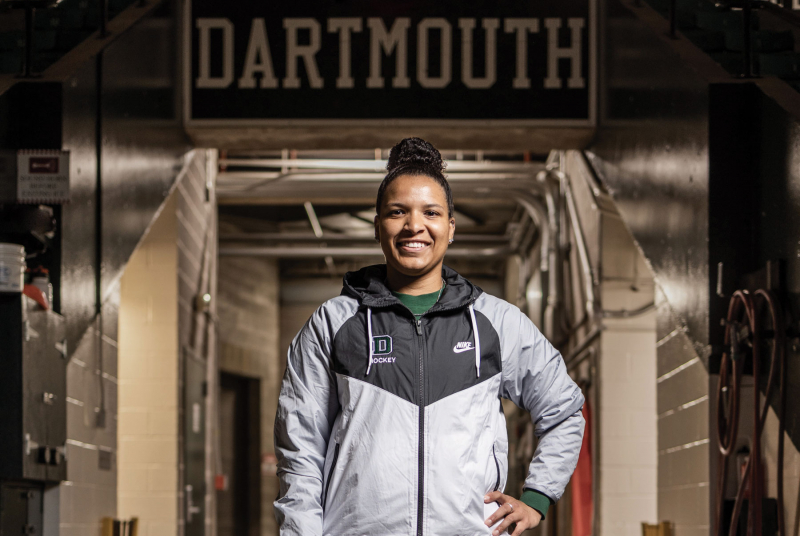 Skaters' Edge
A new assistant women's hockey coach brings her pioneering experience to the rink.
Listen to the audio version of this story:
Nina Rodgers was looking for a job reference last year when she called a former assistant coach from her playing days at Boston University. Unbeknownst to Rodgers, Liz Keady Norton was on the verge of leaving BU to become the head women's hockey coach at Dartmouth.
"I said I'd love to be a reference," replied Keady Norton, who was hired in May, "but what about working for me at Dartmouth?"
Rodgers accepted Keady Norton's offer. "I'd go anywhere to learn from Liz," she says.
With her hire as a Dartmouth assistant coach, Rodgers is believed to be the first Black woman to coach an NCAA Division I women's hockey program. It's her first full-time coaching job after spending most of her life in uniform. She began thinking about coaching during college, when she'd return home to Minnetonka, Minnesota, each summer and work with her former travel team, OS Hockey.  
"When I graduated and went back, I became more than a puck pusher, more of a coach," she says. "That's when it kind of became real."
Coaching teen girls on youth teams in hockey-crazed Minnesota is real. For Rodgers, coaching women in the Ivy League is unbelievable. She's all in with the attempt to restore Dartmouth's former glory. The Big Green program started in 1978—six years after women were first admitted—and ascended to hockey royalty in the early 2000s. Dartmouth reached four of the first five women's "Frozen Four" tournaments and captured three ECAC titles. 
The last winning record came in 2012-13, but the team improved to 9-19-1 last season, Keady Norton's first behind the bench. As a coach, Rodgers, 25, exhibited some of her best attributes: passion, energy, and hard work. "I love Nina," forward Lauren Messier '25 says. "She's one of the best skill coaches I've ever had, no question."
"She's a good coach and role model who teaches us how to accept constructive criticism and apply it," forward Currie Putrah '23 says. "We can connect with her in the sense she was a player and knows what we go through."
That work began around age 5, when Rodgers started playing because her older sister played. But Rodgers never stopped. She eventually quit all the other sports she played: basketball, soccer, softball, flag football, and lacrosse. "Hockey is the sport I fell in love with and the one I was going to keep playing," she says.
Besides playing on University of Minnesota teams that won Frozen Four championships in 2015 and 2016 before she transferred to Boston University, Rodgers won two silver medals with Team USA at the U-18 World Championships. She also skated in the National Women's Hockey League for three seasons.
Rodgers has stood out at every level, and not just due to her ability. 
"I've always been looked at differently as a woman of color in hockey," she says. "I'm not tired of it because I'm very honored to be a pioneer, but I get frustrated that it's me sometimes. I don't think I'm necessarily the best person to talk about pushing the game to be more inclusive and more welcoming, but here I am, doing my best to speak on my truth and my experience."
Her boss has no doubt that Rodgers has what it takes. "I don't think there's a better person out there for the job," says Keady Norton. "I actually believe she will change the game. She'll inspire many more people than we'll ever know."
Rodgers accepts the assignment and responsibility. "I want to be a catalyst for change," she says. "I understand that I can be an inspiration for little girls of color—and all little girls—to show that we're valued and have a place in the game."                     
Deron Snyder is an award-winning journalist. He lives in Washington, D.C.