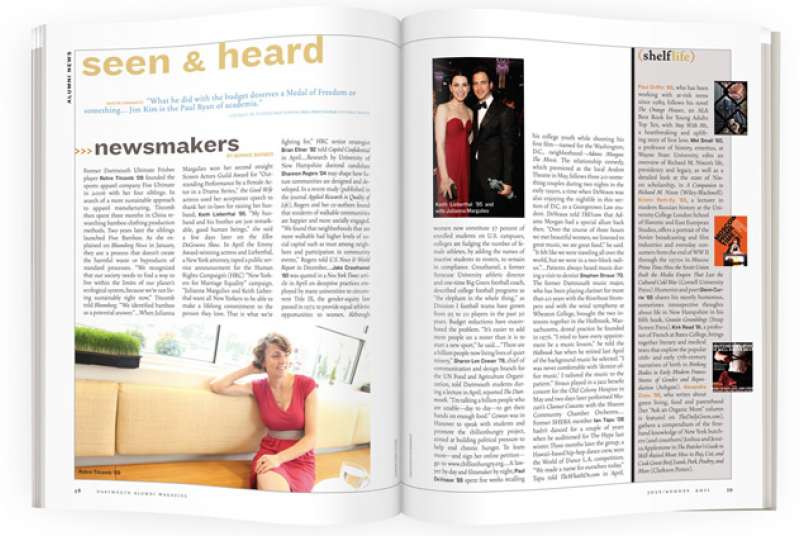 Newsmakers
Alumni making headlines around the world
Former Dartmouth Ultimate Frisbee player Rohre Titcomb '09 founded the sports apparel company Five Ultimate in 2006 with her four siblings. In search of a more sustainable approach to apparel manufacturing, Titcomb then spent three months in China researching bamboo clothing production methods. Two years later the siblings launched Five Bamboo. As she explained on Bloomberg News in January, they use a process that doesn't create the harmful waste or byproducts of standard processes. "We recognized that our society needs to find a way to live within the limits of our planet's ecological system, because we're not living sustainably right now," Titcomb told Bloomberg. "We identified bamboo as a potential answer."
When Julianna Margulies won her second straight Screen Actors Guild Award for "Outstanding Performance by a Female Actor in a Drama Series," the Good Wife actress used her acceptance speech to thank her in-laws for raising her husband, Keith Lieberthal '95. "My husband and his brother are just remarkable, good human beings," she said a few days later on the Ellen DeGeneres Show. In April the Emmy Award-winning actress and Lieberthal, a New York attorney, taped a public service announcement for the Human Rights Campaign's (HRC) "New Yorkers for Marriage Equality" campaign. "Julianna Margulies and Keith Lieberthal want all New Yorkers to be able to make a lifelong commitment to the person they love. That is what we're fighting for," HRC senior strategist Brian Ellner '92 told Capitol Confidential in April.
Research by University of New Hampshire doctoral candidate Shannon Rogers '04 may shape how future communities are designed and developed. In a recent study (published in the journal Applied Research in Quality of Life), Rogers and her co-authors found that residents of walkable communities are happier and more socially engaged. "We found that neighborhoods that are more walkable had higher levels of social capital such as trust among neighbors and participation in community events," Rogers told U.S. News & World Report in December.
Jake Crouthamel '60 was quoted in a New York Times article in April on deceptive practices employed by many universities to circumvent Title IX, the gender-equity law passed in 1972 to provide equal athletic opportunities to women. Although women now constitute 57 percent of enrolled students on U.S. campuses, colleges are fudging the number of female athletes, by adding the names of inactive students to rosters, to remain in compliance. Crouthamel, a former Syracuse University athletic director and one-time Big Green football coach, described college football programs as "the elephant in the whole thing," as Division I football teams have grown from 95 to 111 players in the past 30 years. Budget reductions have exacerbated the problem. "It's easier to add more people on a roster than it is to start a new sport," he said.
"There are a billion people now living lives of quiet misery," Sharon Lee Cowan '78, chief of communication and design branch for the UN Food and Agriculture Organization, told Dartmouth students during a lecture in April, reported The Dartmouth. "I'm talking a billion people who are unable—day to day—to get their hands on enough food." Cowan was in Hanover to speak with students and promote the 1billionhungry project, aimed at building political pressure to help end chronic hunger. To learn more—and sign her online petition—go to www.1billionhungry.org.
A lawyer by day and filmmaker by night, Paul DeVeaux '88 spent five weeks recalling his college youth while shooting his first film—named for the Washington, D.C., neighborhood—Adams Morgan: The Movie. The relationship comedy, which premiered at the local Avalon Theatre in May, follows three 20-something couples during two nights in the early 1990s, a time when DeVeaux was also enjoying the nightlife in this section of D.C. as a Georgetown Law student. DeVeaux told TBD.com that Adams Morgan had a special allure back then. "Over the course of three hours we met beautiful women, we listened to great music, we ate great food," he said. "It felt like we were traveling all over the world, but we were in a two-block radius."
Patients always heard music during a visit to dentist Stephen Straus '70. The former Dartmouth music major, who has been playing clarinet for more than 20 years with the Riverboat Stompers and with the wind symphony at Wheaton College, brought the two interests together in the Holbrook, Massachusetts, dental practice he founded in 1976. "I tried to have every appointment be a music lesson," he told the Holbrook Sun when he retired last April of the background music he selected. "I was never comfortable with 'dentist office music.' I tailored the music to the patient." Straus played in a jazz benefit concert for the Old Colony Hospice in May and two days later performed Mozart's Clarinet Concerto with the Sharon Community Chamber Orchestra.
Former SHEBA member Ian Tapu '08 hadn't danced for a couple of years when he auditioned for The Hype last winter. Three months later the group, a Hawaii-based hip-hop dance crew, won the World of Dance L.A. competition. "We made a name for ourselves today," Tapu told TheWhatItDo.com in April. "It's going to show everybody that Hawaii has talent."
Nicolas Brown '90 produced and directed Arctic: Life in the Deep Freeze, which in May earned seven British Academy of Film and Television Arts Craft Television Award nominations, winning two for factual editing and photography. Described by BBC News as "a landmark natural history series," Arctic was part of the BBC's Human Planet series and was jointly produced by the Discovery Channel and the BBC.
Dr. John Chittick '70, executive director of TeenAIDS-PeerCorps, and Samantha Monkman '10, the nonprofit's assistant director, traveled to Haiti and the Dominican Republic for three weeks in May to educate teens against the spread of HIV/AIDS. Fifty percent of new HIV cases globally occur in youth aged 12 to 24, and three-quarters of all new HIV/AIDS transmissions in the Caribbean occur in the Dominican Republic and Haiti, Chittick told the dailypress.com. "It is sad to see so much HIV among innocent teens who do not receive medically accurate prevention in school or in the media," he said. "We are bringing innovative street techniques to these hard-hit countries in our hemisphere." Chittick and his team pass out cards with relevant prevention information—in Creole French and Spanish—during what he calls "AIDS Attacks" on the streets and wherever else teens gather.
The Infamous Stringdusters' Chris Pandolfi '01 was the first Berklee College of Music student to play the banjo as his "principal instrument." Now hot off a 2011 Grammy nomination for "Magic #9" (in the "Best Country Instrumental Performance" category), a song he co-wrote, Pandolfi will be playing a full schedule of summer festivals with the Infamous Stringdusters (www.thestringdusters.com). "They are indeed as good as I had heard and are worthy of mention among the top bluegrass bands on the scene," raved MusicMarauders.com after a Denver concert in March.
"He does terrible things to his characters," David Benioff '92 told the Kansas City Star in April. He was referring to George R.R. Martin, author of the series A Song of Fire and Ice. As an executive producer and writer, Benioff adapted the first book in Martin's series, Game of Thrones, which premiered on HBO in April. "The books are crack on paper," Benioff said. "You become terrified for the characters. You become so attached to them that you want to find out what happens next. At the same time you're very nervous about what's going to happen to them—and with good reason."
In celebration of Peace Corps Month in March, Lauren Moser '08 participated in the 150-mile Dead2Red run, the 14th annual fundraising race from the Dead Sea to the Red Sea in Jordan, according to the Idaho Statesman. Moser teamed with nine fellow Jordan-based Peace Corps volunteers to raise $1 per kilometer run for Peace Corps projects. The Boise, Idaho, native and her team finished in 18 hours and 34 minutes and placed 18th out of 40 teams.
Chris Meledandri '81 is again bringing one of Dartmouth's most famous alums, Theodor Seuss Geisel '25, to the big screen. He produced the animated film of Dr. Seuss' Horton Hears a Who! in 2008 and is now working on The Lorax for a 2012 release through his Illumination Entertainment production company. "My initial interest in Dr. Seuss really sprang from my home exposure as a child and then as a parent," Meledandri told The Dartmouth in May. "However, when I discovered the Dartmouth connection and I started to dig into it really deeply, I was fascinated."
Richard Babcock '69 stepped down on April 15 after 20 years as editor of Chicago magazine. A former lawyer who helped launch the National Law Journal, Babcock also worked for New York magazine and has written two novels. He also guided Chicago to win a 2004 National Magazine Award for general excellence, the American Society of Magazine Editors' highest honor. "In all the hurly-burly of life and work, our sole focus here has been to create outstanding journalism," he told The Chicago Tribune. Babcock, a former DAM advisory board member, added:"The story in all its dimensions is everything, more important than any of us individually. That's what accounts for our success and—speaking for me, anyway—the good times."
It was a busy spring for new mother Rachel Dratch '88, whose son Eli was born last August. She was a guest star on the 100th episode of NBC's 30 Rock in April, is writing a book about her unexpected pregnancy at age 43, performed for two weeks in Miami in Celebrity Autobiography (a theatrical reading of celebrity memoirs) and appeared twice on Late Night with Jimmy Fallon in a Jersey Shore spoof called the Jersey Floor. "I've been dressed as Snooki during this whole conversation," Dratch said in an interview with Miami.com. She also revealed she isn't a fan of the MTV show—or the cast's six-figure salaries. "After you did your time to get [to the top] and these people are raking it in," she said, "that hurts!"
Buck Henry '52 also appeared recently on 30 Rock, reprising his role as the father of Liz Lemon (Tina Fey) last fall. And this summer, as noted by the Hollywood-based Canyon News, Henry will be one of the many high-profile guest stars on TV Land's Hot in Cleveland. He'll play Betty White's boyfriend on the popular cable television sitcom when its new season debuts in mid-June.
"We go through our routines in life and we're very myopic," artist Karyn Olivier '89 told the Salina, Kansas, Journal in May. "How do I make people take a second glance?" The Temple University assistant sculpture professor has prompted doubletakes with such pieces as a 40-foot-long seesaw and two playground slides that face each other to create a "collision." The award-winning artist—who utilizes video, ceramics and photography in her work—brought her unexpected perspective to the Salina Art Center as an artist-in-residence.
As a 5-foot-6-inch, 165- pound running back for the Big Green, Arthur Hoover '62 joked that he didn't make much of an impact on the field. The lawyer has made a huge impact, however, on youth sports during the 40-plus years he has lived in Rochester, New Hampshire. In May he was inducted into the city's Sports Hall of Fame. Hoover was recognized for being a dedicated youth coach—in football, baseball and hockey—as well as for the role he played in bringing to fruition the Rochester Ice Arena and Roger Allen Park, a huge youth sports complex on the city's north side. "I don't want this to sound too corny, but the most precious commodity we have is children," Hoover told Foster's Daily Democrat. "Giving them the opportunity to play sports is invaluable."
Waterville (Maine) Public Library director Sarah A. Sugden '96 was honored with the Mid-Maine Chamber of Commerce Rising Star Award in March, in part for her efforts in a $3.1-million renovation and expansion campaign for the library. She also volunteers for Waterville Main Street, KV Connect, Waterville Arts Council and Greater Waterville Communities for Children and Youth Coalition. "Sarah is the real deal," Chris Gaunce of Central Maine Motors told the Morning Sentinel in March. "Her forward thinking combined with her ability to communicate effectively about positive change make her a real asset to the region."