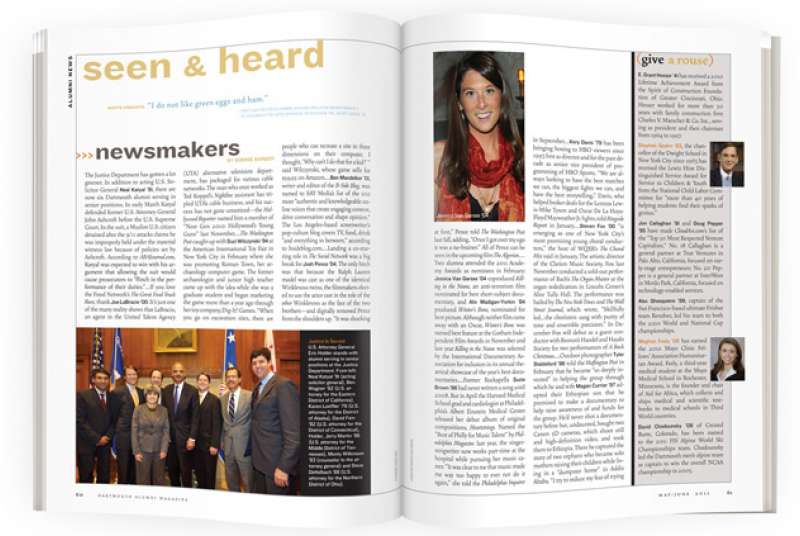 Newsmakers
Alumni making headlines around the world
The Justice Department has gotten a lot greener. In addition to acting U.S. Solicitor General Neal Katyal '91, there are now six Dartmouth alumni serving in senior positions. In early March Katyal defended former U.S. Attorney General John Ashcroft before the U.S. Supreme Court. In the suit, a Muslim U.S. citizen detained after the 9/11 attacks claims he was improperly held under the material witness law because of policies set by Ashcroft. According to ABAJournal.com, Katyal was expected to win with his argument that allowing the suit would cause prosecutors to "flinch in the performance of their duties."
If you love the Food Network's The Great Food Truck Race, thank Joe LaBracio '00. It's just one of the many reality shows that LaBracio, an agent in the United Talent Agency (UTA) alternative television department, has packaged for various cable networks. The man who once worked as Ted Koppel's Nightline assistant has tripled UTA's cable business, and his success has not gone unnoticed—Hollywood Reporter named him a member of "Next Gen 2010: Hollywood's Young Guns" last November.
The Washington Post caught up with Suzi Wilczynski '94 at the American International Toy Fair in New York City in February where she was promoting Roman Town, her archaeology computer game. The former archaeologist and junior high teacher came up with the idea while she was a graduate student and began marketing the game more than a year ago through her toy company, Dig-It! Games. "When you go on excavation sites, there are people who can recreate a site in three dimensions on their computer. I thought, 'Why can't I do that for a kid?' " said Wilczynski, whose game sells for $39.95 on Amazon.
Ben Mandelker '01, writer and editor of the B-Side Blog, was named to SAY Media's list of the 100 most "authentic and knowledgeable online voices that create engaging content, drive conversation and shape opinion." The Los Angeles-based screenwriter's pop-culture blog covers TV, food, drink "and everything in between," according to bsideblog.com.
Landing a co-starring role in The Social Network was a big break for Josh Pence '04. The only hitch was that because the Ralph Lauren model was cast as one of the identical Winklevoss twins, the filmmakers elected to use the actor cast in the role of the other Winklevoss as the face of the two brothers—and digitally removed Pence from the shoulders up. "It was shocking at first," Pence told The Washington Post last fall, adding, "Once I got over my ego it was a no-brainer." All of Pence can be seen in the upcoming film The Algerian.
Two alumna attended the 2011 Academy Awards as nominees in February: Jessica Van Garsse '04 coproduced Killing in the Name, an anti-terrorism film nominated for best short-subject documentary, and Alix Madigan-Yorkin '84 produced Winter's Bone, nominated for best picture. Although neither film came away with an Oscar, Winter's Bone was named best feature at the Gotham Independent Film Awards in November and last year Killing in the Name was selected by the International Documentary Association for inclusion in its annual theatrical showcase of the year's best documentaries.
Former Rockapella Suzie Brown '96 had never written a song until 2008. But in April the Harvard Medical School grad and cardiologist at Philadelphia's Albert Einstein Medical Center released her debut album of original compositions, Heartstrings. Named the "Best of Philly for Music Talent" by Philadelphia Magazine last year, the singer-songwriter now works part-time at the hospital while pursuing her music career. "It was clear to me that music made me way too happy to ever not do it again," she told the Philadelphia Inquirer in September...
Kery Davis '79has been bringing boxing to HBO viewers since 1997, first as director and for the past decade as senior vice president of programming of HBO Sports. "We are always looking to have the best matches we can, the biggest fights we can, and have the best storytelling," Davis, who helped broker deals for the Lennox Lewis-Mike Tyson and Oscar De La Hoya-Floyd Mayweather Jr. fights, told Ringside Report in January.
Steven Fox '00 "is emerging as one of New York City's most promising young choral conductors," the host of WQXR's The Choral Mix said in January. The artistic director of the Clarion Music Society, Fox last November conducted a sold-out performance of Bach's The Organ Master at the organ rededication in Lincoln Center's Alice Tully Hall. The performance was hailed by The New York Times and The Wall Street Journal, which wrote, "Skillfully led…the choristers sang with purity of tone and ensemble precision." In December Fox will debut as a guest conductor with Boston's Handel and Haydn Society for two performances of A Bach Christmas.
Outdoor photographer Tyler Stableford '96 told the Huffington Post in February that he became "so deeply invested" in helping the group through which he and wife Megan Currier '97 adopted their Ethiopian son that he promised to make a documentary to help raise awareness of and funds for the group. He'd never shot a documentary before but, undaunted, bought two Canon 5D cameras, which shoot still and high-definition video, and took them to Ethiopia. There he captured the story of two orphans who became solo mothers raising their children while living in a "dumpster home" in Addis Ababa. "I try to reduce my fear of trying new things, of holding myself back," said Stableford, who went on to film another documentary called The Fall Line last year about the efforts of an Iraq War veteran to qualify for the U.S. Paralympics ski team. The Huffington Post article (http://huff.to/gZIiqK) contains Stableford photos and related links.
The New York Times called Thatcher Wine '94 a "library artist" in an article last January. The one-time Internet entrepreneur who now runs Juniper Books from a Boulder, Colorado, warehouse, says he creates "book solutions" for designers and decorators. He spent a year collecting 2,000 white vellum and cream-colored leatherbound books for a gentleman's library, and he once stylishly wrapped thousands of books to match the décor of a Miami spa. "Thatcher is a necessity at this point in these large homes. I couldn't pull off filling these miles of bookshelves without him," designer Jenny Fischbach said of Wine, whose work runs from $80 to $350 a foot, depending on the books.
After photographing the 11th United Nations conference on climate change in 2005 for his book When It Changed, Joel Sternfeld '65 concluded rampant consumerism played a large role in global warming and vowed to make it the subject of his next book. The result is iDubai. The country "was a perfect symbolic site for a consuming world," Sternfeld told the February issue of Smithsonian. "You have one megamall right next to another megamall." Shot entirely with an iPhone, the ultimate consumer product, Sternfeld has "emphasized that iDubai is a criticism of globalized, and not Arab, consumerism; what he hopes for is a greater appreciation of what he sees as our shaky future," according to Smithsonian.
For two years Sarah Weiner '02 worked as a "Girl Friday" to Alice Waters, the doyenne of the sustainable food movement. Now she is director of the Good Food Awards, given for the first time last January to 71 products that demonstrated high standards in taste and sustainability. Weiner told the LettuceEatKale.com food blog that the awards offered a chance for food producers to showcase their wares and hard work, such as the jam-making Ohio couple who hand-picked bugs off their raspberry crops.
Jim Collins '84 wrote about the reconstruction of Dartmouth's Titcomb Cabin for the March issue of Popular Mechanics. The 57-year-old log cabin on the Connecticut River's Gilman Island in Hanover, which had burned to the ground in the spring of 2009, was rebuilt starting last summer under the direction of engineering student Greg Sokol '10. Sokol chose five Ledyard Canoe Club members to assist him from more than 100 volunteers. "We were all going to be learning how to build a cabin as we went along," Sokol said. "What I wanted were people who were invested in the idea of building something beautiful and long-lasting."
The Philadelphia Challenge Cup, better known as the Gold Cup, was to rowing what the America's Cup is to yachting and the Davis Cup is to tennis. This single-scull race started in 1920, but the competition ceased in 1966, as the Philadelphia Inquirer reported last December. Former Dartmouth heavyweight rower Bill McNabb '79is part of a group that has revived the race, which resumes this May in Philadelphia. "I get a little emotional every time I see this cup," said McNabb of the trophy, which had disappeared and was found in a Philadelphia antiques shop in 1996…
Harlan Kent '85, president and CEO of the Yankee Candle Co., was profiled in The New York Times' feature, "The Boss," in December. The onetime Bain & Co. consultant and Totes-Isotoner executive has worked at the Massachusetts-based candle company since 2005. "Candles are evocative," he said. "They're an emotional product."