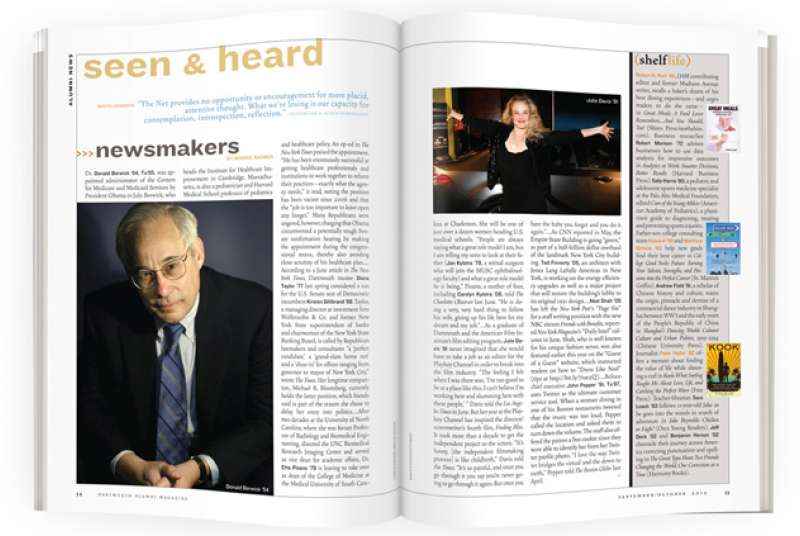 Newsmakers
Alumni making headlines around the world
According to a June article in The New York Times, Dartmouth trustee Diana Taylor '77 last spring considered a run for the U.S. Senate seat of Democratic incumbent Kirsten Gillibrand '88. Taylor, a managing director at investment firm Wolfensohn & Co. and former New York State superintendent of banks and chairwoman of the New York State Banking Board, is called by Republican lawmakers and consultants "a 'perfect candidate,' a 'grand-slam home run' and a 'shoo-in' for offices ranging from governor to mayor of New York City," wrote The Times. Her longtime companion, Michael R. Bloomberg, currently holds the latter position, which friends said is part of the reason she chose to delay her entry into politics.
After two decades at the University of North Carolina, where she was Kenan Professor of Radiology and Biomedical Engineering, directed the UNC Biomedical Research Imaging Center and served as vice dean for academic affairs, Dr. Etta Pisano '79 is leaving to take over as dean of the College of Medicine at the Medical University of South Carolina at Charleston. She will be one of just over a dozen women heading U.S. medical schools. "People are always saying what a great role model I am, but I am telling my sons to look at their father (Jan Kylstra '79, a retinal surgeon who will join the MUSC ophthalmology faculty) and what a great role model he is being," Pisano, a mother of four, including Carolyn Kylstra '08, told The Charlotte Observer last June. "He is doing a very, very hard thing to follow his wife, giving up his life here for my dream and my job."
As a graduate of Dartmouth and the American Film Institute's film editing program,Julie Davis '91never imagined that she would have to take a job as an editor for the Playboy Channel in order to break into the film industry. "The feeling I felt when I was there was, 'I'm too good to be at a place like this. I can't believe I'm working here and slumming here with these people,' " Davis told the Los Angeles Times in June. But her year at the Playboy Channel has inspired the director/screenwriter's fourth film, Finding Bliss. It took more than a decade to get the independent project to the screen. "It's funny, [the independent filmmaking process] is like childbirth," Davis told the Times. "It's so painful, and once you go through it you say you're never going to go through it again. But once you have the baby you forget and you do it again."
As CNN reported in May, the Empire State Building is going "green," as part of a half-billion dollar overhaul of the landmark New York City building. Ted Finnerty '05, an architect with Jones Lang LaSalle Americas in New York, is working on the energy efficiency upgrades as well as a major project that will restore the building's lobby to its original 1931 design.
Neel Shah '05 has left the New York Post's "Page Six" for a staff writing position with the new NBC sitcom Friends with Benefits, reported New York Magazine's "Daily Intel" column in June. Shah, who is well known for his unique fashion sense, was also featured earlier this year on the "Guest of a Guest" website, which instructed readers on how to "Dress Like Neel."
Boloco chief executive John Pepper '91, Tu'97, uses Twitter as the ultimate customer service tool. When a woman dining in one of his Boston restaurants tweeted that the music was too loud, Pepper called the location and asked them to turn down the volume. The staff also offered the patron a free cookie since they were able to identify her from her Twitter profile photo. "I love the way Twitter bridges the virtual and the down to earth," Pepper told The Boston Globe last April.