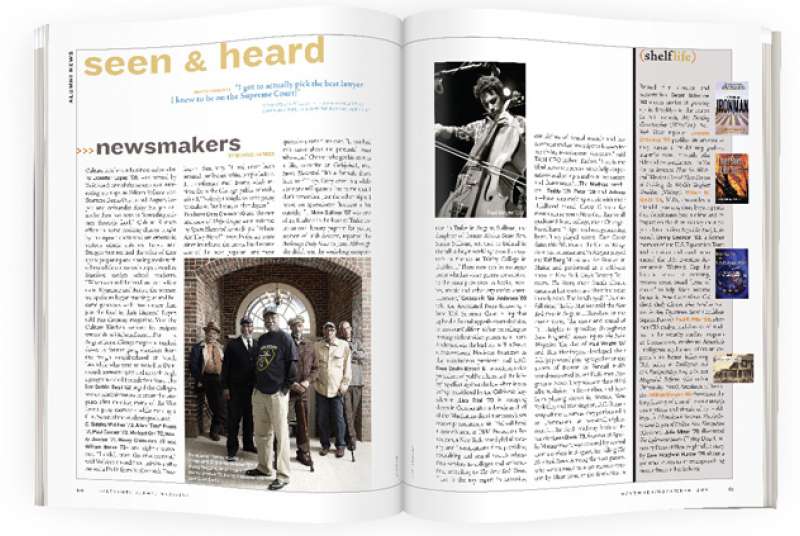 Newsmakers
Alumni making headlines around the world
Culture Kitchen, a business cofounded by Jennifer Lopez '08, was named by TechCrunch one of the seven most interesting startups at Silicon Valley's 500 Startups Demo Day in mid-August. Lopez and cofounder Abby Sturges describe their business as "spreading culture through food." Culture Kitchen offers in-home cooking classes taught by immigrant chefs who are experts in various ethnic cuisines. Lopez and Sturges first realized the value of time spent preparing and sharing meals with others while on research trips abroad as Stanford design school students. "When we tried the food laid out before us in Myanmar and Kenya, the women we spoke to began trusting us and became generous with much more than just the food in their kitchen," Lopez told Fast Company magazine. Visit the Culture Kitchen website for recipes.
For its August issue, Chicago magazine tracked down 15 former gang members from the tough neighborhood of North Lawndale who were admitted to Dartmouth between 1967 and 1973 through a program called Foundation Years. The late DeWitt Beall '62 urged the College's senior administrators to create the program after meeting many of the Vice Lords gang members while making a film. Seven of the students graduated—C. Siddha Webber '73, Allan "Tiny" Evans '71, Paul Cooper '73, Michael Orr '72, Henry Jordan '71, Henry Crumpton '73 and William Burks '73—and eight dropped out. "I didn't trust the environment," said Webber, an ordained minister who earned a Ph.D. from McCormick Theological Seminary. "I had never been around intellectual white people before. It transformed me." Evans, who's retired from the Chicago public schools, added, "Nobody thought we were going to make it. But I wanted that degree."
Producer Chris Chesser '70 and the cast and crew of Major League were revisited by Sports Illustrated for its July 4 "Where Are They Now?" issue. In the 22 years since its release, the movie has become one of the most popular—and most quoted—sports films ever. "It touched this nerve about the perennial loser who wins," Chesser, who got his start as a film executive on Caddyshack, told Sports Illustrated. "It's a formula that's hard to f*** up. Every once in a while someone will quote a line to me that I don't remember. Just the other night I heard on SportsCenter: 'Juuuust a bit outside.' "
Moira Sullivan '07 was one of 24 finalists in the Rose of Tralee international beauty pageant for young women of Irish descent, reported the Anchorage Daily News in June. Although she didn't win the week-long competition in Tralee in August, Sullivan, the daughter of former Alaska State Sen. Susan Sullivan, returned to Ireland in the fall to begin working toward a master's in finance at Trinity College in Dublin.
"There now can be no argument whether video games are entitled to the same protection as books, movies, music and other expressive entertainment," Crossan R. "Bo" Andersen '66 told the Associated Press following a June U.S. Supreme Court ruling that upheld a federal appeals court decision to toss out California's ban on selling or renting violent video games to minors. Andersen was the lead plaintiff in Brown v. Entertainment Merchants Association as the association's president and CEO. Sean Devlin Bersell '81, association vice president of public affairs, led the lobbying effort against the law when it was being considered by the California legislature.
Lisa Friel '79 is stepping down in October after a decade as chief of the Manhattan district attorney's sex crimes prosecution unit. Friel will head a new division at T&M Protection Resources, a New York-based global security and investigations firm, providing consulting and sexual assault education services to colleges and universities, according to The New York Times. "Lisa is the top expert in assessing complaints of sexual assault and harassment and an investigator known for her ability to solve complex cases," said T&M CEO Robert Tucker. "Lisa is the ideal person to run a unit to help corporations and colleges and summer camps and fraternities."
The Mathias brothers—Teddy '09, Peter '09 and Johnny '11—have been making music with their childhood friend Casey Gibson for more than 10 years. Now that they've all graduated from college, their Chicago-based band Filligar has been generating buzz. They played several East Coast dates this fall, toured the United Kingdom last summer and in August played the KahBang Music and Art Festival in Maine and performed at a sold-out show at New York City's Bowery Ballroom. The Nerve, their fourth album, came out last winter and the fifth is due in early 2012. The band's goal? "Do this full time," Teddy Mathias told the New York Press in August.
Elsewhere on the music scene, "the name and sound of Tall Heights is spreading throughout New England," according to The Pulse Magazine. The duo of Paul Wright '07 and Tim Harrington developed their folk/pop sound playing together on the streets of Boston in Faneuil Hall's world-renowned Street Performer Program in 2010. They released their third album, Rafters, in September, and have been playing shows in Boston, New York City and Washington, D.C. (Listen to a song off the album as they performed it at Dartmouth here.)
The 60th birthday bash of financier Leon Black '73, founder of Apollo Management, was covered by several media outlets in August, including The New York Times. Among the 200 guests, who were treated to a 90-minute concert by Elton John at the festivities in Southampton, New York, were N.Y.C. Mayor Michael Bloomberg and designer Vera Wang. "Leon throws some good parties, because Leon's worth like 20 gazillion, like 20 billion or something crazy, and for him, you know, a billion dollars is like 10 dollars to us," guest Howard Stern said, according to the Times.
In August New Hampshire Public Radio (NHPR) reported on research conducted by biological sciences professor Celia Chen '78 and a team of Dartmouth researchers on the Androscoggin River near an Environmental Protection Agency (EPA) Superfund site in Berlin, New Hampshire. The river was polluted for more than 70 years by chlorine and other chemicals used in paper manufacturing, and Chen and her team are capturing various river organisms to measure the levels of mercury and other toxic metals. Chen, of Dartmouth's Toxic Metals Superfund Research Program, told NHPR that mercury "biomagnifies" up the food chain. "There's been some indication from the EPA studies that were done that there are elevated levels in some of the fish that are the size and species that humans consume, and we're particularly concerned with how the mercury gets into those larger fish from lower in the food chain," she said.
College football is jam-packed with great rivalries, but ESPN.com asserted last August that one of the biggest may be between Southeastern Conference (SEC) commissioner Mike Slive '62 and his Big Ten counterpart Jim Delany. It doesn't help that the SEC has won five consecutive national titles, two of them against Big Ten teams. "This is so much Sun Belt vs. Rust Belt, and the best players are in the Sun Belt now," someone who knows both men told ESPN.com. Slive, who was featured in the January-February 2011 issue of DAM, said of his relationship with Delany, "I would characterize it as highly competitive. But it's nice on occasion for us to find some common ground that relates to the long-term health of intercollegiate athletics." Added Big East commissioner John Marinatto: "They fence, obviously, during our meetings, but there's a competitiveness that makes them very, very good at what they do. They're tremendous stewards of their respective conferences."
"I've been tackled by a drunk guy, had a bottle thrown at me and the other day a guy just went off on me," Paul Marino '04 told The New York Times in August. Apparently they were not fans of the New York City subway theater act of Marino and Fred Jones, who perform as Popeye & Cloudy. Since January the pair has been performing Shakespeare, Abbott & Costello and some original scenes for about 20 hours a week on the F, G, J, L and R trains. Marino said they both got sick during the first two months of performing after being "exposed to every germ in the city." Armed with a hand sanitizer, Marino persevered and now derives his income primarily from tips. "I'm in love with that kind of art, that organic, wild art of busking. Fred and I share this courage in terms of the places we'll go as performers," Marino said.
"This is the biggest project our chapter has taken on in terms of cost," Mark Zankel '89, deputy New Hampshire director of the Nature Conservancy, told the Associated Press in July. He was referring to the state chapter's plan to purchase 13,000 acres of conservation land at the Mascoma River headwaters for $12.5 million. A habitat for more than 100 species of birds, as well as black bears, moose and deer, the Mascoma River is also the source of public drinking water for Lebanon, New Hampshire, residents and the Dartmouth-Hitchcock Medical Center. "It's such an extraordinary opportunity," said Zankel.
Brad Ausmus '91, who caught more than 1,900 games before retiring last year after 18 seasons as a Major League Baseball catcher, told National Public Radio's Fresh Air program that he calculates he did 150 squats a day during a seven-month season. Ausmus played for the Houston Astros for 10 seasons, was the winner of three Gold Gloves and was a 1999 selection to the National League All-Star team. He conceded that playing that position takes a toll on your legs, especially by August and September. "Physically, it's mainly getting in and out of a squat," he said. "You do it not only during the course of the game—which is actually the easier part—you do it in the bullpen, you do it in spring training, you do it during the warm-ups, you do it prior to the game." Ausmus now works for the San Diego Padres as a special assistant to the general manager.