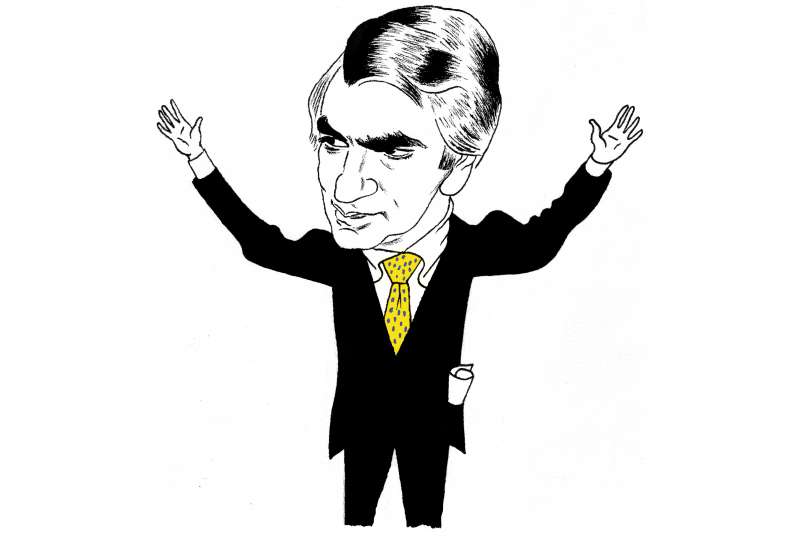 Mr. T
A look back at Paul Tsongas '62, a most unlikely presidential candidate.
Paul Tsongas was a little-known U.S. representative (1975-79) and senator (1979-85) from Massachusetts who gained national attention as the first Democrat to challenge George H.W. Bush in the 1992 presidential election. He was the first known cancer survivor to run, having previously battled non-Hodgkin's lymphoma. A self-proclaimed "pro-business liberal," he defeated Bill Clinton and other contenders to win several primary and caucus contests before bowing out due to a lack of funds and support. Tsongas died in 1997 from complications of cancer treatment at age 55.
1
Sink or Swim
As a freshman Tsongas could barely swim. He took a beginner's class and worked so hard that he made the swim team as a junior. "Had it not been for [coach Karl Michael '29] nurturing me on the swim team, I never would have had the confidence to...have chosen a career in public service," Tsongas said. The team still presents a Paul E. Tsongas most improved swimmer award each year.
2
Once a Century
In 1974 Tsongas became the first Democrat to win his district in 90 years. "We could not have won if Watergate had not taken place," he admitted.
3
Ego Minimalist
Tsongas was known for his wry, self-deprecating humor. "When I ran for the Senate in 1978, The Boston Globe called me an obscure first-term congressman. The problem was, I was an obscure second-term congressman," he joked. 
4
No Media Darling
The press pulled no punches when it came to Tsongas' public persona. After one primary win a reporter quipped, "Even in victory Paul Tsongas looks like somebody just ran over his dog." One of his obituaries read: "On a personal charisma scale of one to 10, he rated minus-three." 
5
Suited to a "T" 
Dartmouth students known as "Tstudents for Tsongas" supported his presidential bid.
6
Paul Who?
"I was really surprised that he was in politics," says his freshman-year roommate Stephen Weber '62. "He was a bit of a social misfit." Tsongas the presidential candidate acknowledged as much, saying, "If you asked the people in my Dartmouth class who was the most likely to run, they would get to me on about the fourth day of guessing."
7
Foreign Studies
An early Peace Corps volunteer, Tsongas spent two years in Ethiopia (1962-64). "Nothing before or after that time has shaped my view of the world so deeply."
8
Leaning Left
Americans for Democratic Action ranked him as one of the House's most liberal members with a perfect score of 100. Early in his Senate career he was considered even more liberal than Bay State colleague Sen. Edward Kennedy.
9
Do the Twist
As a boy, Tsongas worked with his twin sister, Thaleia, in their Greek immigrant father's dry cleaning business, twisting wire for hangers and driving the delivery truck in the mill town of Lowell, Massachusetts.
10
Campaign Finances
Tsongas was one of the few senators with limited financial resources. He didn't   pay back his student loans until he was in Congress. 
11
Chemical Reaction
From Tsongas' Dartmouth application: "Intended vocation: chemist."
Illustration by Andy Friedman