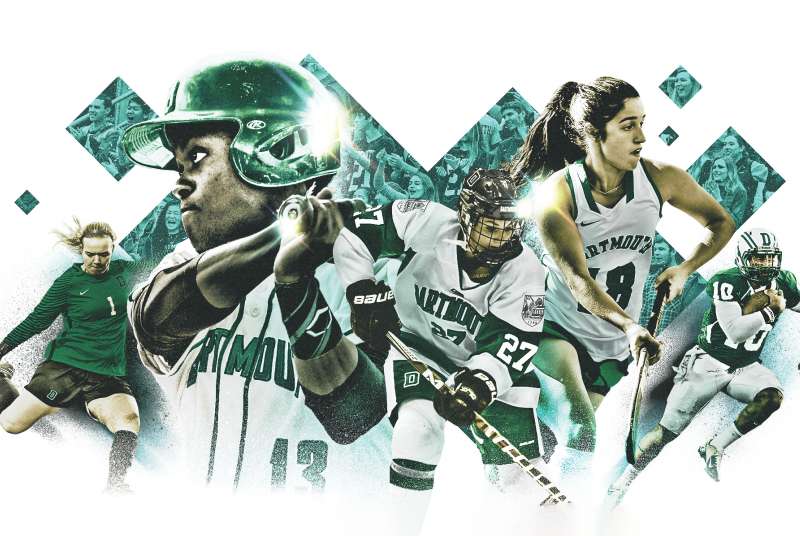 More Than a Game
The field of play has long been a realm of experiential learning.
Every time Dartmouth athletes step onto the playing fields, we feel a tremendous sense of unity across our campus. We revel in their triumphs and agonize over defeats. We clench our collective fists as they try to hang onto a narrow lead and rejoice at the sight of a record-setting performance or game-winning goal in the final few minutes of play.
Each year, and particularly at Homecoming, I am reminded of the power of sport to bring us together. For those few hours when we are assembled in the stands at Memorial Field—or at any of our venues on campus—we are bound together in common purpose, setting aside differences to focus on rooting the Big Green to victory. By the same token, the athletic experience brings together hundreds of student-athletes, united by their passion for sport and their competitive spirit. For them the experience is transformative.
I'll always remember the 2015 Dartmouth-Harvard football game. We suffered a crushing blow, losing 14-13 in a game we had dominated for the first three quarters. It was a tight race for the Ivy League title that year. Both teams were undefeated, and with the loss, Dartmouth's championship hopes dimmed. With three games left in the season, the Big Green showed up fighting, winning all three outings—including a come-from-behind victory over Princeton in the final game—to tie for the Ivy League title. For me, the memory of running back Kyle Bramble '16, Th'16, weaving his way into the end zone with 24 seconds to play in that game is as vivid today as it was three years ago.
But we all know it's not just about winning or losing. It's the collective, shared experience we remember long after the competition is over. For passionate fans such as Gail and me, it was a moment of elation as we stood with hundreds of other fans who lingered long after the game was over to bask in the victory together. For the athletes involved, mounting that comeback was the ultimate lesson in perseverance.
Athletics are among the purest forms of experiential learning. More than anything else, that's the reason we value and invest in our athletic programs. Student-athletes learn skills that extend far beyond the playing field—determination, resilience, integrity, teamwork. Those attributes, inherent in sport, are among the most valuable and transferrable skills today. Club sports provide those opportunities as well, in addition to the personal growth that comes from students assuming responsibility for scheduling, transportation, fundraising, and logistics.
Every year Gail and I strive to attend at least one game, match, or meet for each of Dartmouth's 34 varsity athletic teams. A highlight for us last year was bearing witness to Cha'Mia Rothwell '20 blowing away the competition in the 60-meter hurdles during the 2018 Indoor Ivy League Heptagonal Championships. In addition to setting Dartmouth and Ivy League records in that race, she posted the fastest time in New England history and was named female track performer of the meet, with two event titles and a second-place finish. More than just the victories, we admired the countless hours of training and hard work that led to her spectacular 8.20-second sprint to the finish line.   
As you sit on the sidelines at your next Big Green sporting event, think about all that our athletes and coaches put into and get out of the athletic experience, and just how much athletics enrich the Dartmouth experience for us all.
Legendary NBA basketball coach Phil Jackson once said, "Not only is there more to life than basketball, there's more to basketball than basketball." Indeed, an investment in athletics is an investment in our community, our educational mission, and the leadership development of hundreds of student-athletes across our campus. Win or lose, that's something to celebrate. 
Illustration by Ben Buysse