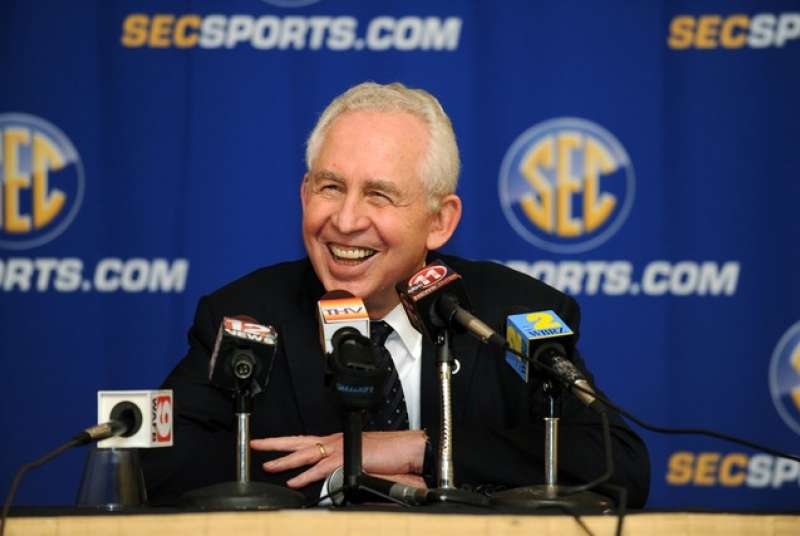 The Commish
Classmates remember Mike Slive '62, the most powerful man in college sports.
Mike Slive was a college football champion, and he never played the sport in college. As Southeastern Conference commissioner from 2002 to 2015, he transformed that division from a regional force into a powerhouse. SEC football teams under his leadership won eight national titles, seven of which were consecutive.
But the greatest victories for this attorney and former judge came off the playing field. He had previously represented schools on NCAA compliance issues—and won a reputation for his integrity, intellect, and vision. He cleaned up the SEC's compliance problems, ushered in the hiring of the SEC's first black head football coach, struck multi-billion TV deals, and spearheaded the creation of the College Football Playoff system.
"Commissioner Slive was truly one of the great leaders college athletics has ever seen and an even better person," said Nick Saban, the coach of Alabama's football team.
Slive passed away in 2018 and is survived by his wife Liz and their daughter Anna. He was 77. His friends John Walters '62 and Alan Rapoport '62 shared their memories of him with DAM.    
AR: Mike grew up in Utica, a small city of 62,000 in upstate New York's Mohawk Valley. His dad Sol owned a meat market, and Mike worked his way through college cutting meat. He was the quarterback of his high school team and the first person in his family who went to college. His father wanted him to be a doctor, and Mike tried to please him.
JW: Mike and I were high school quarterbacks who obviously were not part of coach Bob Blackman's vision for Dartmouth football. Mike at least tried out for the Pea Green team; but, as he colorfully put it, he saw the handwriting on the wall when he went to quarterback practice and found he was the only QB with no center to work with.
Fortunately for us, lacrosse was a viable option for people who had never played that sport before. Only eight guys on our 25-man squad had played before to coming to Dartmouth.
AR: I met Mike soon after we arrived in Hanover. One of our Jewish classmates had lost his father, and he wanted a group of Jewish students to meet at Rollins Chapel each Friday night to make a minyan (10 Jewish men) to say Kaddish, a hymn of praises to God that is recited for the passing of a loved one.
Mike and I went often and spent other time together, and during our first two terms, we became close friends. His other early friends included his roommates and lacrosse teammates Don Samuelson '62 and Stefan Mason '62, both attorneys
He was premed, so we ended up in Chem 3 together, where he quickly became lost and was in danger of failing. I suggested he speak to Professor Wolfenden to get help. The Prof asked Mike why he was taking chemistry, and Mike told him his father wanted him to be a doctor.
They made a deal. Mike would drop the class in exchange for a passing grade, and he would tell his father he had other plans. That was a tough, but crucial, decision and shaped every aspect of his life. He became a "doctor" to college sports and influenced many more people and universities than he would have in the medical profession.
In our freshman year I asked him if he had been to New York City, Boston, or Chicago. I was surprised when he told me he had hardly been out of Utica. I invited him to visit my family in Brooklyn. He met my brother Jon '70, who was 10 and my sister Liz who was 13, and we all ran around the city together having fun. Mike did well at Dartmouth. He became president of Alpha Theta Fraternity and president of the Interfraternity Council and was a top Dartmouth lacrosse player.
JW: After four years in Hanover, we again found ourselves classmates at the University of Virginia School of Law. Our class of 220 students was much smaller than our class at Dartmouth. Unlike all-male Dartmouth, our class included women—three, to be exact. 
Mike and I teamed up during our first year in the Moot Court competition in which we argued a hypothetical appellate brief before a student/faculty panel against an opposing team of two of our female classmates. Mike and I got wiped out, an experience that convinced us not to pursue litigation as a specialty, much less try to argue with women.
Law school was not all work and no play, and Mike and I were part of our Class of 1965 touch-football team. We also took up handball, and it was on the handball court that I realized what a fierce, though quiet, competitor Mike was.
AR: Mike finished his Prettyman Fellowship at the Georgetown University Law Center. He worked for a Washington, D.C., law firm on a high profile, high pressure case. I visited him one weekend, and we sat on his front steps in D.C. He said he needed a break from practicing law.
We talked about his following advice he had gotten from our friend—Dartmouth's Dean Thad Seymour. As a result, he returned to Hanover in 1967 to work in the Financial Aid and Admissions offices. Two years later, Athletics Director Seaver Peters asked him to become the College's Assistant Athletics Director. One of his key jobs was handling football tickets. He had to make sure Nelson Rockefeller '30 and other dignitaries were on the 50-yard line.
At about the same time, Mike ran into my brother Jon on campus and asked him what our sister Liz was up to. She had enrolled in a masters program on Early Childhood Education at the Bank Street School of Education in New York. He invited her to come up Labor Day weekend. They saw each other every weekend thereafter until they married the following July. The ceremony was in Rollins Chapel followed by a party at the Hanover Inn.
For about 10 years, Liz and Mike lived in Hanover where he was a District Court Judge and joined the law firm Stebbins and Bradley. He then worked as a Judicial Master in the Superior Court of New Hampshire. He also represented Dartmouth and NFL sports legends Reggie Williams '76 and Nick Lowery '78, among others, which foreshadowed his future sports law practice.
JW: Mike always firmly believed in doing what was right, even if it might be unpopular. At one point, Mike did compliance work for university athletic departments that wanted to avoid incurring NCAA sanctions. When retained by institutions to review their policies, he pulled no punches in finding out what might be considered improper behavior and urged schools to "come clean" with the NCAA. 
Mike's reports and recommendations held great weight with the NCAA. He also mandated that universities put no constraints on his investigations, and he invariably received their full, complete cooperation. 
Another example of doing what was right involved Dartmouth's football program. Despite his success in prior years, head coach Joe Yukica was terminated after a disappointing 1985 season, even though he had one year left on his contract. 
Mike was practicing law in Hanover, and Joe asked him for advice. Mike encouraged Joe to fight the College's action. Joe didn't want to pursue action against Dartmouth but retained Mike to file suit against Athletics Director Ted Leland. After a superior court hearing, in which testimony was heard from notable college coaches, including Penn State's Joe Paterno, Judge Walter Murphy sided with Yukica and found that Leland had acted improperly, and he reinstated Yukica as coach for the final year of his contract.  
Pursuing action against a hometown college is not something that typically brings a local attorney much support and sympathy. Mike, as usual, did what he believed was right. At the time, Mike said the case set a precedent for a coach standing up for his rights, though perhaps not a legal precedent. Mike felt colleges and coaches going forward would take a look at issues Yukica's case raised and become more sensitive to them. Being able to serve out his contract's last year gave Joe tenure, making him eligible for  lifelong retirement benefits.
AR: In 1979, Mike became Assistant Commissioner of the Pac-10 Conference, and he and Liz moved to Walnut Creek, California. In 1981, Cornell hired him as its Director of Athletics, a position he also held for two years. After that, he returned to Hanover to start a law practice. Because of his previous athletic administrative experience, his practice immediately took on an athletic focus.
Subsequently, our classmate Mike Coffield '62 asked Mike to join his firm of 100 lawyers in Chicago and bring his sports practice. In 1991, he became commissioner of the Great Midwest Conference and moved to Chicago to work in its headquarters on Upper Wacker. It grew into Conference USA several years later, and Mike settled into what he thought was his final job.
When the SEC approached Mike about becoming its commissioner, he gave Liz "full veto power" over the decision, as they both loved Chicago and had moved so many times during his career. The SEC twisted his arm to come down and look at and apply for the job, and the rest is history.
In 2002, he became the SEC's much loved and respected "Commish." I visited Liz and Mike many times in Birmingham, Alabama. There's no doubt Mike was the best-known and respected person in the city. He had his own booth at the legendary Salem's Diner, which put up pictures of him with national sportswriters and a plaque bearing his name. He was known and greeted everywhere we went in town. The SEC's staff revered him. He and Liz were proud, active members of the local Jewish community, too.
JW: When my wife Nancy and I lived in Atlanta, Mike invited us to SEC football and basketball championships, and we joined him in the SEC box. During his second year as commissioner, Mike met us in his hotel suite in downtown Atlanta. It had newspapers strewn all over. With tears in his eyes, he showed us article after article reporting that Mississippi State had named Sylvester Croom as the first African-American head football coach in SEC history.  Mike was so proud of that moment. It was a goal he advocated for when he became commissioner. 
AR: Mike helped the SEC become the national brand it is today. He led the adoption of a new and effective league-wide NCAA compliance initiative; engineered landmark television contracts, including the launch of the SEC Network; and helped the conference add two new universities (Missouri and Texas A&M).
Mike often referred to his time at the SEC as "the golden age of the SEC." During his tenure, the SEC won a remarkable seven consecutive Football Bowl Subdivision championships. Mike was also so proud that the SEC won championships in other sports as well. During his tenure, the SEC won 81 national championships in 17 of its 21 sponsored sports.
Mike was considered the most powerful man in college sports. More important, he was beloved by his colleagues, staff, and the media.  He was as honest as the day is long, and his decisions were always on target. 
His work ethic was unmatched. He left the office when the work was done, and only then. Mike was also an early bird who loved the early morning daylight hours. He was the first in the office at 6:30 a.m. and enjoyed talking to the cleaning people before anyone else arrived.
Mike's golden rule was—treat everyone the same. It didn't matter if he was visiting with the cleaning staff or a university president. He respected everyone.
Even though serving as SEC commissioner elevated him to royalty status in Birmingham, he was an incredibly modest guy whose idea of a good time was smoking a cigar on his back porch. He never bragged about his many accomplishments. 
My early days with Mike were special, but some of my most exciting times with him in the last 15 years were football weekends at his home. They consisted of Liz's home- cooked meals, usually preceded by a Maker's Mark or Blanton's bourbon on the rocks in the screened-in porch, with or without a cigar.
On Saturday we'd head for the airport and fly in a private jet to one or two SEC football games. There was usually a police escort when we landed, and everyone greeted him as he walked into the stadium. In his last few years, he spent over 10 hours every football Saturday with the head referee, analysts, and top SEC staff at the SEC Command Center that was equipped to watch all the games.
Mike preferred the opposite of fancy in his cars, clothes, home, and travel. He traveled everywhere and met everyone, but he preferred to be home with Liz and their daughter Anna, his son-in-law Judd, and, more recently, his very special granddaughter Abigail. 
JW: He had a burning sense of fairness and for doing what was right, no matter how unpopular that might initially appear. He left us with an incredible legacy.
AR: The SEC will never have another Mike Slive, nor will his family, his Dartmouth family, his friends, or his relatives. We all miss Mike Slive. He was a very special person, my brother-in-law, my Dartmouth classmate and my close friend.