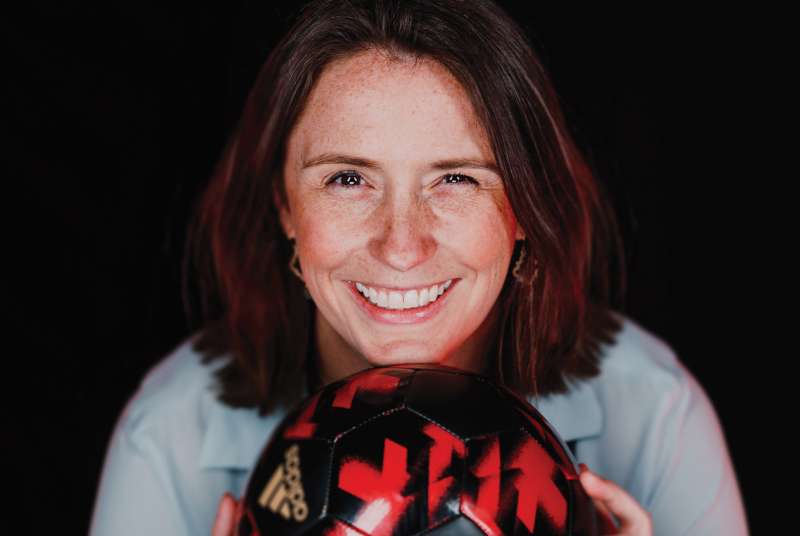 Match Maker
Marketing wiz Catie Huisman Griggs '03, Tu'09, gets her kicks in pro soccer.
It's 90 minutes until game time, and the players' bus won't start. Almost 1,000 fans are lined up waiting to see Atlanta United, the 2018 Major League Soccer Cup champions, enter Mercedes-Benz Stadium, but if there's no bus, there's no team.
For Griggs, the team's vice president of business operations, triage is everything. "On match day my job is to make sure as few people as humanly possible are aware anything is other than perfect," she says. Soon the bus is running, the players are on their way, and fans were none the wiser.
Griggs, whose weekday responsibilities range from strategic planning to sales, marketing, and financial management, calls game days a "14,000-step adventure." There's no typical game day, she says, so she has to be ready to handle anything from battling parking delays to reminding a concession stand not to sell cold hot dogs.
When she got the call in 2017 to join United in its first season, Sports Business Journal had just named her a "Game Changer," one of 35 women making an impact in sports. Griggs had launched Futures Sport & Entertainment, an advertising analytics branch of  Interpublic Group. She treated the new soccer club like a startup and spearheaded its growth by focusing on building its fanbase.
Under Griggs' leadership the team during its first two seasons broke every attendance record in Major League Soccer history. "We have people who stand and go crazy for the full 90 minutes," says Griggs, who grew up playing soccer as a goalie, but turned to other intramural sports at Dartmouth. 
Her most memorable moment with United came during the championship parade when she saw her young son hurl soccer balls into the cheering crowds. "It'll be something we can talk about forever," she says.