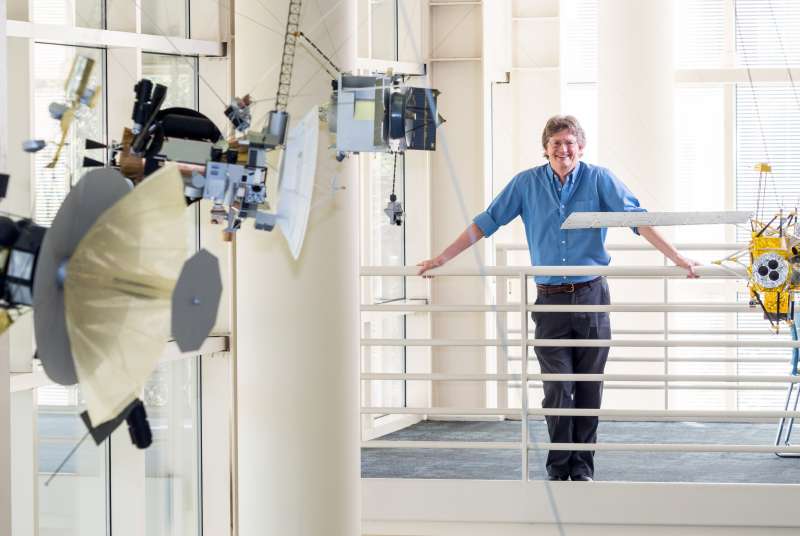 Photo by Patrick Campbell
The Martian
Astrophysicist Nick Schneider '79 keeps close eye on the Red Planet.
Billions of years ago, Mars was warm and wet and might have harbored life. Now, after losing 99 percent of its atmosphere and an ocean of water, it's a frigid desert. Schneider leads a team studying Mars' atmosphere using data collected by NASA's space probe MAVEN, which is orbiting Mars to figure out what went wrong. "MAVEN is testing the once-preposterous theory that Mars lost its atmosphere and ocean to space," he says.
At some point, he says, Mars lost its magnetic field, which protected it from solar wind, which is composed of energetic particles that have stripped away its atmosphere. "We weren't sure if those particles could really have such a major impact on Mars," says Schneider, who teaches planetary science at the University of Colorado, Boulder. "Turns out they really do: We see Mars' atmosphere leaking away to space now, enough to explain that incredible climate change."
MAVEN—which stands for Mars Atmosphere and Volatile Evolution—orbits the Red Planet and sends back data to Schneider's team. "Astounding things often happen there," he says. "We've witnessed the aftermath of the largest meteor shower ever observed on any planet in the modern age."
In 2017 Schneider received NASA's Exceptional Scientific Achievement Medal for his work on the mission. Yet his proudest contribution to science is The Cosmic Perspective, the introductory astronomy textbook he coauthored that is used at Dartmouth and other colleges. The former astronomy and physics major got his first taste of teaching when he worked at Shattuck Observatory as a student. "Flat-earthers, climate-change deniers, anti-vaxxers, anti-evolutionists—they get me out of bed in the morning. Science education isn't getting through to everyone," says Schneider, who involves students in his research. "I'll keep doing what I can to spread that joy in discovery and understanding."
What's on his horizon? Schneider hopes to position MAVEN to become the Internet service provider for Mars rovers until 2030 and make more discoveries. "No matter what happens in space, I'll keep rewriting the textbooks," he says.