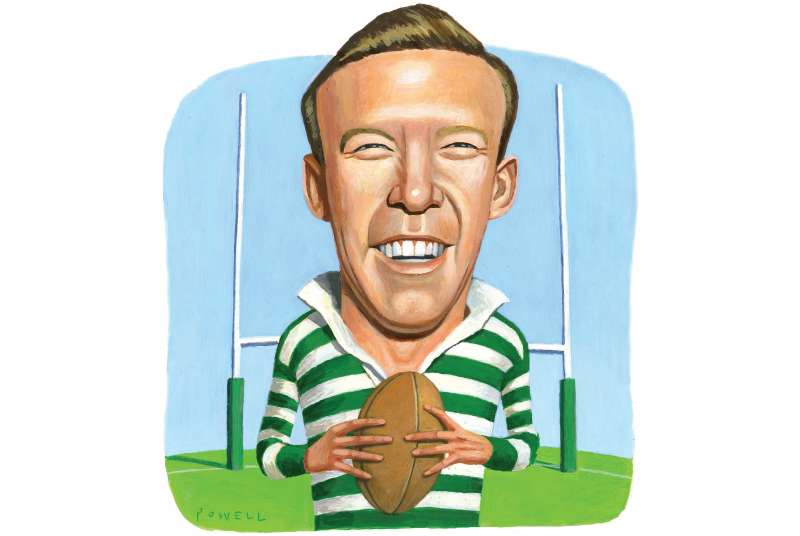 Lionheart
Dick Liesching '59 took Dartmouth rugby—and the men who played it—to a whole new level.
Friends knew Dick Liesching as "Sir Richard of Rugby." For nearly 60 years his passion for the sport—a hooligan's game played by gentlemen, as the saying goes—made him a legendary figure to generations of young men at Dartmouth and in collegiate rugby.
"Dick was a very effective apostle for the sport," says Dan Kenslea '75, chair of the rugby team's board of governors and outgoing general manager of Rugby USA. "His spirit carried us through for a long time." Liesching died at the age of 82 last August.
Born in Shanghai, Richard Patrick deLayarde Liesching was 3 when his family moved back to England. He picked up rugby at an English boarding school, and when he arrived in Hanover in the fall of 1955 he found rugby at the College distinctly slapdash. The Dartmouth rugby football club (DRFC), just a couple of years old, was self-coached and self-financed. On their own, players organized practices, scheduled matches, and hired referees. The team, mostly exiles from the football team, played on a remote pitch at Chase Field without a scoreboard or bleachers or proper goalposts. The team could barely fill out the required 15 positions.
Sporting one white eyebrow and a British accent, Liesching was an inspired leader. "He knew many of the finer points of the game," says his teammate and lifelong friend Will Gray '59. "He quickly dedicated himself to imparting all he knew to his new teammates. Dick's enthusiasm for rugby was boundless, and his commitment to the club was total. From the very first, Dick's special love of the game was obvious to us."
He was president of the club for two years, during which time he persuaded the College to let the club cut down four towering spruces, clear the branches, paint the trunks white, and use them as the club's first proper, if rustic, goalposts. He recruited so many students to play rugby he could no longer make the first team.
"Dick's enthusiasm was boundless, and his commitment to the club was total."
In December 1958 the team did something no other U.S. college team had ever done. The indomitable Liesching booked a three-week rugby tour of his home nation, even though he had yet to find opponents to play. The team had just one match set up when it departed. British teams had little interest. They assumed Dartmouth would be an unworthy opponent since no American college team had ever toured England.
But DRFC won its first game and, having proved itself a worthy opponent, nailed down a schedule of seven games.  Dartmouth compiled a record of 5-2 and outscored opponents 72-37. "It was kind of a miracle the England tour happened at all, and all because of Dick," says team captain John Hessler '59. "One year he's teaching us all how to play rugby, using a little rule book, and the next year we're in England winning matches."
The Dartmouth team became a sensation. "Yanks Rub Old Boys in the Mud" ran a headline in the Daily Mirror. Stateside, the story got unprecedented coverage, with Sports Illustrated and The Saturday Evening Post running stories. When the team landed in New York City, the players went straight to The Ed Sullivan Show and were introduced between acts.
Publicity about the tour catalyzed American rugby. In the early 1960s dozens of club and college teams sprang up, strengthening the sport's presence in the United States. The tour was the founding touchstone for DRFC. In June 1959 at a banquet at the Hanover Inn, the club inaugurated the Dick Liesching Award, which is given annually to the senior who makes the most important contributions to the club on and off the pitch. The first recipient was Liesching.
He remained a steadfastly active supporter of Dartmouth rugby. In 1960 he provided color commentary when CBS televised a match between Dartmouth and Stanford. Living in Connecticut, he attended many DRFC matches throughout the decades at home and away.
Liesching served a key role in fundraising for the Corey Ford Rugby Clubhouse, which opened in 2005. The trophy room there is named in his honor. "He was viewed by those older guys as their leader," says Kenslea. "When he called and emailed them and said, 'This is happening in Corey's honor,' we got a strong response. They all listened to him."
In later years, after a career in insurance and running a private investment firm, Liesching survived a ruptured aortic aneurysm, which is almost always fatal. While recovering he suffered two strokes. He then battled dementia and lost his son to metastasized melanoma.
"He was a complete gentleman and had a great smile," says Alex Magleby '00, who coached the team from 2001 to 2012. "He was always very supportive of current students. He struggled in his last few years, but even then he'd be there at games and give everyone a big hug, and he would have a tear in his eye. New players brought him a lot of joy. They would see that, and that had a profound impact on them."
One morning in late September, 30 players from the current team joined Liesching's family and friends for a memorial service at St. Thomas Episcopal Church in Hanover that was followed by a reception at the clubhouse. That afternoon, wearing black armbands in honor of Liesching, the rugby team played Cornell. Dartmouth won, 95-6.                 
James Zug is the author of six books. He lives in Wilmington, Delaware.      
Illustration by Charlie Powell