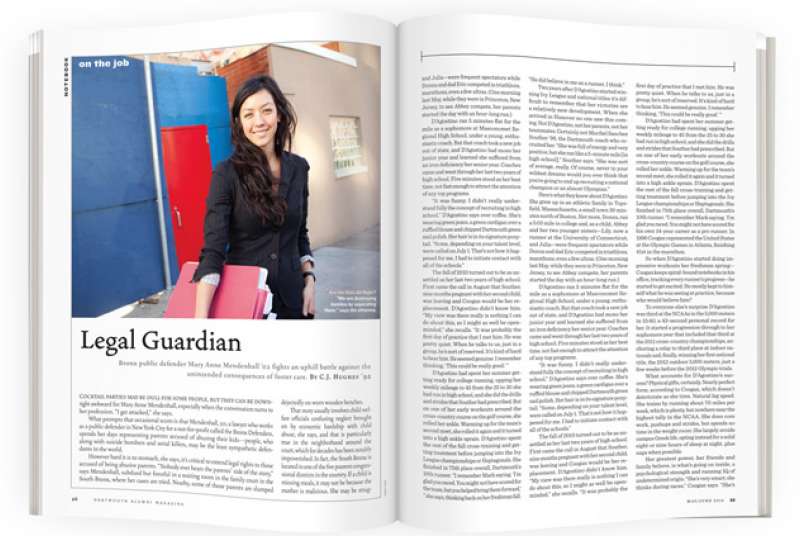 Legal Guardian
Bronx public defender Mary Anne Mendenhall '02 fights an uphill battle against the unintended consequences of foster care.
Cocktail parties may be dull for some people, but they can be downright awkward for Mary Anne Mendenhall, especially when the conversation turns to her profession. "I get attacked," she says.
What prompts that occasional scorn is that Mendenhall, 30, a lawyer who works as a public defender in New York City for a not-for-profit called the Bronx Defenders, spends her days representing parents accused of abusing their kids—people, who along with suicide bombers and serial killers, may be the least sympathetic defendants in the world.
However hard it is to stomach, she says, it's critical to extend legal rights to those accused of being abusive parents. "Nobody ever hears the parents' side of the story," says Mendenhall, subdued but forceful in a waiting room in the family court in the South Bronx, where her cases are tried. Nearby, some of those parents are slumped dejectedly on worn wooden benches.
That story usually involves child welfare officials confusing neglect brought on by economic hardship with child abuse, she says, and that is particularly true in the neighborhood around the court, which for decades has been notably impoverished. In fact, the South Bronx is located in one of the five poorest congressional districts in the country. If a child is missing meals, it may not be because the mother is malicious. She may be struggling to get by on food stamps. Pulling that child away from its mother can do more harm than good, even if the child ends up in the foster care system for just one night. "We are irreparably destroying families by separating them," Mendenhall says. "People don't know that foster care can be a really scary place."
Her view is in line with such foster- care experts as Rick Barth, dean of the University of Maryland School of Social Work, who points out that recent studies indicate that children who are raised through the system (424,000 children nationally) are more likely to experience health and legal problems later in life than those who stay with their relatives. However, "there is a need for removal in certain dangerous care situations, which is no less now than in past decades," Barth says.
In the courtroom of Judge Gayle Roberts, Mendenhall, with the sleeves of her beige blazer rolled up to her elbows, tries to apply her logic on behalf of client Ashanti Fay. The 20-year-old mother lost custody of her two children because her young daughter slipped underwater during a bath and nearly drowned after Fay ducked into the kitchen, according to Fay. New York's Administration for Children's Services (ACS), which handles abuse cases, disagreed and essentially accused Fay of trying to drown her daughter on purpose.
At stake this day is whether Fay can spend overnights with her children. Fay's mother, Oneyda De La Cruz, testifies on her behalf. "She deserves a chance to spend time with her kids," De La Cruz says from the back of the court, her voice wavering. "What happened to her baby was an accident." But Judge Roberts doesn't seem to buy it and orders Fay to undergo medical and psychological evaluations before considering overnights.
Despite the setback, Mendenhall is upbeat, pivoting seamlessly from attorney to caregiver. "Why are you sad? Don't be sad," she consoles De La Cruz. Then she promises to keep fighting.
Custody issues are often complicated, as the Fay case demonstrates. It began when EMTs were called to Fay's apartment last fall. After an investigation ACS allowed Fay to keep her children but insisted on a schedule of visits and doctors' appointments Fay felt incapable of keeping while trying to get her GED in order to pursue nurse's training. Asking her mother to temporarily care for the children activated the "kinship foster care" process, which an exhausted De La Cruz would like to terminate in order to pass custody back to her daughter. As Fay learned with her overnight request, once the process is activated, it can be extremely difficult to undo.
Reuniting parents and their kids can appear to be a Sisyphean slog, a point that Mendenhall and others who work in the system freely acknowledge. "Sometimes you just sit there and cry with your client," says Mendenhall. "Maybe that's not the most professional thing, but it happens."
Though getting a child out of foster care can be an insurmountable challenge, parents' chances have improved in recent years in part because groups such as the Bronx Defenders are pushing to improve the legal help parents receive.
For decades New York parents accused of abuse who couldn't afford a private attorney got an "18-B" lawyer (named for the law stipulating poor peoples' right to counsel) instead. Since those lawyers often took on extra cases to offset low fees, quality of representation suffered, says Richard Wexler, executive director of the National Coalition for Child Protection Reform. "Essentially you could walk into a courtroom with a cardboard cutout wearing a three-piece suit and get just as good representation," Wexler says of the old days. His Alexandria, Virginia-based nonprofit group advocates for alternate solutions to foster care, such as day care, which could help some parents avoid charges of neglect.
Today firms such as the Bronx Defenders assign to each defendant a team that includes social workers as well as parent advocates, Wexler explains. On a recent afternoon in the former steakhouse that serves as the Bronx Defenders office, this approach is on display as teams of counselors huddle at tables discussing cases with their clients. On the walls are stickers and signs: "No More Drug War," "Got Justice?" A closet overflows with plastic bags stuffed with clothes belonging to a client recently kicked out of a shelter.
Another force for change in dealing with parental abuse cases has been a new transparency in family courts, whose proceedings were for years shrouded in secrecy. That transparency, which stems in part from a 1997 decision by New York's Court of Appeals Judge Judith Kaye to open up hearings, makes courts more accountable for their decisions.
Pop culture has helped, too. The 2009 movie Precious, which revolved around issues of child abuse in 1980s Harlem, showed that victimizers can be seen as victims, too, says Barth, the University of Maryland professor.
"You want to be where the revolution is happening? It's not in criminal courts. It's in family court," Mendenhall says. "That's where young, bright people are trying to change things."
By some measures she seems an unlikely choice to be leading the charge for family court reform. A Spanish/English double major, Mendenhall thought she wanted to work in the fashion industry and interned with Donna Karan while at Dartmouth. In other ways her choice of job makes total sense, she says. Growing up as the daughter of a white father and Korean immigrant mother in a largely Latino section of Encinitas, California, Mendenhall often felt out of place and was occasionally taunted with Asian slurs. "I was raised with a sense of empathy for the other," she says.
Then an arrest at 15, after marijuana was discovered in her bag during a school dance, taught Mendenhall early how tough it can be to convince people that you're not guilty even though you've been arrested. In this case, a friend had slipped her purse into Mendenhall's overnight bag without her knowledge as they headed off to the school. Mendenhall says she didn't even know before that evening what marijuana looks like and was irritated some teachers never believed she was innocent. It's a stigma many of her clients know too well, she says. "Maybe you should try to understand why things happen instead of just judging," she recalls wanting to say to her teachers.
It was during a different college internship, with a New York City firm now known as Lansner Kubitschek Schaffer, that Mendenhall's occupation was settled. Working with the firm's attorneys on Nicholson vs. Scopetta, whose ruling made it more difficult for states to take kids away from battered mothers, was inspirational, she says.
Mendenhall acknowledges there are parents who are tough to defend. She has had to deal with extreme instances of sexual abuse and with adults whose drug problems have made any reunification untenable. In those cases, her usual strategy is to come up with a temporary solution, such as placing a child with a grandparent for a few months, until the parent can complete a rehab program.
Most days Mendenhall remains unflinchingly committed to the idea that a parent is a far better custodian of a child in most cases than any employee of the state. And that passion can make her job more of a mission than a means to a
paycheck.
C.J. Hughes, a frequent contributor to DAM, is a freelance journalist in New York City.