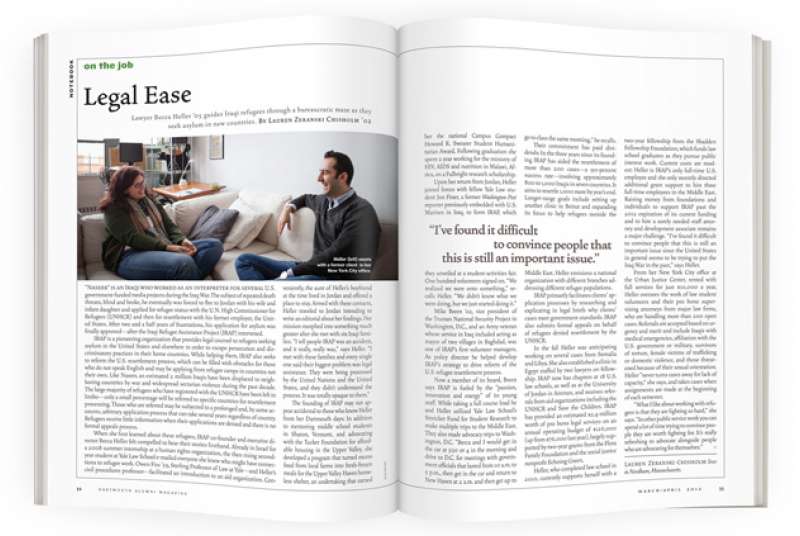 Legal Ease
Lawyer Becca Heller '05 guides Iraqi refugees through a bureaucratic maze as they seek asylum in new countries.
"Naseer" is an Iraqi who worked as an interpreter for several U.S. government-funded media projects during the Iraq War. The subject of repeated death threats, blind and broke, he eventually was forced to flee to Jordan with his wife and infant daughter and applied for refugee status with the U.N. High Commissioner for Refugees (UNHCR) and then for resettlement with his former employer, the United States. After two and a half years of frustrations, his application for asylum was finally approved—after the Iraqi Refugee Assistance Project (IRAP) intervened.
IRAP is a pioneering organization that provides legal counsel to refugees seeking asylum in the United States and elsewhere in order to escape persecution and discriminatory practices in their home countries. While helping them, IRAP also seeks to reform the U.S. resettlement process, which can be filled with obstacles for those who do not speak English and may be applying from refugee camps in countries not their own. Like Naseer, an estimated 2 million Iraqis have been displaced to neighboring countries by war and widespread sectarian violence during the past decade. The large majority of refugees who have registered with the UNHCR have been left in limbo—only a small percentage will be referred to specific countries for resettlement processing. Those who are referred may be subjected to a prolonged and, by some accounts, arbitrary application process that can take several years regardless of country. Refugees receive little information when their applications are denied and there is no formal appeals process.
When she first learned about these refugees, IRAP co-founder and executive director Becca Heller felt compelled to hear their stories firsthand. Already in Israel for a 2008 summer internship at a human rights organization, the then rising second-year student at Yale Law School e-mailed everyone she knew who might have connections to refugee work. Owen Fiss '59, Sterling Professor of Law at Yale—and Heller's civil procedures professor—facilitated an introduction to an aid organization. Conveniently, the aunt of Heller's boyfriend at the time lived in Jordan and offered a place to stay. Armed with these contacts, Heller traveled to Jordan intending to write an editorial about her findings. Her mission morphed into something much greater after she met with six Iraqi families. "I tell people IRAP was an accident, and it really, really was," says Heller. "I met with these families and every single one said their biggest problem was legal assistance. They were being processed by the United Nations and the United States, and they didn't understand the process. It was totally opaque to them."
The founding of IRAP may not appear accidental to those who know Heller from her Dartmouth days: In addition to mentoring middle school students in Sharon, Vermont, and advocating with the Tucker Foundation for affordable housing in the Upper Valley, she developed a program that turned excess food from local farms into fresh-frozen meals for the Upper Valley Haven homeless shelter, an undertaking that earned her the national Campus Compact Howard R. Swearer Student Humanitarian Award. Following graduation she spent a year working for the ministry of HIV, AIDS and nutrition in Malawi, Africa, on a Fulbright research scholarship.
Upon her return from Jordan, Heller joined forces with fellow Yale Law student Jon Finer, a former Washington Post reporter previously embedded with U.S. Marines in Iraq, to form IRAP, which they unveiled at a student-activities fair. One hundred volunteers signed on. "We realized we were onto something," recalls Heller. "We didn't know what we were doing, but we just started doing it."
Mike Breen '02, vice president of the Truman National Security Project in Washington, D.C., and an Army veteran whose service in Iraq included acting as mayor of two villages in Baghdad, was one of IRAP's first volunteer managers. As policy director he helped develop IRAP's strategy to drive reform of the U.S. refugee resettlement process.
Now a member of its board, Breen says IRAP is fueled by the "passion, innovation and energy" of its young staff. While taking a full course load he and Heller utilized Yale Law School's Streicker Fund for Student Research to make multiple trips to the Middle East. They also made advocacy trips to Washington, D.C. "Becca and I would get in the car at 3:30 or 4 in the morning and drive to D.C. for meetings with government officials that lasted from 10 a.m. to 5 p.m., then get in the car and return to New Haven at 2 a.m. and then get up to go to class the same morning," he recalls.
Their commitment has paid dividends: In the three years since its founding IRAP has aided the resettlement of more than 200 cases—a 90-percent success rate—involving approximately 800 to 1,000 Iraqis in seven countries. It aims to resettle 1,000 more by year's end. Longer-range goals include setting up another clinic in Beirut and expanding its focus to help refugees outside the Middle East. Heller envisions a national organization with different branches addressing different refugee populations.
IRAP primarily facilitates clients' application processes by researching and explicating in legal briefs why clients' cases meet government standards. IRAP also submits formal appeals on behalf of refugees denied resettlement by the UNHCR.
In the fall Heller was anticipating working on several cases from Somalia and Libya. She also established a clinic in Egypt staffed by two lawyers on fellowship. IRAP now has chapters at 18 U.S. law schools, as well as at the University of Jordan in Amman, and receives referrals from aid organizations including the UNHCR and Save the Children. IRAP has provided an estimated $2.4-million worth of pro bono legal services on an annual operating budget of $126,000 (up from $76,000 last year), largely supported by two-year grants from the Flora Family Foundation and the social justice nonprofit Echoing Green.
Heller, who completed law school in 2010, currently supports herself with a two-year fellowship from the Skadden Fellowship Foundation, which funds law school graduates as they pursue public interest work. Current costs are modest: Heller is IRAP's only full-time U.S. employee and she only recently directed additional grant support to hire three full-time employees in the Middle East. Raising money from foundations and individuals to support IRAP past the 2012 expiration of its current funding and to hire a sorely needed staff attorney and development associate remains a major challenge. "I've found it difficult to convince people that this is still an important issue since the United States in general seems to be trying to put the Iraq War in the past," says Heller.
From her New York City office at the Urban Justice Center, rented with full services for just $10,000 a year, Heller oversees the work of law student volunteers and their pro bono supervising attorneys from major law firms, who are handling more than 200 open cases. Referrals are accepted based on urgency and merit and include Iraqis with medical emergencies, affiliation with the U.S. government or military, survivors of torture, female victims of trafficking or domestic violence, and those threatened because of their sexual orientation. Heller "never turns cases away for lack of capacity," she says, and takes cases when assignments are made at the beginning of each semester.
"What I like about working with refugees is that they are fighting so hard," she says. "In other public service work you can spend a lot of time trying to convince people they are worth fighting for. It's really refreshing to advocate alongside people who are advocating for themselves."
Lauren Zeranski Chisholm lives in Needham, Massachusetts.