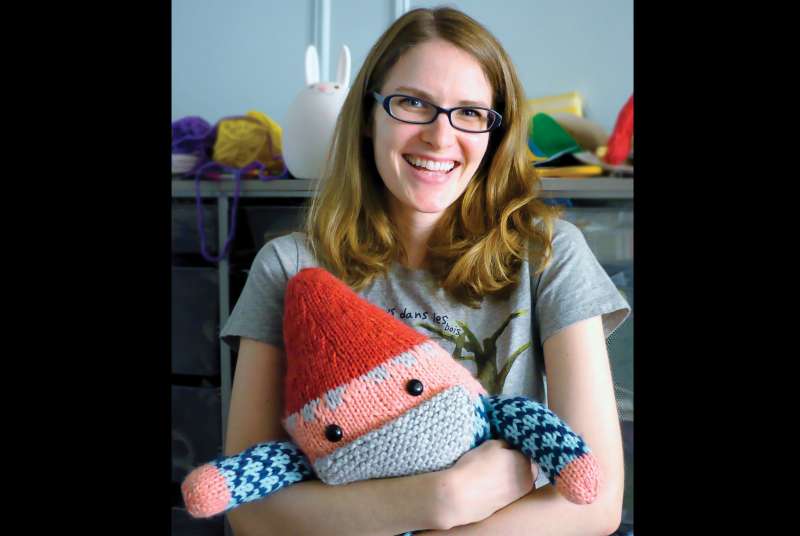 Knit Wit
Knitter finds Seussian inspiration.
Anna Hrachovec '04 knits a world—Mochimochi Land—as colorful and engaging as that of Theodor "Dr. Seuss" Geisel '25. Populated by tiny yarn creatures ranging from gnomes and narwhals to anthropomorphic houses and trees, her land of what she calls "kooky chaos" is inspired by the beloved cartoonist. "More than anything, I value the loose, experimental playfulness that made Dr. Seuss so brilliant," she says.
Hrachovec, who learned to knit from her host sister during a study abroad program in Japan, created her first toy a few years after graduating. "Making something by hand that could look right back at me gave me an instant rush of love and motivation to make more and see what happens next," she says. Hrachovec launched Mochimochi Land in 2007 and has expanded her world to include pattern books, gallery exhibitions in New York City, Berlin, and Seoul, and short videos developed with Nickelodeon animators. "I've always been interested in stop-motion animation," says the former film studies major, "and I've also tried to push my knitted work into new challenges that required me to learn new stuff." She also created the most popular GIF of 2017—a gnome knitting hearts—that has been viewed more than 755 million times.
"I like it that my characters are approachable in a visceral way," she told her hometown paper, the Chicago Tribune. "I think for a lot of us, characters help make the world a friendlier, better place to be in." As she juggles two small children, a website, and a wholesale business, Hrachovec continues to imagine new scenes. "I'm thinking about making a short animation about Mrs. Claus on summer vacation," she says.