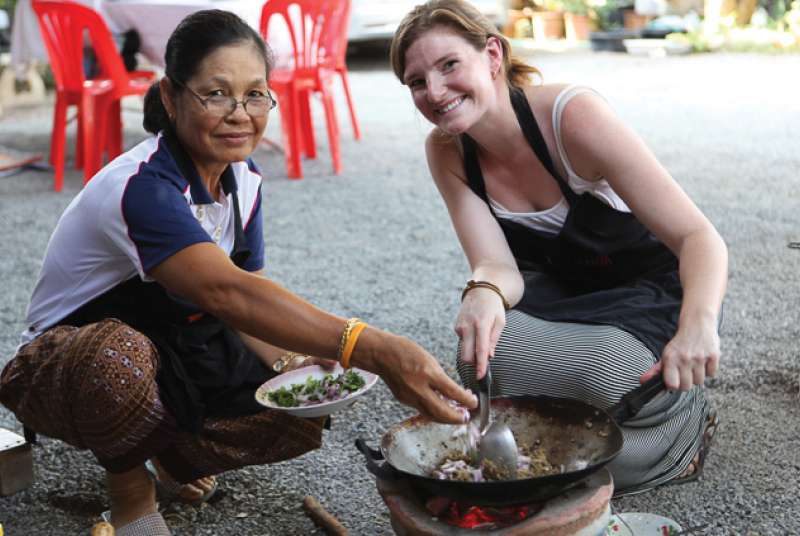 Kitchen Table Diplomat
Entrée entrepreneur Steph Lawrence '06 makes the world smaller, one meal at a time.
Traveling through China after graduation, Lawrence wondered why it was so hard to connect with local people. "We ate in huge hotel banquet halls but only with other tourists. I just wanted to eat where locals ate," she says. In 2009 Lawrence tried again. With the support of a Dartmouth fellowship, she and her husband, Craig Rubens '06, moved to China "to connect with the culture more deeply, with a vision of meeting a Chinese grandmother and learning how to make dumplings. I was there for six months, and I couldn't find that experience."
Travelers today can easily find that experience and many more, thanks to Traveling Spoon, the online platform this San Franciscan cofounded in 2013 to connect travelers with home-cooked meals around the world. (Some of the company's first capital came from Lawrence's win in the 2014 San Francisco Dartmouth Entrepreneurial Network startup competition.) Local hosts create authentic dining, cooking, and market-tour experiences to help visitors, as the company motto says, "travel off the eaten path." 
"We offer everything from learning to cook pasta from a grandmother in Italy to learning how to grind curry from scratch on a farm in Thailand," says Lawrence. "Our mission from day one was to make travel more meaningful. We offer more than 1,000 experiences in 150 cities in more than 50 countries." 
These dinners range from luxurious to down home. In a beautiful penthouse overlooking London's Notting Hill, with a chef trained in a Michelin-starred kitchen, Lawrence learned to make classic British dishes—fish pie with fresh seafood and Eton mess with fresh berries and whipped cream. 
Halfway around the world on a farm in northern Thailand, she learned to cook laap pla duk. "I hand-minced catfish with a machete for what seemed like hours—my arm is still sore thinking about it—frying it with galangal, ginger, fresh coriander, and lemongrass. I can't even tell you how delicious it was. It was so different from any Thai food I'd eaten. And the setting was so beautiful, to get outside of the city and see where people live their everyday lives."
Lawrence, who has a toddler son and an infant daughter, describes the company as an intersection of three pillars important to her: preserving food traditions, travel, and microenterprise—providing income to local members of the community. "Eighty-five percent of our hosts are women, all doing something they love," she says.