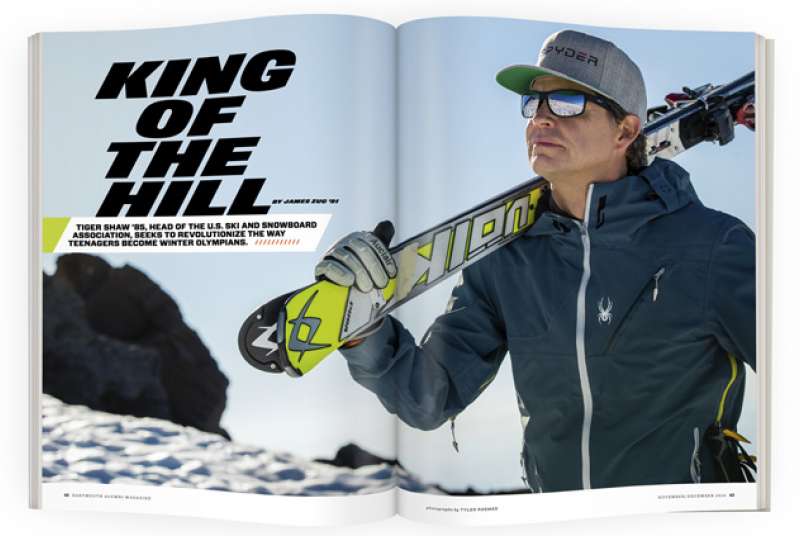 King of the Hill
Tiger Shaw '85, head of the U.S. Ski and Snowboard Association, seeks to revolutionize the way teenagers become Winter Olympians.
Tiger Shaw's job is to find heroes. As president and chief executive officer of the U.S. Ski and Snowboard Association for the past three years, Shaw has been trying to revolutionize the way Americans become Olympic-medal-wearing, cereal-box-featured icons. He is focused on two parts of the pyramid: the top and the bottom, pushing up the peak and widening the base.  
The base is hard. A fundamental problem with the USSA is accessibility. Mountain sports are necessarily far from diverse urban populations. Although downhill gold medalist Lindsey Vonn grew up in Minneapolis, she is the exception. Most elite skiers, historically, are from rural, snow-pounded realms. So Shaw tries to bring the mountain to the city, as when he helped produce Big Air at Fenway Park, an FIS Snowboard World Cup and a U.S. Grand Prix freeskiing event in Boston last winter. More than 27,000 people came to the ballpark to watch athletes launch off a $1-million, 140-foot jump. 
Shaw also partners with youth enrichment programs around the country that focus on attracting metro-based kids into sports. "We aren't sure we'll get an Olympic medalist out of it," Shaw says, "but it really helps get more people involved in our sports." He was also behind the USSA's acquisition of NASTAR, the mammoth national racing circuit that since 1968 has provided the initial on-ramp for hundreds of thousands of alpine skiers and snowboarders. It was a bold, visionary move. "When he came to me and said we should buy NASTAR, I shook my head," says Dexter Paine, chair of the USSA's board. " 'Why would we ever do that?' " I asked. "But he outlined the strategy and it makes a ton of sense." 
Shaw's biggest revolution at USSA has been with education. Most elite skiers have had to choose either college or the national team. "It used to be a major branch in the road," Shaw says, "and going to college was terminal in terms of an international career." Not anymore. Shaw created a vice president position in charge of education and hired Jory Macomber '85 to fill it. When Macomber left after two years, he was succeeded by Julie (Pelkan) Glusker '88. Under Macomber and Glusker, the USSA relaunched a relationship with Westminster College, a small liberal arts school in Salt Lake City, Utah, that USSA team members can attend through a special tuition-grant program. 
Twenty-three Westminster students competed at the 2014 Sochi Olympics, where they won more medals than all but 11 countries. USSA athletes now study at 15 colleges and universities, including Dartmouth, Montana State and the University of Denver, institutions that offer deep flexibility for athletes trying to simultaneously get a degree and compete at the highest level. 
Additionally, Shaw has launched a six-person pilot program, the National University Team, for male alpine skiers. (Brian McLaughlin '18 is one of the team members.) Working in concert with the skiers' college coaches, the program bridges gaps in training between college teams and the national team. "The attitude toward higher education is completely different now," says David Baldinger '89, who skied at Dartmouth and now is a ski event promoter in Colorado. "College is now a legitimate path to the national team." To further help students, Shaw is working to grow the USSA endowment for college tuition reimbursement to increase the current annual limit of $5,000 per student-athlete.
Overall there are 196 athletes on USSA national teams, including 45 of high-school age who are required by the USSA to be working toward a high school degree. "In the past, as a governing body we would sometimes look the other way," Shaw says. "Now we won't allow a kid to be on the team otherwise."
Shaw's biggest revolution has been with education. Most elite skiers have had to choose either college or the national team. Not anymore.
Recently Shaw discontinued the USSA's own high school, Team Academy, which had a dozen athletes based at the association's headquarters in Park City, Utah. "We needed to get away from the bricks and mortar," says Glusker. "We had to be more agile, more personalized. The kids all have different paths. Nothing can be cookie-cutter. With fantastic online opportunities—many of which are free—it makes sense to support and advise each athlete individually rather than force some of them to study here in Park City and not pay enough attention to the others. Now all the high schoolers are getting the support they need." 
Shaw's approach to education has trickled down. "I used to be the head nag," Glusker says. "Now the sports directors, team managers, coaches—they support what we are doing. They hold an athlete out of training if he or she hasn't done their schoolwork. The tide has turned. It is a palpable shift."
It's not surprising Shaw is an ardent advocate for education. Given his family roots, he was bound to end up as both a college graduate and a skier: One of Shaw's aunts was on the U.S. Olympic team, another opened Burlington, Vermont's first ski shop and his father captained the alpine team at Middlebury and helped create the resort at Stowe, Vermont. His mother, M.J., ran the Mount Mansfield Ski Club and his siblings, Andy and Dani, were All-Americans at the University of Vermont and Middlebury, respectively. 
After applying with the class of 1983 to Dartmouth, Shaw deferred for two years to ski with the U.S. national team. "The College said there was no third deferral," he says, so in the fall of 1981 he matriculated with the class of 1985. 
Shaw skied his freshman year, winning the 1982 NCAA slalom at Lake Placid, New York, and coming in third in the giant slalom. After that he never spent another winter in Hanover. From 1983 to 1990 he skied on the World Cup circuit, garnering 20 top-15 finishes. His best result was seventh in the slalom at Park City in 1985. He raced in the Olympics in Sarajevo in 1984 and Calgary in 1988, when he finished 12th in the giant slalom. He won nine U.S. national titles. He played touch football with the Mahre brothers at Mount Hood, Oregon. He skied the Hahnenkamm in Austria.
After graduating in 1986 Shaw and his wife, Kristin (Farrish) Shaw '82, lived primarily in the Upper Valley. Shaw pursued various business ventures while remaining active in his sport. He served on USSA boards and volunteered as a coach at Ford Sayre in nearby Lyme, New Hampshire, where his three children learned to race. (Kara skied at Middlebury, Gunnar '14 skied at Dartmouth and Eva is now at Middlebury). Cycling became his warm-weather endorphin creator. "Tiger traveled so much for work in those years," says Cami Thompson, coach of the Dartmouth women's Nordic team, "the only time I'd see him was some mornings when he went past in a group of bicyclists."
When a search got underway for a successor to Bill Marolt, who had led the USSA since 1996, Shaw's name popped up. "He had the credibility with the top athletes, having been an Olympian," says Dexter Paine, "but he also understood the grassroots, having grown up in club skiing, then skiing at Dartmouth, then working in the ski industry and then parenting and coaching at the club level. It was a pretty obvious choice." In October 2013 Shaw joined the USSA as COO. After the Sochi Olympics he replaced Marolt as CEO.
For most leaders of a national governing body, the job of producing heroes would be straightforward, but the USSA is a byzantine, diverse, complicated (read: schizophrenic) organization. What does the second "S" even stand for? It originally signified skiing, both alpine and Nordic. There is also ski jumping—five jumping clubs in the Midwest actually founded the USSA in 1905. For almost a century the USSA was the loose leader of these three discrete, non-overlapping disciplines—and then came the addition of freestyle ballet skiing and moguls. 
Twenty years ago everything exploded. New sports joined the roster: aerials, parallel and giant parallel slalom snowboarding, plus three sports for both skiing and snowboarding: cross, halfpipe and slopestyle. The only thing uniting them was that they all involved gravity and snow. (The sole skiing sport not under the USSA umbrella is USA Biathlon—led by CEO Max Cobb '87.) Snowboarder Shaun White became as famous as alpine racer Bode Miller. The new sports led to some confusion—more than one leader joked that they sometimes didn't know exactly what some of the sports were. 
Overseeing this transition was Marolt, a towering figure in the ski community. The CEO of the USSA for 18 years, Marolt built the USSA's new headquarters in 2009: the 85,000-square-foot, $22-million Center of Excellence (COE). It sits at 1 Victory Lane in the Utah flats, a couple of miles from Park City. COE is a stunning building that encompasses all of the parts of the USSA: physical therapy staff, trainers, coaches, more than half of the 200 USSA employees around the globe, machines to train for every sport and water-bottle-toting athletes.
Some people in the ski and snowboard community saw COE as a palace with big shiny objects where bureaucrats pushed paper. Especially after the introduction of the new sports, everything became intensely tribal. "I have for a long time felt that there must be something in the water," says Thompson, the Dartmouth coach. "When people went out to work in Park City, things went bad."
With hopes of overhauling the pathway from first-run junior skier or rider to podium-waving champion, Shaw has negotiated and signed operational agreements with all 400 affiliated local and regional associations. That's a lot of constituencies. Although good governance is boring, it leads to much better results—and fewer bruised egos. Everyone is now driving more in tandem than in opposition. "There is now a refreshing gust of transparency with the USSA, particularly with finances," says Baldinger, the event promoter. "The rivalries have diminished and people are seeing that synergy is a good thing." 
For the first couple of years on the job Shaw spent a lot of time listening, refining plans, strategizing with the grassroots units and moving people around at COE. "We are now focused on executing," he says. "Now there is no excuse. A new leader has a year or two of grace, and now we know where we are going and how to measure if we are getting there."
Finding the money for everything is a paramount challenge. Shaw estimates that, as with a college president, at least half of his job is pure fundraising. He leads a team of a dozen development staffers. Like every other major national governing body in the country, the USSA receives no government funding. It is with hat in hand, or rather helmet in glove, that Shaw tries to source the USSA's $37 million budget. The 20 people on the USSA board help, as do 75 on the USSA Foundation board, but Shaw is the leader. He regularly meets with corporate sponsors. He also attends meetings with the U.S. Olympic Committee (which provides 10 percent of the USSA budget), International Olympic Committee, FIS (the international ski and snowboard governing body) and others. Managing all these relationships consumes his days. For example, he makes sure that the USSA runs as many World Cup events as possible to ensure exposure for USSA partners, even though the USSA loses money running the World Cups. 
"His two main goals," says Jeff Kirwood '91, a former Dartmouth skier and now a Dartmouth ski team parent, "are to help our athletes to be the best in the world and to raise a ton of money. He hasn't been intimidated by USSA boards—there are so many people there and a lot of egos, a lot of tough personalities, all smart and successful people with strong views—and he's handled them beautifully. Tiger is a great listener. He is deliberate. He is a consensus builder. He makes good decisions. People see that."
Shaw is also thoughtful about potential landmines such as doping or the effects of global warming on the ski industry. He is thrilled about the USSA harnessing virtual reality technology. The USSA has filmed the downhill course at 2018 Olympic site PyeongChang, South Korea, and racers in Park City have now virtually skied it many times. "They get off the machine dripping wet," Shaw says. Since the downhill course is a new one, with only one sanctioned race before the Olympics, Shaw sees virtual reality as a significant advantage for American downhillers. 
But he loves the here and now. Even in the digital age, travel is Shaw's method of communication. In the first six weeks of 2016 he boarded 28 flights: Europe, Asia, conferences, meetings, asks. In 2015 he made 42 trips out of Park City for a total of 142 flights. He also drove back and forth to Colorado a dozen times.
When he's home, he has an open door. The joke around Park City is that the Shaw household is a USSA dormitory. "Tiger's not siloed—he is a collaborator, a bridge builder," says Glusker. "He's a strong, directed, solution-orientated leader, but he's also humble. Anyone who needs a meal, a ride to the airport, a place to crash, they go to Tiger. It's like he is the head of a boarding school. He'll lend a bike, he'll send leftovers back with someone who came to dinner. He and Kristin, they know the athletes' families. We always say that Dartmouth is a family, and they have turned the USSA into another family like that."
One of the things that people really like is when the CEO of a national governing body participates in the sport he or she leads. In 2015 Shaw clocked 40 days out on the snow. He knows which lift chairs open at 7 a.m. and where the snow is going to be good. "Skiing and riding are very social sports," he says, his pale blue eyes brightening. "I get out with amazing people in amazing places. I mostly ski. I snowboard but I have a bad shoulder so I don't want to fall six times a run. And I don't jump much anymore. At my age I like to stay on the ground." 
On the wall of his office is a gorgeous photograph of Tuckerman's Ravine—Shaw tries to ski it every spring. This past winter he also participated in the American Birkebeiner, the Hayward, Wisconsin, granddaddy of all Nordic races. In his first cross-country race there, Shaw finished the 51-kilometer course in less than five hours.
In the hallway outside his office are posters from past Olympic games and a massive, floor-to-ceiling trophy case glittering with cups, medals and certificates. They are a reminder of the somewhat unique pressures and rhythms of his job. "I get measured by a two-week period every four years," Shaw says. "In the end, the Olympics define the job I am doing. Rankings and World Cup results are super important to the athletes and the USSA, but the Olympics mark success for me personally. The official vision of the USSA is to be the best in the world in Olympic skiing and snowboarding. It is pretty simple and it is pretty harsh."
The latest metrics: In Sochi in 2014, the U.S. won 28 medals, behind Russia with 33. Eight of the nine American gold medals, and 17 of those 28 overall medals, came in a USSA sport. 
When it comes to winning medals, it's all about time. The USSA's website features a countdown clock to PyeongChang. When that clock hits zero and American athletes grapple with the gravity and snow and friction and air for a couple of weeks in South Korea, it will mark Tiger Shaw's quadrennial public job evaluation on producing heroes.                                   
James Zug is the author of six books, including Run to the Roar. He is based in Wilmington, Delaware.