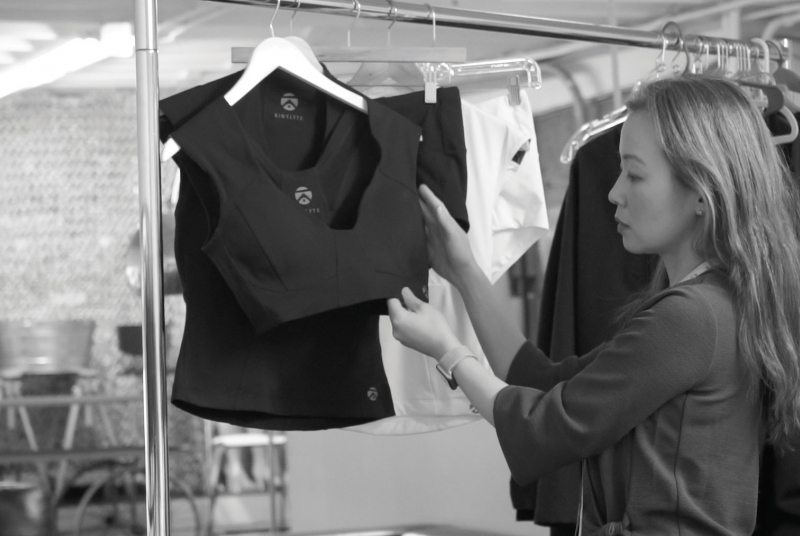 Support Team
Entrepreneur launches innovative clothing line.
A tech and marketing executive, Lee suffered chronic pain in her back, neck, and shoulders from long commutes, working at a desk, and nursing her children. Desperate to ease the discomfort and improve her posture, she wondered if undergarments might provide better support. When she couldn't find anything that did the trick and was also aesthetically pleasing, Lee turned to her inner entrepreneur. In 2018 she founded Kinflyte, a direct-to-consumer line of luxurious women's bras, tops, and bottoms. Within months it became her full-time enterprise. 
"It's exciting to do something I believe in," Lee says. A Korean American, she turned to Korean aesthetics and a sci-fi movie to make her brand stand out. The futuristic buildings in Blade Runner (1982) reminded her of the jacket commonly found in hanbok, or traditional Korean clothing. Inspired, Lee incorporated compression panels and a material that grips the shoulders into Kinflyte posture bras.  The product forces consumers to lift their shoulders and sit upright. 
Based in Rancho Palos Verdes, California, Kinflyte practices sustainability by using polyester from plastic single-use water bottles in its EcoJersey line. Another point of pride for Lee is that Kinflyte's manufacturer in China uses precise, computerized cutting machines to reduce fabric waste. Reviews in publications ranging from Real Simple to even Wired have been enthusiastic, and the company has enjoyed rapid growth, despite the pandemic hitting shortly after Kinflyte began to ship products. "I had to do everything from a distance, so that was a challenge," Lee says. 
Liana Delucca Johnson, a former senior designer for The North Face who specialized in women's fit and equipment ergonomics, and who has her own line of ergonomically designed outdoor gear, advises Lee. "When you are a woman-run startup, you want each other to succeed," Johnson says, "and you want to see more of these amazing products out in the world."