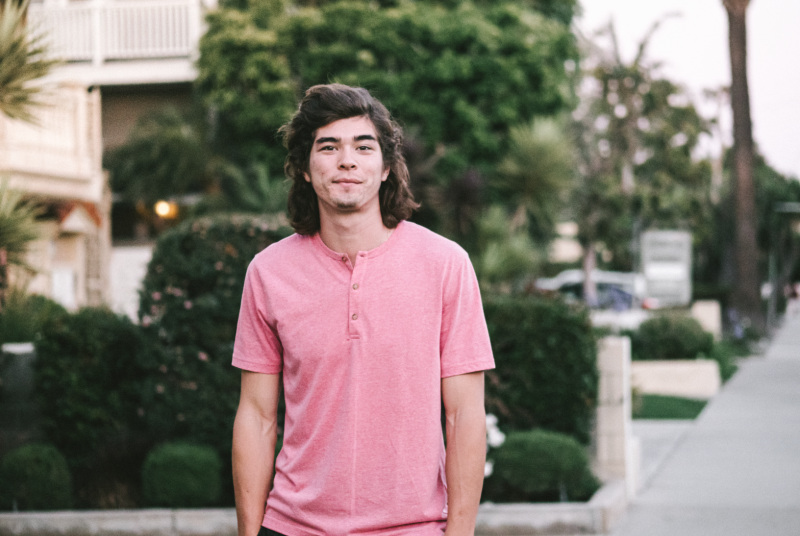 Match Maker
Jeremy Birck '15 explores the psychology of finding dates on Tinder.
Millions of people use Tinder, the most popular dating app worldwide, to meet people online—swiping right to like or left to dislike. If you're one of them, you've likely encountered or been influenced by the work of Jeremy Birck. As an associate manager on the dating app's consumer insights team, Birck, who lives in Los Angeles, uses his expertise in psychology and sociology to attract and retain users and to research and develop new features for the app. He talked with DAM about how Tinder has adapted during the pandemic—and the ways his job has influenced his own approach to dating.
Tell us about your role at Tinder.
Basically, we test different ways of marketing to users and non-users, and we test new features on a user-experience level. We conduct massive surveys across the United States and in 20-plus countries around the world, seeing what people like about certain features and access based on things such as subscription tiers and pricing. We also conduct one-on-one, in-depth interviews and focus groups. We get to see real users of the app swiping left and right on their phones and telling us what they like and don't like. I like to think of our team as the "we hear you" team at Tinder.
During the pandemic, a lot of dating apps added new features such as video chatting. How has Tinder adapted?
People have become somewhat used to not seeing each other in person, and we're trying to get them back into the real world. We're beta testing this new feature called Vibes, which curates matches based on common interests. We do more interactive things like Swipe Night, which we ran last summer. It was almost like an interactive movie: Users swipe yes to get taken into this apocalyptic scenario. Then it asks, what are you going to do? You're at a party and a meteor hits—do you go upstairs or go find your friend? You pick A or B, and then there are more decisions to make, and you eventually match with people who chose similar paths. We're testing to see what hits.
How did you wind up at Tinder?
I double majored in sociology and psychology. I realized that I was really interested in the intersection of how society as a whole intersects with the individual and the mind. Ultimately, I liked the concept of decision-making—how does society influence your decision-making? I went to USC to get my master's in consumer psychology, which launched me into the market research world. Since then, I've had jobs at two different agencies involving consumer insights and market research. Tinder is my first job on the corporate side, and it's awesome because it integrates psychology into my day-to-day work. The dating app world is a lot of decision-making, so it's a cool callback to my academic days. We actually talk a lot about social psychology in our meetings.
Can you provide an example?
It can be as simple as changing the colors of certain buttons or moving the [swipe] icons from the top of the screen to the bottom. We do these psychological reconfigurations, even making it easier for people to accidentally swipe up, which is a Super Like, instead of swiping right. If you Super Like somebody, it makes you a little more engaged and creates more of a connection.
Were there any professors or courses at Dartmouth that really influenced your path?
My physiological psychology professor, Catherine Cramer, wrote one of my recommendation letters to my graduate school program. Physiological psychology is really just how the body works, but a lot of it is what triggers the brain, what goes on in the brain when you're engaged in something, such as when you see someone you like on a dating app. My sociology experience really helped too, because in the dating world, you are reliant on the people around you who are also looking to date.
Has your job impacted the way that you online date?
Absolutely. I listen to users talking about what they like and don't like all the time, and I think, "Okay, maybe I can adjust my profile accordingly." All of my apps have slightly different bios. Hinge is catering more toward people 25 to 35. Tinder is a little younger, so I try to keep a little more playful there. On Bumble, I have in my profile that I work for a dating app, which is definitely a conversation starter. I like being a little more approachable on Bumble versus being a little bit more sophisticated on Hinge versus a little more, I don't know, maybe flirty, on Tinder. I like learning about the nuances personally and professionally.
Tinder is often criticized for perpetuating hookup culture and sexist behavior. What do you think?
I would say that every coin has two sides. Tinder is the easiest app to get on and to get familiar with. Everyone knows the concept of swiping left and swiping right—that's a Tinder-specific thing that every other app has adopted. It is polarizing because you might be looking for a relationship, but everyone you match with might want to just hook up.
Has your team noticed any changes in user behavior since the country started reopening?
The past year Tinder usage and subscriptions have skyrocketed, which is great, and they haven't gone down, which is interesting. We thought this summer everybody would end their relationships and go freaking wild. But we're midway into June now, and [from user data and a general population survey] our hypothesis was wrong. Maybe after being locked down for a year-plus, people realized that having one person to lean on is much more important than spreading yourself thin with a couple of people who you can see here and there.