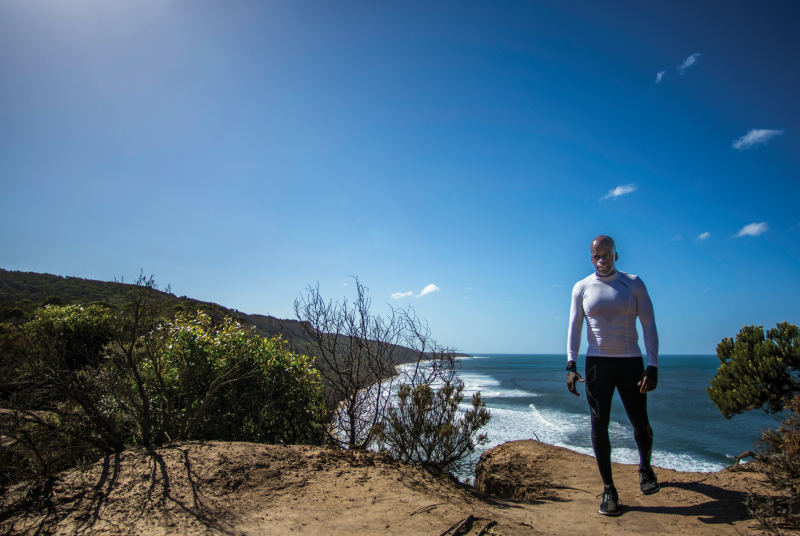 View From Above
Ultra runner Jarmal Richard '91 gains altitude Down Under.
When Richard runs in Great Otway National Park in Victoria, Australia—as he does six days a week—he often sees kangaroos jumping in front of him. He runs at varying elevations, near waterfalls, and through lush rainforest, past farms, and along wide valleys and rugged coastline. On Saturdays he typically covers about 50 kilometers—about 31 miles. He racks up about 180 kilometers a week, all recorded on his Strava fitness app. 
The former English major began high-elevation running in the Santa Monica Mountains when he was 13. "I liked to run for hours," he says. After earning a law degree at USC, he moved to Australia and now lives on a farm in Winchelsea with his wife, Michele Smythe. He became a dual citizen in 1999. Nine years ago he started iconnect2u Sports, which trains athletes on endurance and helps rehabbing athletes get back in action.
Richard mentions the Upper Valley, Topanga Canyon in California, and Mount Motutapu in New Zealand as great places to run. But, he says, the 398-square-mile park in southeastern Australia affectionately called the Otways is "unequivocally" his favorite, and he hopes distance runners will gravitate to it as a destination. 
Run the Otways, a short documentary released in April, features Richard logging many miles there through all kinds of terrain and weather. "The film is less about performance and more about the connection to nature," he says. "I'm hoping that this film encourages people, whether you're an extreme runner like me or just going for your first run outside, to get out into nature." Richard Elkins of Austin, Texas, who hosts Mile 62, a podcast about ultra running, says Run the Otways "is quite inspiring and gives you an idea of what the trails are like Down Under in Australia and the beauty of running there."