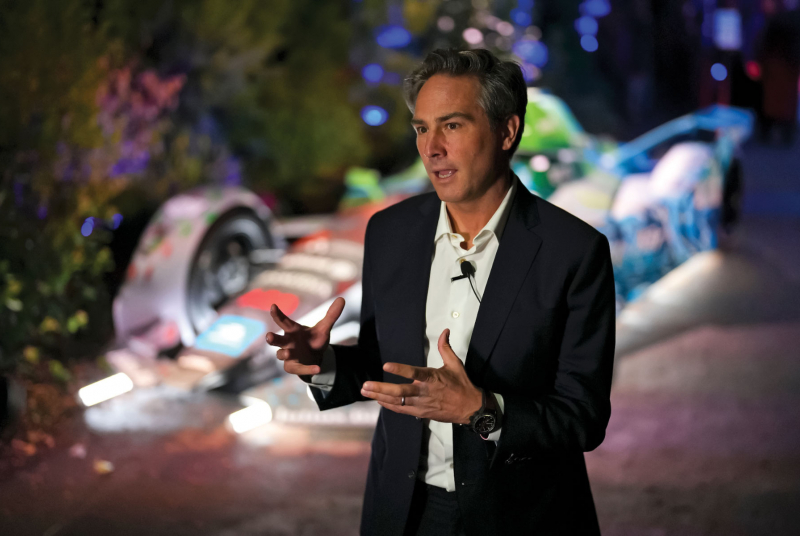 Charged Up
Jamie Reigle '99 helps electric racing take off.
Formula E, the first motorsports world championship series to showcase electric vehicles, began in 2012 with a purpose: to address climate change. "That was a pretty radical idea," says Reigle, who became CEO three years ago after working in business operations for the Los Angeles Rams and overseeing global operations for Manchester United. "The world wasn't looking for another car race." 
But the idea took hold, and the series now presents races in cities around the world. "It is a traveling road show, or more like a circus," Reigle says. Formula E builds pop-up tracks and creates a festival atmosphere complete with stands, hospitality suites, and fan zones. In January, when Formula E starts its ninth season in Mexico City, it will showcase Gen3 vehicles, which are lighter and faster than previous cars and can race at more than 200 mph. It also will institute a pit stop to demonstrate how quickly the cars can be charged. 
"The old adage in motorsports is 'Win on Sunday, sell on Monday,' " Reigle says, explaining why companies such as Porsche, Jaguar, Maserati, and Nissan use racing to help develop and market electric vehicles. "It demonstrates that they are not only good for the environment, but they're also high-performance, they're super-reliable, and a great alternative to combustion engines." Reigle points out that Porsche now sells more of its Taycan EVs than its iconic 911s. "That level of market change is pretty dramatic," says the earth sciences and econ major who grew up in Canada and lives in Singapore with his wife and two sons.
"Give Reigle and the Formula E vision credit," says Mike Pryson, motorsports editor at Autoweek. "Many thought that the series was little more than a sideshow when it started. It's proven to have staying power. Fans and the media are anxious to see what's next."