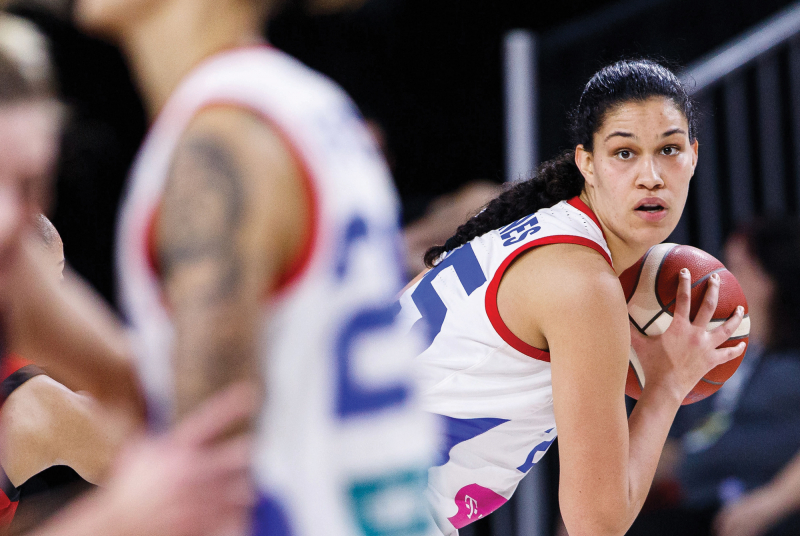 Ready for Tokyo
Isalys "Ice" Quiñones '19, Th'20, heads to the Summer Olympics.
In September 2018, at the opening game of the International Basketball Federation Women's Basketball World Cup in Spain, the Puerto Rican national team—a first-time qualifier—took the floor against a seasoned Belgian squad. The Puerto Rican players were nervous and, after an early layup and foul shot, suffered a scoring drought of stupefying proportions. With a minute left in the first half, the score stood at 48-3. "For a coach," the TV play-by-play commentator said, "this is your ultimate nightmare." 
It fell to the youngest player to stanch the bleeding. Just 20 and still a Dartmouth student, Isalys "Ice" Quiñones snagged a loose ball near the foul line and coolly swished a jump shot. The bucket buoyed the team, which went on to turn an epic annihilation into mere defeat. 
Three years later, Quiñones leads a much-improved Puerto Rico team as it prepares to debut on an even bigger stage, the Olympic Games in Tokyo. It's an achievement that Ice, a nickname that stuck when her sister couldn't pronounce "Isalys," has been preparing for all her life. Her Puerto Rican parents moved as teens to the mainland United States, settling eventually in San Diego, where her mother, Frances, served in the Navy. The military mom was a demanding taskmaster. "She's Puerto Rican and has a crazy wild side to her," says Ice, speaking from team headquarters in San Juan. "But she also believes you have to work hard in life. You can't just skate by—with school or with sports." 
Quiñones' parents exposed her to an array of sports, including soccer, tennis, and gymnastics. Basketball won out. "I loved it from the start," she says. "It's an all-out sport. You need every person on the floor at every moment." After starring on her grade school team (and seeing her jersey number retired), Quiñones enjoyed a sparkling career at Otay Ranch High School and graduated with a load of athletic and academic awards—and a 4.3 GPA.
The adjustment to Ivy League basketball wasn't easy. Quiñones worked obsessively on her game under coach Belle Koclanes. "As a high-school player, Ice was just scratching the surface of her potential," Koclanes recalls. "We spent a ton of time on skill work. Ice is very hard on herself, and she can be fiery. She does everything with passion." The work paid off. By her senior year Quiñones led the Big Green in points and blocks, was second in rebounds and three-pointers, and third in steals. Her Dartmouth highlight reel showcases the remarkable versatility of a 6-foot-3 post player who can shoot the three and drive to the hoop, dish creative passes, and score off the dribble from both sides.
"Ice can do it all," says Koclanes. 
"Ice can do it all."
And not only on the basketball court. At Dartmouth Quiñones earned an A.B. and a B.E. in engineering and won the John C. Woodhouse Environmental Engineering Prize. "I took an integrative design class and fell in love with it," she says. "It's amazing, putting something together in your head that will actually come out in real life." She hopes eventually to help repair the environment. "I don't want to just be here taking up resources. I want to be able to help the earth and the people who live on it," she says.
For now, basketball beckons. In 2017 her parents contacted the president of the Puerto Rico basketball federation to request a tryout. Quiñones won a roster spot. "We are not afraid to go young," says the national team's coach, Jerry Batista. "Ice was 19 when we picked her, and we knew she was a project. She has improved so much since then." Batista's team plays an up-tempo, run-and-gun style, an approach he calls "organized mayhem." It places a premium on versatile players. "Ice is big, but with quality guard skills," he says. "She can help us from different positions." 
Since her selection, Quiñones has traveled frequently between mainland and island. "I'm basically a nomad," she says. In Puerto Rico the soon-to-be Olympian attracts attention, and not just from her numerous relatives. "International sports is huge here. People see you wearing the shirt and they look at you with awe. They're just so happy that you're playing for them." The runup to the Olympics has been busy: first, in March, the regional Centrobasket tournament—where her double-double in the final game helped Puerto Rico go undefeated—then the AmeriCup, scrimmages in Europe, and finally the trip to Japan. 
The Puerto Rico team has improved in recent years, but Tokyo presents a different level of challenge. "It's going to be hard to win a game," admits Batista. "We're the least experienced team there. But we're gonna be prepared. Ice is going to help us a lot. She plays with passion, and that's the only way we're going to have a chance to win." 
Quiñones, Dartmouth's second-ever hoops Olympian (H. Crawford Palmer '93 played in 2000 for France, which won a silver medal), rates Puerto Rico as "somewhere in the middle" internationally. "We're not the bottom, but we're not Australia either." She sighs, describing the daunting experience of going up against Liz Cambage, the Aussie star who, at 6-foot-8 and 216 pounds, holds the WNBA single-game scoring record with 53 points. Asked whether she'd want to face the favorites, Team USA, in the Olympics, Quiñones does not hesitate. "For sure," she says. "We actually played them in the last AmeriCup. Everyone expected us to get slaughtered, but we hung in until the late third quarter." 
Looking forward, Quiñones hopes for an engineering job that's flexible enough to allow her to develop a career while continuing to play overseas, at least for a while. Last year, after going undrafted by the WNBA, she signed with a professional team in Greece, AO Dafni. Her debut season was cut short by Covid, but the one game she got to play was an auspicious start, with 17 points and five rebounds. 
For now, she savors the anticipation of Tokyo. There will be nerves, she admits, but then the game will begin. "I'm picturing the picture-perfect moment of me jumping center—the first jump of the Olympics," she says. "I made the second basket in the World Cup. This time I want to make the first."                               
Rand Richards Cooper is author of The Last to Go and Big As Life. His writing has appeared in The Atlantic, The New Yorker, and other publications. He lives in Hartford, Connecticut.