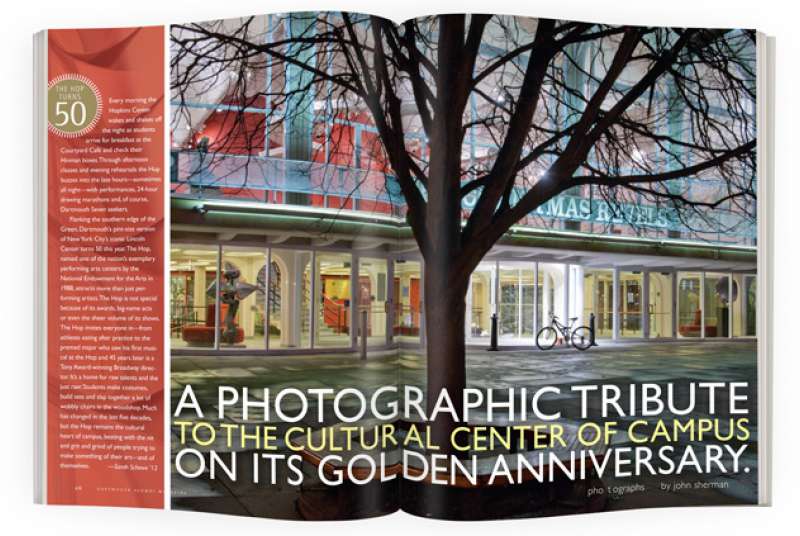 The Hop As You've Never Seen It Before
A photographic tribute to the cultural center of campus on its golden anniversary.
Every morning the Hopkins Center wakes and shakes off the night as students arrive for breakfast at the Courtyard Café and check their Hinman boxes. Through afternoon classes and evening rehearsals the Hop buzzes into the late hours—sometimes all night—with performances, 24-hour drawing marathons and, of course, Dartmouth Seven seekers.
Flanking the southern edge of the Green, Dartmouth's pint-size version of New York City's iconic Lincoln Center turns 50 this year. The Hop, named one of the nation's exemplary performing arts centers by the National Endowment for the Arts in 1988, attracts more than just performing artists. The Hop is not special because of its awards, big-name acts or even the sheer volume of its shows. The Hop invites everyone in—from athletes eating after practice to the premed major who saw his first musical at the Hop and 45 years later is a Tony Award-winning Broadway director. It's a home for raw talents and the just raw: Students make costumes, build sets and slap together a lot of wobbly chairs in the woodshop. Much has changed in the last five decades, but the Hop remains the cultural heart of campus, beating with the nit and grit and grind of people trying to make something of their art—and of themselves.                   
—Sarah Schewe '12