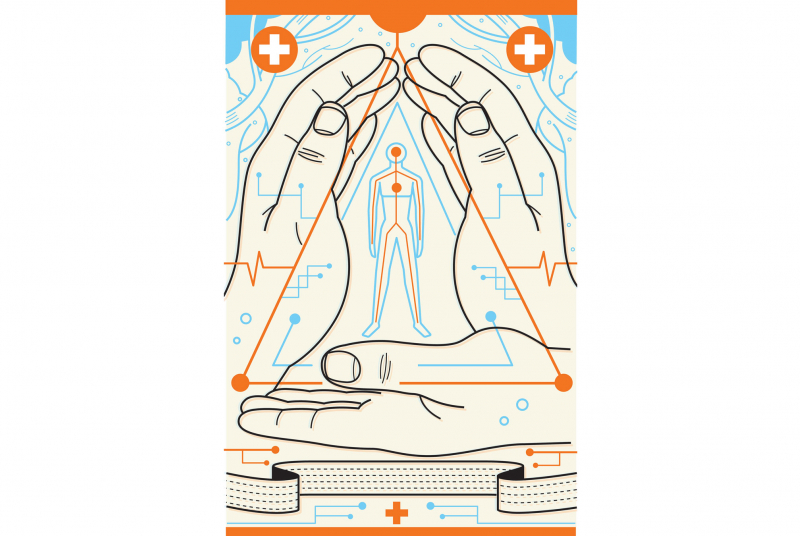 Helping Hands
Jim Kim's visionary program has been improving healthcare around the world for a decade—one project at a time.
Sometimes, Dr. Richard Baker Jr. '83, DMS'89, Adv'16, would get a call in the middle of the night—a severely ill patient in the intensive care unit had an internal hemorrhage or a stroke. Immediately, he had to contact family members and decide how aggressively to intervene. "At 3 in the morning, I'd bring in a nurse to discuss in 15 minutes what the patient really wanted," says Baker, a neuro and vascular interventional radiologist with Madison Radiologists in Madison, Wisconsin. 
Waiting until the last minute to have those discussions, Baker found, inflicted distress on patients and their families, as well as on staff members forced to make hard decisions. It also resulted in increased costs for unwanted life-sustaining treatments. "Would they want to have chest compressions, or would they like to just have one more cup of ice cream with their daughter?" says Baker. "Having those conversations a little more upstream was a really important problem to tackle." That was easier said than done, however, in a busy hospital environment where it's not so easy to gather the relevant physicians, nurses, social workers, and a chaplain to sit down with family members in need. 
To make it happen, Baker developed a project as part of his work on a master's of health care delivery science (M.H.C.D.S.) at Dartmouth, an unusual interdisciplinary program that provides mid-career health professionals with management and leadership skills "to transform healthcare delivery," according to the program's mission. Baker worked with two local hospitals to create a standardized approach for family meetings. He also worked with staff to coordinate schedules and facilitate the meetings. Since incorporating the changes, costs have dropped while family and staff satisfaction has risen, according to surveys. "Moral distress among nurses went down, which is a huge thing," says Baker. "If they are stressed, it's not good for patients or the institution."
Those kinds of positive outcomes are exactly what the M.H.C.D.S. program was designed to accomplish. "We set out to build an army of change agents who could transform healthcare delivery," says director Katherine Milligan '90, Tu'07. "I feel like we are well on our way to doing that." Kick-started by former Dartmouth President Jim Kim and now in its 11th year, the program has trained more than 400 graduates in a curriculum taught by faculty from the Geisel School of Medicine and the Tuck School of Business. "No one else has such a unique partnership of a business school and a medical school as we do," adds Milligan, noting that Dartmouth's small size makes cooperating across schools possible. "There really is no other degree quite like ours."
Participants—a range of professionals including physicians, nurses, insurance executives, and healthcare administrators—learn skills not ordinarily covered in medical school, including strategy, leadership, team management, and negotiation. The 12-month program combines marathon sessions on campus for participants to bond while working together with remote coursework they can intersperse with their ongoing career, culminating in a practical action learning project (ALP), such as Baker's family meeting idea.
For Dr. Bukola Olubi, a cardiologist and physician lead at the women's heart program at the Piedmont Health Institute in Georgia who earned the degree in 2019, that meant solving the problem of patients with rhythm abnormalities who failed to wear heart-event monitors at home. "It was a very bulky device with wires attached to it, and it was emotionally taxing," she says. "Half of the patients would just abandon it, so we were not getting the kind of information we needed." Undiagnosed problems resulted in dangerous and costly emergency room visits. For her project, Olubi spearheaded the adoption of new, smaller digital heart-event monitors that were easier—and more likely—for patients to wear. "It revolutionized the detection of arrhythmias, because now you know how patients are doing before they are coming in to see you," she says. The monitors are so effective that their capabilities have been incorporated into consumer products such as Apple Watch and FitBit. 
ALPs have minted agents of change to transform global health as well. Surya Bhatta, Adv'18, sought to expand the services of Nepal-based nonprofit One Heart Worldwide, which fights to reduce mortality rates among mothers and infants in remote regions of the mountainous country. As program director, Bhatta was frustrated by the fact that the organization relied on a paper-based system to stock life-saving medicines that reduce infection and hemorrhage during childbirth—a process that became increasingly difficult as its services expanded geographically. "I thought that's not right—we could fix it if we have proper communication," he says.
Bhatta teamed with fellow student Long Nguyen, Adv'18, managing director of a hospital in Vietnam who has a programming background, and helped design an app that enables clinics to order medicine and supplies in real time. During a presentation of his idea at Tuck, Bhatta raised $10,000 in crowdfunding. Then he and Nguyen launched the technology, first on a server in Vietnam, then in Nepal.
Shortly thereafter, Bhatta became executive director of the organization, which has grown from a dozen staff to about 70. It now covers 25 percent of the Nepalese population and has impacted more than 350,000 pregnancies to date. The nonprofit keeps finding new uses for technology, such as a system for midwives to communicate with expectant mothers and a helpline to call during life-threatening situations in childbirth. 
Whether in Nepal or Wisconsin, ALPs demonstrate the necessity for health professionals to work together. "The problems of health are not going to be solved by any one person or one profession, but are going to need concerted, coordinated action among as many different sectors as possible," Milligan says. "The most successful projects draw on diverse talents." Adds Olubi: "In this changing healthcare landscape, it's not about being rewarded for seeing 25 patients a day. You are rewarded for the quality of care you provide for patients, and this program has provided me a new set of skills to navigate that."                  
Michael Blanding is a Boston-based journalist and author. His latest book is In Shakespeare's Shadow.