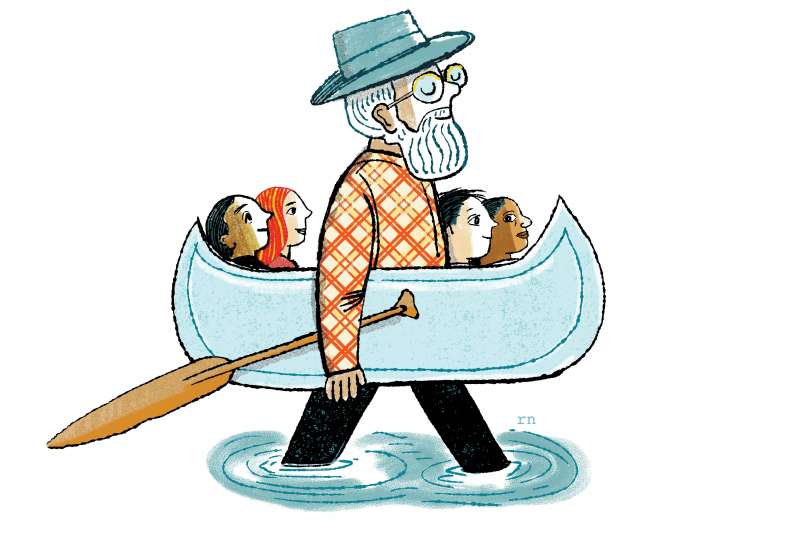 Illustration by Robert Neubecker
The Guide
Gardner Defoe '58: Maine's man of the wild.
During the course of five decades Defoe has taught hundreds of young people how to canoe on Maine's waterways. Last summer 16 of Defoe's former protégés and their family members convened to follow him one more time down Maine's storied Allagash River. "They were young people I had taught 30, 40 and 50 years ago," says Defoe, who was honored as a Legendary Maine Guide in 2012 by the state's department of fish and wildlife. "Some of them brought their sons and nephews. It was an unbelievable seven days."
The trip, which celebrated the 50th anniversary of the protected waterway, was commemorated in the documentary Defoe's Way. Maine-based outdoor retailer L.L.Bean helped produce the film. The film's title refers to Defoe's method of leading canoe trips. "My way was you have one way out of here, and that's behind me," he says.
As a college student, Defoe spent summers as a counselor and aquatics director at Maine's Camp Kawanhee in the Appalachian foothills of western Maine. He taught briefly at private schools in Connecticut before founding canoe and ski camps back in Maine that introduced young people from all over the country to nature. "Most of these kids had no exposure to the wilderness," Defoe says. "The amazing thing is that so many of them returned time after time and are still in touch with me 40 years later."
During last summer's trip down the Allagash, Defoe was proud to see his former campers displaying skills he'd taught them decades earlier. "They performed magnificently," he says. "They were always in a straight line, always following me."
Gardner's Top 4 Tips To Get Couch Potatoes Outdoors
1) Equip them with a confident and knowledgeable guide
2) Let them immerse themselves, ideally for several days at a time
3) Remove distractions
4) Repeat. Campers grow comfortable in nature in part by coming back year after year.