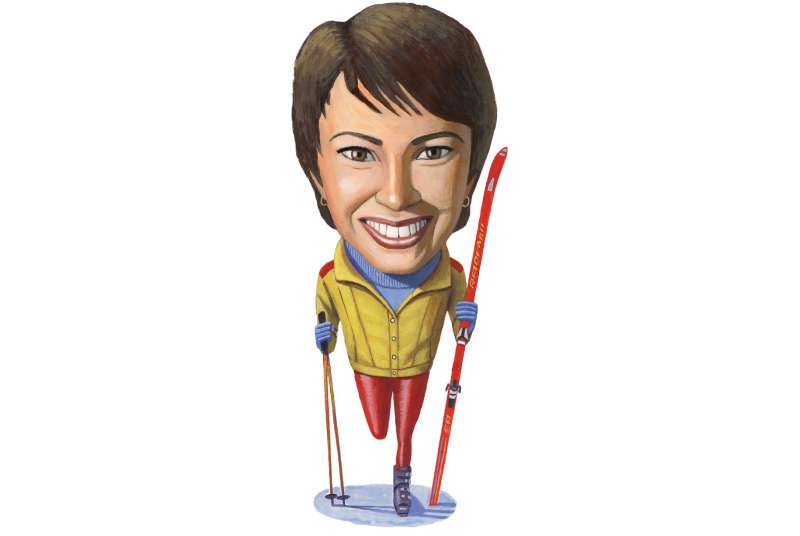 Golden
Disabled ski champion Diana Golden Brosnihan '84 was much more than a peak performer.
"It is impossible to overestimate what Diana Golden meant to the handicapped-athletics movement: she was its…Babe Ruth…its Tiger Woods," wrote Robert Sullivan '75 in Time magazine. After losing a leg to bone cancer as a child, she had a remarkable skiing career, winning a gold medal in disabled giant slalom in the 1988 Calgary Olympics and 19 golds in world and national championships. She was equally remarkable for her charm as a public speaker and disarming candor when her cancer returned. She married Steve Brosnihan '83 in 1997 and died in 2001 at age 38.
(Read Diana Golden Brosnihan's cover story, "To Die Loving Life," from our December 1998 issue. )
1
Lover of Life
"Will I still be able to ski?" Golden Brosnihan asked as a 12-year-old when told doctors had to amputate her right leg.
2
Downhill Drive
Golden Brosnihan fought the segregation and stereotyping of disabled athletes, saying, "Athletes don't want to be courageous. They want to be good." Of her drive to be the best, she said, "It wasn't about wanting to overcome cancer; it was about wanting to kick butt."
3
Training Days
As a member of the Dartmouth ski team as a freshman and sophomore, she ran and hopped up the steps at Memorial Field to train with the team. She took a break from skiing from 1982 to 1985. "It gave me time to find my identity…so that when I came back to skiing it was something I wanted to do for me and not because I needed that image from other people," she said.
4
Groundbreaker
Photogenic and vivacious, Golden Brosnihan was the first disabled skier to gain major corporate sponsors, including Chapstick and Subaru.
5
The One and Only 
Golden Brosnihan was the first disabled athlete in the U.S. Ski Hall of Fame and was the 1988 U.S. Olympic Committee's Female Alpine Skier of the Year—chosen over all skiers, including the "non-disabled" ones, as she called them.
6
Funny Girl
She had a great sense of humor and didn't hesitate to joke about her own situation. A legendary example came when, after being knocked down by a recreational skier, she stood, pointed to her missing limb, and screamed, "Hey, look what you've done to my leg!"
7
Game Changer
Golden Brosnihan inspired U.S. Skiing to create the "Golden Rule" in 1985. It mandated  slots for disabled skiers in all U.S. Ski and Snowboard Association-sanctioned races.
8
The Motivator
After retiring from skiing, Golden Brosnihan became a motivational speaker. She startled audiences by hopping on and off tables with crutches flying. "I loved the speaking," she said. "There was no gold medal at the end, but to succeed you had to touch someone's heart."
9
Ups and Downs
She was open about the depression that set in after cancer recurred in 1993 and her suicide attempt that  year. "All of us are scarred by life; it's just that some of those scars show more clearly than others," she said. "Our scars do matter. They tell us that we have lived."
10
"Good Company"
The Women's Sports Foundation awarded her the Flo Hyman Award in 1991. Previous winners included Martina Navratilova, Jackie Joyner-Kersee, and Chris Evert. "Golden is in good company, and vice versa," wrote The New York Times.
Illustration by Charlie Powell