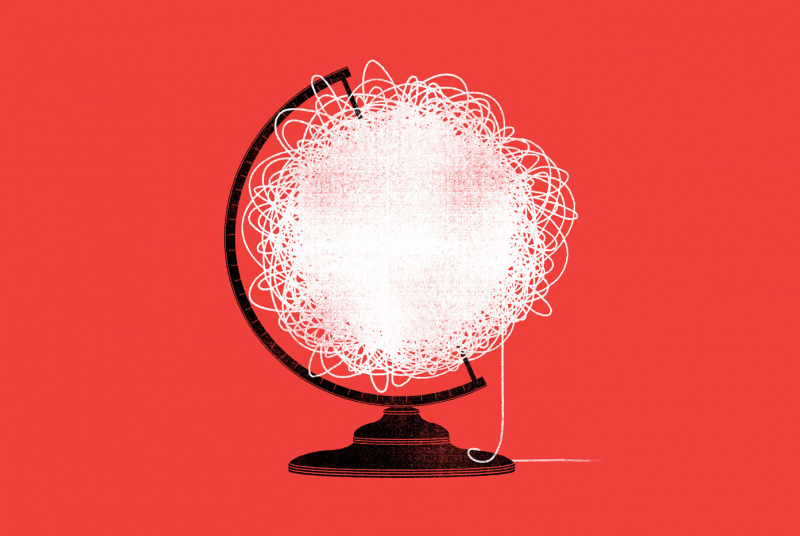 Illustration by Jim Frazier
A World of Trouble
Which global hotspots pose the biggest challenges for the United States? An expert weighs in.
The dismal science" was Thomas Carlyle's nickname for economics, but were he alive today, the 19th-century British historian might have saved the phrase for international relations. With each year, it seems, new conflicts erupt around the world and older ones evolve in ever more confounding ways. Scholars and practitioners quarrel about which are the gravest and most worrisome, though there is truly more than enough anxiety to go around. 
For 2020, there are strong arguments to be made that the paramount problems we face are North Korea's nuclear program, Russia's relentless subversion of Western democracies, the humanitarian disaster in Yemen, and the tottering of the global trade system. I can't argue that any of those deserve diminished attention. But as the new year unfolds, here are the regions and countries monopolizing my attention. 
The Persian Gulf: U.S. policymakers breathed a sigh of relief on January 8 when Iranian officials let it be known that a barrage of missiles fired at an Iraqi airbase that also housed American forces was all the retaliation they planned on, at least for the moment. No Americans were killed, though many suffered concussions, so the tally was an uneven one. Iran lost its most revered military figure—Qassem Soleimani, a man with an enormous amount of blood on his hands from countries throughout the Middle East and America—as well as a top commander of an Iraqi Shiite militia. Few Iran watchers expect the restraint to last for long. 
The missile strike may have been Iran's formal response to the drone attack that killed the commander of the Iranian Revolutionary Guards' Quds Force, but Soleimani had created a vast network of relationships with groups—from Hezbollah in Lebanon to the Taliban in Afghanistan—that could cause the United States all manner of trouble. For decades, Iran has mastered the art of calibrating attacks—and often having proxies carry them out—so that its foes never felt they could justify an all-out war as a response. Bleeding the enemy has been an effective tactic. The Trump administration, at least publicly, has suggested that the fiery exchange of early January could open the door to renewed diplomacy between the two countries. That is unlikely. Iran's leaders feel they have been swindled once by an America that first persuaded them to sign the Joint Comprehensive Plan of Action—the 2015 nuclear deal—under President Obama only to have President Trump withdraw and impose crippling sanctions again. They won't allow themselves to be hornswoggled again.
So the outlook for the region is bleak, even if the Iranians take their time in plotting how to get even and, they hope, advance their long-term goal of driving America from the Gulf region.
West Africa: This is not a region that commands much interest in the United States, but that could change fast. Jihadist violence is spreading across the region with a speed and viciousness that few have foreseen. The plague has spread south and westward from the Sahel states of Mali and Niger, and 2019 witnessed a string of major attacks—especially in Muslim-majority Burkina Faso. The tide of violence has caused fear in neighboring countries—generally poor and weak states such as Benin, Cote d'Ivoire, Togo, and Ghana.
Often, the affiliation of regional actors with terrorist groups such as ISIS is a kind of branding exercise that masks underlying conflicts over resources or ethnicity. A hardboiled realist might say the United States has no vital interests in the region, so, while these attacks are a depressing development, America should stay away. Indeed, U.S. troop numbers are being reduced in Africa as the U.S. focuses more on great-power competition with China and Russia. But a powerful wave of jihadist success would likely revive fears that terrorists are on a roll and will inevitably seek to attack us at home. That was one lesson of the short-lived ISIS caliphate in Iraq and Syria. If the region does indeed slip into conflict, the United States and other Western nations may find their resolve to stay out of the fray sorely tested. 
China: It has almost become a platitude: There is no more important bilateral relationship in the world than the one between America and China. For several decades, the ties were developed in the belief that both sides could profit from China's rise. Today, those who predicted China's rise would lead the country to be a more cooperative partner and a better, fairer governor of the country's 1.4 billion people are in eclipse. What's more, as The Economist recently put it, "Fighting over trade is not the half of it. The United States and China are contesting every domain, from semiconductors to submarines and from blockbuster films to lunar exploration."
As China attempts to increase its control of waters off its shores, American inattentiveness to our allies in the region—
Japan and South Korea above all—seems to be weakening the infrastructure that decades
of American leaders have built to contain China's rise. We have not passed a fail-safe point in the relationship by any means, and analysts expect a trade deal will be reached in 2020, which would cool things
off. But if we are to avoid a second cold war only a generation after the end of the first, some serious strategic work needs to be done, starting
with attention to our ties to Japan and South Korea along with a great deal of engagement with China's president and general secretary, Xi Jinping, and his lieutenants. 
The United Kingdom: Those who believe the West has a positive role to play in world affairs should be very concerned about the United Kingdom's departure from the European Union. The United Kingdom may stand at the threshold of its own dismemberment, as Scotland and Northern Ireland consider going their own way, and prospects for the U.K., even if it remains intact, are hardly sunny. Many economists expect the country to have the roughest ride since the 2009 financial crisis. 
The government of Boris Johnson appears to want to kickstart the economy with more spending and lower taxes, but how far that will take the United Kingdom is unclear. London could also be in for a rude surprise when the United States is slow to deliver a new trade deal, as seems likely, given all the other, larger ones that are in the pipeline. Most former U.S. policymakers were rooting against Brexit because of the shared belief that a United Kingdom that was in the EU, providing a voice in harmony with U.S. goals, was vastly more desirable than a United Kingdom adrift from Europe. 
That message seems to have gone unheeded by Brexit's champions, who have spun fantasies of a renewed U.S.-U.K. partnership and a return to the intimate wartime bond forged by FDR and Churchill. It is difficult to see that happening. To paraphrase the observation of a supremely shrewd Englishman, nations don't have eternal allies or enemies, only eternal interests—and the best way for the United States to advance its interests will be through working with the EU, whose power and wealth will inevitably make it a more desirable partner.               
Daniel Benjamin is director of the Dickey Center for International Understanding. He previously worked as a Coordinator for Counterterrorism at the U.S. State Department.