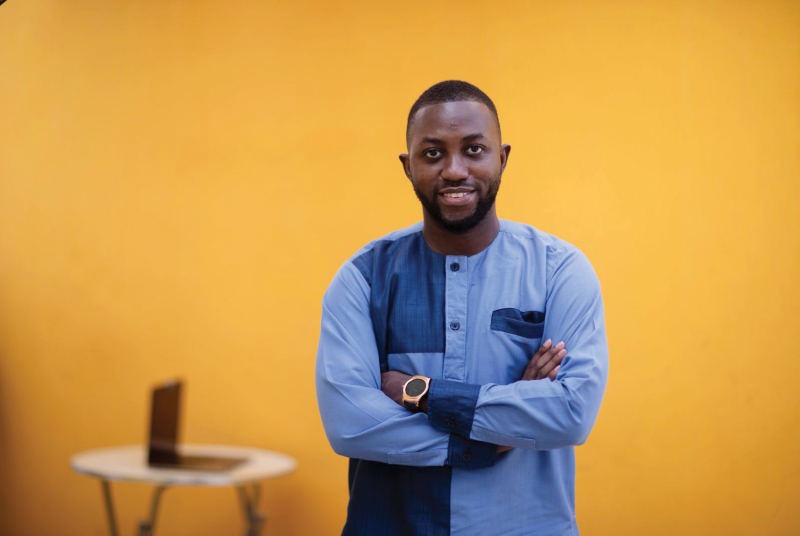 Smart Coding
Tech innovator George Boateng '16, TH '17 closes Africa's digital gap.
In 2017, the fourth year of Boateng's annual Project iSWEST, he ran into a problem. The innovation boot camp in his native Ghana trains high schoolers to write software to identify and solve problems in their communities, but the donated computers were all  broken. "We considered renting laptops, but it was just too expensive," says Boateng, 28, the nonprofit's president and cofounder. 
He had to improvise. "From our pre-survey, we saw that 100 percent of the students had smartphones," he says. "So we modified our coding course and introduced it using smartphones for the first time." The success of the project that year inspired him to create SuaCode, a stand-alone, smartphone-based coding course. Last June MIT Technology Review recognized him for his work with SuaCode as one of its "35 Innovators Under 35." 
Since 2018 more than 600 students from 69 countries have finished the course. "The grand mission is to teach millions of Africans to code using their smartphones," Boateng says. "We've been growing exponentially." 
"He is very ambitious, always looking for opportunities and opening doors for himself," says Boateng's longtime mentor, computer science professor David Kotz '86. Currently a doctoral candidate at ETH Zurich, Boateng says his personal experience with rheumatoid arthritis spurred what he calls his "man-on-the-moon mission" to discover how wearable technology and machine learning can help predict flareups and prevent the disease from worsening.
An introductory programming class Boateng took as an undergrad with computer science professor Devin Balkcom inspired the course material for SuaCode. "The first lab we had was building a pong game," Boateng says. Watching his code create a fully functional video game mystified him. Boateng now teaches his own students to build a pong video game. "I think that's a really amazing way to teach people to code," he says.