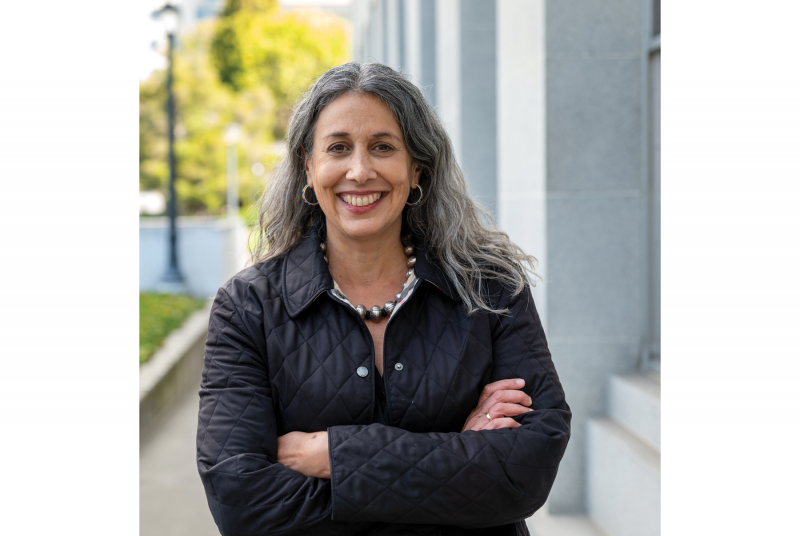 All the Journalists Fit to Print
UC Berkeley's graduate school of journalism dean wants to inspire a broader generation of truth seekers.
Geeta Anand '89 spent more than two decades reporting for The New York Times, The Boston Globe, and The Wall Street Journal, including 10 years as a foreign correspondent in her native India. Anand's investigative efforts led to a 2003 Pulitzer Prize and her 2006 book, The Cure, which became a 2010 movie, Extraordinary Measures, starring Brendan Fraser and Harrison Ford. Now, as dean of one of the top journalism schools in the country, she hopes to "take the lid off who becomes a journalist." 
When did you decide to become a journalist?
I figured this out while I was at Dartmouth. I thought of journalism as a way to combine something I was good at, which was writing, and wanting to have a voice in the world with my interest in politics and policy and activism. I got involved in activism as a student—the anti-apartheid movement, divestment, and activism around women's issues and rapes at fraternities, around the Dartmouth song "Men of Dartmouth" and things like that.
Had you previously aspired to other careers?
I thought about law, another way of bringing about social change. I was also interested in medicine, because I was one of these idealistic young people who wanted to make a difference in the world. Growing up in India, where there was just so much poverty, it seemed that being a doctor was a clear way you could help people. But I really didn't enjoy my premed courses, and I thought I was a far better writer than I was a science student.
Did you work for The Dartmouth?
I did, but it wasn't my life like it was for other students. I graduated thinking I might want to do journalism, but I didn't have a lot of experience. I saw a job advertised on Cape Cod and got hired at this free weekly newspaper. I learned a lot of what I know about journalism there: how to cover a community, how to develop relationships with local officials to find out what's going on, and how to write a news story. I learned how much local news matters. I spent a year there and learned the basics of journalism. I had a wonderful mentor.
Then you moved on to bigger things?
My next job was at the Rutland Herald, covering small towns in Vermont. I wrote a story about a giant credit reporting company making across-the-board errors in the town of Norwich. It led to the town clerk testifying before Congress, and it led to new laws regulating credit reporting companies. The Wall Street Journal picked up the story, and they wrote a big, revealing narrative. I thought, "I want to write stories like that." I ended up going to The Boston Globe for a few years and then to The Wall Street Journal. 
What are your goals as dean?
I came in with a vision of taking the lid off who gets to be a journalist, using this moment and the racial reckoning going on in this country to make big, important changes that our school and most everyone has intended to make during the last few decades but that weren't the highest priority and weren't possible to make. I've used this momentum to raise five full scholarships for students who are first-generation college students. To diversify our faculty, we got permission to hire a professor of color, but the search committee was torn between two fantastic candidates. I was able to get permission from the chancellor to hire both candidates, both women of color. Our applications are up 44 percent, and we now have the largest class we've ever had, 69 students. Fifty-six percent of our incoming class is from underrepresented groups.
Our faculty are training and learning how to teach differently, so that they are giving all different types of students from different backgrounds a chance of success. We also got funding from the Knight Foundation to guarantee funding for every student who wants to do an internship. My fear is that we graduate students who have too much debt or don't have the connections or internships to get jobs in journalism. So I'm trying to be more holistic, to provide mentoring and networking and funding for that internship.
"My fear is that we graduate students who have too much debt or don't have the connections or internships to get jobs in journalism." 
Are other journalism schools making similar efforts?
I think they are. I've been inward-facing, trying to get to know my school, making changes here, and trying to develop the support of our faculty and staff and student body. But my goal for the next year is to be more outward-facing and have conversations with the leadership of other schools so that we can move together to try to change our industry. 
What are your hopes for the students you teach?
To inspire them, to make them understand that journalism is one of the most exciting careers and an interesting and meaningful way to live. Many of them are cynical about journalism. Many of them are worried they're exploiting people. I tell them that there's reason to be cynical and that people have been exploitative, but there's a way to do really meaningful journalism that has an impact and that elevates the voices of the people being covered. So I try to tell them what's possible, to take baby steps, that the first stories they're going to do aren't going to be revealing war crimes or changing the course of a nation. The longer you stay with it, the more interesting the stories you get to do. Never give up and be patient.
Are we now in a golden age of journalism—or is journalism dying?
If you're just looking at mainstream publications and big news organizations, it's been a golden age because of Trump. Everyone was reading so much because what was happening was so outrageous. But local news is dying. Social media took all the advertising, and that's devastating. If you have a more flexible view of journalism, you see so much experimentation going on: amazing podcasting, amazing documentaries, and all kinds of websites reporting on things in ways we might have considered advocacy journalism in the past but which are absolutely legitimate forms of journalism if they're seeking out truth and the facts.
Where do you go for your news?
I read The New York Times, The Wall Street Journal, The Washington Post, and The San Francisco Chronicle. I also grab news off of Twitter and Facebook. I read my news. I don't listen to it, and I don't watch it.