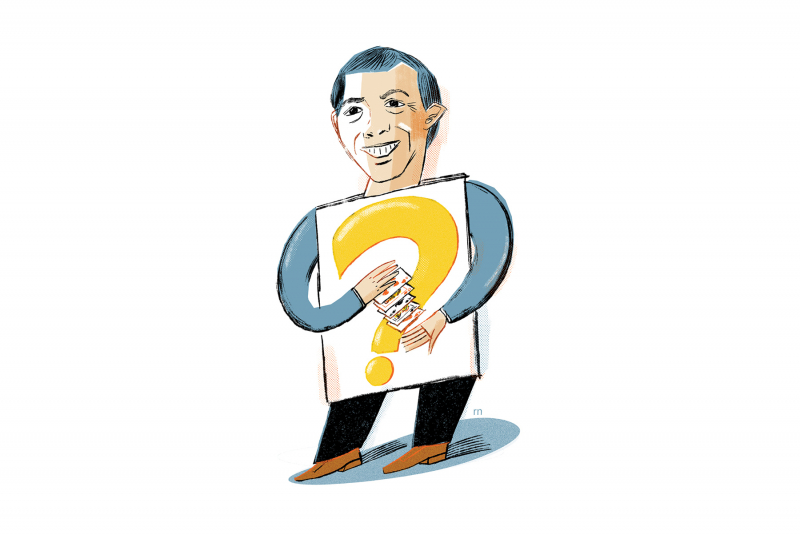 Game On
Here's the answer. Pick the question.
While his friends watched MTV after school, Charlie Stoebe '08 tuned in to game shows—Press Your Luck, To Tell the Truth.  "Jeopardy was on nightly in our household," he says. "A chessboard was always out. Trivial Pursuit was always out." Later, as a psychology major, he wrote a paper analyzing game theory and utility theory in the TV game show Deal or No Deal. Today he never travels without a deck of cards in his backpack.
Stoebe, who has worked in sales marketing for NBC Sports for a decade, started a sideline in 2018 called Game Night Creations, which hosts corporate training and team-building events that use games as icebreakers. "I've been planning friends' birthday parties pretty much since graduation," Stoebe says, "and I love games—directing games, seeing how people play them, what their strategies are."
That led to his creation of What Was the Question?—a getting-to-know-you party game that recently hit the market and sells for $24.99. In the game a player draws a card with four related questions and is instructed to answer a specific one. The other players then guess which question from among the four on the card is the one that has been answered. The basic version has 50 cards with 200 questions, and there's a friskier 25-card edition that includes not-safe-for-work questions. Stoebe envisions adding other themed expansion packs.
Stoebe has hosted a number of live games over Zoom. "You learn things about the people you're playing with," he says. Players tell each other, "Oh, I never knew that about you." One woman was surprised when her husband answered that his senior year of college was the year he would most like to relive—rather than the year they got married or started dating.
"Putting pen to paper and getting this dream done," says Stoebe, who is married and lives in Manhattan, "that's been the good side of quarantine life."