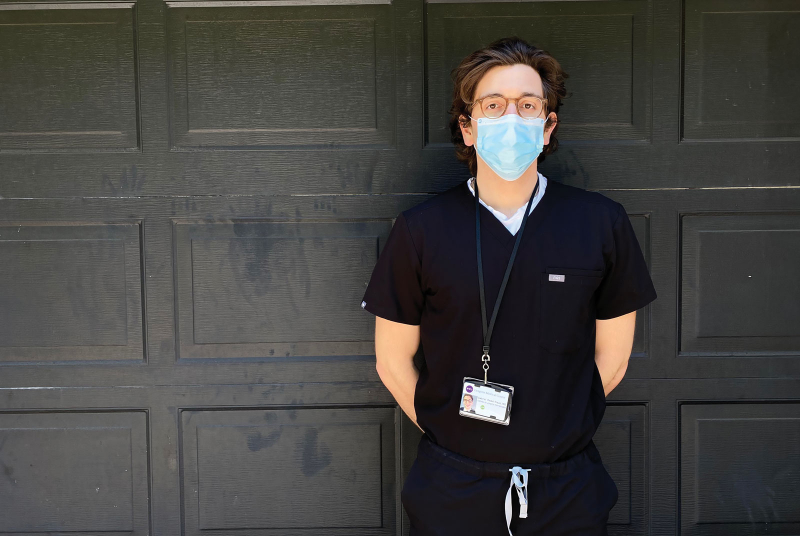 Words as Medicine
New doctor Gabriel Redel-Traub '14 writes his way through the pandemic.
Growing up, he pictured himself becoming a medical detective like Dr. House, the cranky TV genius who seems to save patients by force of intellect. Instead, Redel-Traub graduated seven weeks early from the NYU Grossman School of Medicine to confront the helplessness of treating New York City's surge of coronavirus patients. 
"I thought my first time as a doctor I was going to be healing people, and so the fact that often what I was doing…was taking someone who was really sick and shepherding them as gracefully as possible toward passing away, it was not what I felt like I had worked so long to accomplish," says the former philosophy major.  
His hometown's crisis has ebbed, but Redel-Traub knows it could flow again at any moment, and he has learned to find peace in comforting those he can't save. Inspired by his mother, Victoria Redel '80, a novelist and poet, he finds writing to be therapeutic. His recent observations on grappling with this historic moment have been featured in New York magazine, Slate, and Medscape. 
In June Redel-Traub transitioned from Bellevue Hospital to Columbia University Irving Medical Center, where he will continue his internal medicine residency in hopes of becoming a cardiologist—and a witness who continues to chronicle wherever it is medicine is heading. "It remains to be seen how this is going to affect a new generation of doctors," he says.