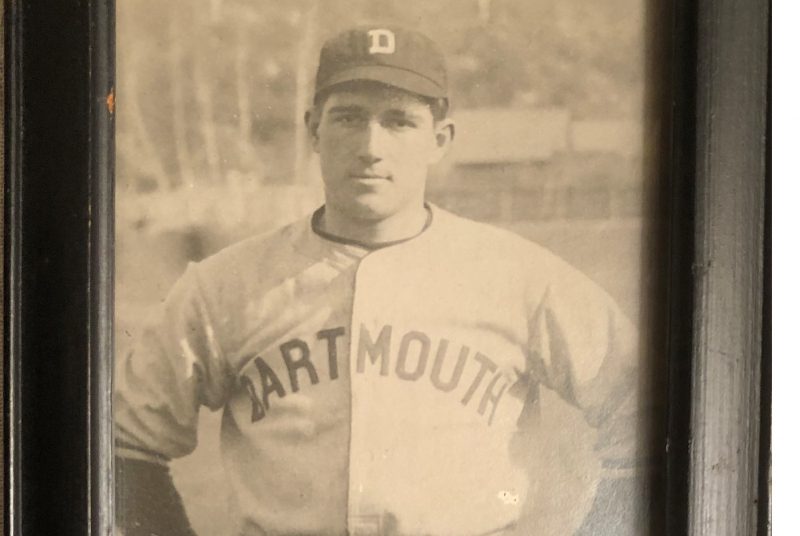 A Single Triple
In his only game as a major leaguer, Fletcher Low, 1915, legged out his version of what many consider the most thrilling play in baseball.
Among the many large black-and-white photographs on the back wall of Lou's Restaurant in Hanover, one shows a man in a dark suit and light overcoat holding some papers and raising his eyebrows as he looks at a colleague wearing a fedora.
He is Fletcher Low, a College chemistry professor who taught in the 1950s, when the photo was taken. But when Low graduated from Dartmouth four decades earlier, the 22-year-old embarked on a different career path. He was a baseball player.
Low grew up on the North Shore town of Essex, Massachusetts. He attended Essex High School for a year, Gloucester High for two, and graduated from Phillips Exeter Academy in New Hampshire in 1911. At Dartmouth Low played varsity baseball his junior and senior years, and at the end of March of his senior year he was signed by the Boston Braves as an amateur free agent. Six months later he was in the big leagues.
October 7, 1915, was a brisk autumn day in Boston. Only 100 spectators went to Braves Field (now Nickerson Field at Boston University) to watch the last game of the season against the New York Giants. Low started the game on the Boston Braves bench.
The Braves jumped out to a 2-0 lead and after one turn through the lineup, manager George Stallings put Low at third base. It would be his first—and only—major league game.
Low jogged out to his position and took grounders with his fellow infielders, future hall-of-famers Rabbit Maranville and Johnny Evers. If he was nervous, those jitters probably subsided when it became clear that the professionals were not taking this game too seriously. "Every batter took a swing at the first ball, and none of the pitchers delayed the game by trying to catch men off base or by stopping to think about how the batter might be fooled," reported the New York Tribune. The Giants pitcher even apologized after striking out Boston's Iron Davis in the second inning.
In the bottom of the third, Low stepped to the plate for his first at-bat in the majors. He grounded out to the shortstop. As the game moved to the bottom of the ninth, the Giants had a 15-6 lead. Low, hitless in three at-bats, got one more chance to reach base. He dug into the batter's box, raised his bat, and looked over his shoulder at the Giants pitcher, who, with a Braves' runner on base, worked from the stretch. Low connected with the first offering dead-on. As the ball rocketed off his bat into the outfield, Low took off. With the Giants outfielder scrambling to track down the ball, Low reached first base. No matter what happened from this point, he had his first major league hit.
He rounded first—and kept running. As Low neared second base, the ball still hadn't made its way to an infielder. So he didn't stop. He rounded second and raced for third, aiming for a three-bagger, "the most exciting play in baseball," according to home run king Hank Aaron. As the Moonlight Graham character waxes in Field of Dreams: "To run the bases—stretch a double into a triple, and flop face-first into third, wrap your arms around the bag."
Four months after this, his only major league game, Low married the love of his life, Margery Story. Together they had four children. In 1917 Low returned to Hanover as a chemistry instructor as he pursued his master's and Ph.D. at Columbia. He still played minor league ball in the Eastern League for Springfield, Massachusetts, and Hartford, Connecticut, but he never made it back to the majors, hampered, in part, by an arm injury. He taught more than a thousand Dartmouth undergraduates for 43 years until his retirement in 1960. The next year he was elected to the N.H. House of Representatives. His grandson, David Publicover, a senior staff scientist and assistant director of research at the Appalachian Mountain Club, says Low was a "distinguished man about town." Low was such a regular at Lou's that the waitstaff knew a thumbs-up from the professor meant a black coffee, a thumbs down signaled for a cold Coke.
He was a teacher at heart, and in 1966 he left politics to volunteer for AmeriCorps Volunteers in Service to America (VISTA). For three years he taught and tutored underprivileged kids in Townsend, Tennessee. "The years I spent as a college professor were with me more than ever," he said of the experience. "I know young America—its aspirations, fulfillments, and disappointments. They are the same in the Job Corps as they are at Dartmouth. And the feeling of understanding between teacher and pupil is the same, too."
In 1969 Low returned to Hanover, where he died at the age of 80 on June 6, 1973. He is buried with Margery in the Dartmouth Cemetery.
No one today knows if Low pulled up at third base standing or if he dove headfirst and wrapped his arms around the bag, a satisfied smile on his young face, a full life still ahead of him.
Jeremy DeSilva is an associate professor of anthropology at Dartmouth. His book, First Steps: How Upright Walking Made Us Human, was published by HarperCollins in April 2021.