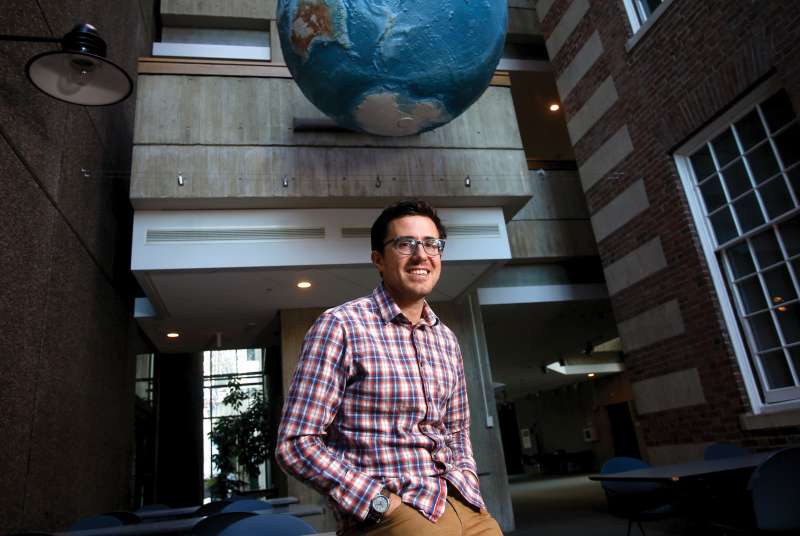 Photo by Geoff Hansen / Valley News
Fellowship
Dartmouth's postdoctoral fellows infuse the campus with fresh energy and new ideas.
On any given day you can likely find Bess Koffman, a second-year postdoctoral fellow in the Society of Fellows, kicking off her shoes at the entrance to the ice core lab in Fairchild Hall to avoid contamination of the precious samples being collected inside. With a spring in her step, she's on her way to guide students in analyzing atmospheric dust deposited on polar ice sheets and mountain glaciers to advance understanding of climate and wind patterns and their impact on marine and terrestrial life. Meanwhile, across campus you might find second-year fellow Yvonne Kwan meeting with associate professor Deborah King, her mentor in the sociology department, to receive valuable feedback on her manuscript before assuming the role of mentor herself, supporting an undergraduate student in the Mellon Mays undergraduate fellowship program.
And it wouldn't be all that uncommon to find Garrett Nelson, a historical geographer and first-year fellow in the society, finishing up a media interview about the surprising results of a recent project in which he asked the public to define geographically what constitutes the "Upper Valley" in their minds, or developing a syllabus for an innovative new course he'll be teaching next spring titled "Critical Mapping and the GeoHumanities." In that class he hopes to provide undergraduates with hands-on experience creating critical maps. "There's no better way to understand your own research than by teaching it to undergraduates," he says.
These experiences are precisely what makes the Society of Fellows—and all of our elite postdoc programs at Dartmouth, including our Neukom Fellows and our U.S. Foreign Policy and International Security Fellows—so special.
It's been more than three decades since I was beginning my career in academia as a young, postdoctoral fellow, first at MIT and then at Caltech. These fellowships allowed me to develop a robust independent research program—something that would have been difficult for me to do on my own—and in the process gain confidence in my ability to be an independent, creative thinker. But what was missing, particularly at Caltech, was a strong connection to students and cross-institutional contact outside the math department.
Not so at Dartmouth. 
Evidence of the positive impact our postdoctoral scholars are having on our community can be found in every corner of campus. They're working with the Dartmouth Center for the Advancement of Learning and our EdTech teams to explore, develop and deploy new pedagogical techniques. They're actively engaging students and faculty in their cutting-edge interdisciplinary research. They're even leading discussions in our new house communities around their scholarly work as we continue to blur the lines between living and learning.
In return these scholars are gaining valuable teaching experience, mentorship from Dartmouth's outstanding faculty members and visiting scholars, and exposure to resources to help them become exemplary teacher-scholars whose work has relevance and influence not just in academia, but also in the world outside. 
And when the planets align we are recruiting some of these rising stars in the academy to continue their careers with us. Consider Jeff Friedman, a former international relations postdoc who is now a vibrant and productive associate professor in our government department, and Kes Schroer, a former Neukom Fellow whose groundbreaking anthropology course, "Your Inner Chimpanzee," quickly became a student favorite and took experiential learning to new heights—quite literally—as she ushered students into a climbing gym to emulate the experiences of chimpanzees. Discovering that passion for innovation in teaching during her fellowship led to a career epiphany for Schroer. Today she's helping faculty and postdoctoral scholars develop equally engaging course curricula as an instructional designer on our EdTech team. 
It should come as no surprise that our elite postdoc programs are fueling the Dartmouth community in more ways than one. Fueling the passions of one another is what the Dartmouth fellowship is all about.