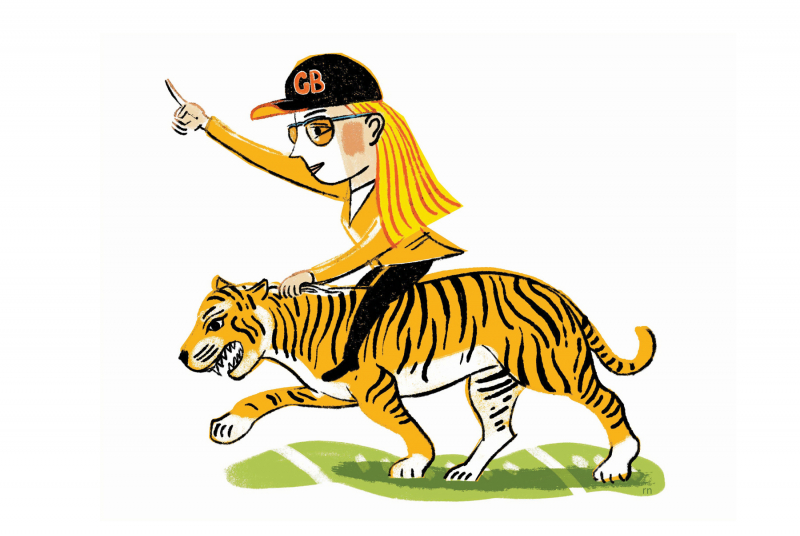 Special Team
Engagement director Elizabeth Blackburn '15 joins family in Cincinnati Bengals front office.
"Three weeks into the job Covid shut the world down," says Blackburn, describing her start in February 2020 as director of strategy and engagement for the Cincinnati Bengals, a role traditionally done in person. 
Blackburn had to pivot and create new ways to connect with fans and the Cincinnati community. She established the Ring of Honor, an award that recognizes former players, coaches, and others who have played a significant role in the franchise's history and traditions. "Within the first three or four months we expanded from engaging fans to really all stakeholders," Blackburn says. 
Following the George Floyd protests, Blackburn forged a partnership between the Bengals and BlaCkOWned OuterWear, a local business. The initiative, called Stripes Don't Come Easy, offered a custom clothing line, with a portion of the profits going to a local nonprofit. "In the midst of all the other projects Elizabeth had going, it felt like our project was the only one," says Means Cameron, the company's owner and creative director. "She didn't just sign her name on our project for publicity. She put the hours in to see it be successful and, as a result, our collaboration has united Bengals fans all over. Elizabeth has the ability to ignite and recharge a team and community."
The team's management is a family affair: Her grandfather, Michael Brown '57, Tu '58, owns the team; her mother, Katherine Blackburn '86, is executive vice president and the first woman to serve on the NFL's competition committee; her father is vice president; and her younger sister started working for the team last year. Blackburn, who majored in economics and engineering, says living away from Cincinnati for the first time made her realize how much she loved the team.  "I left with a conviction about wanting to work with the Bengals," she says. One class in particular shaped her career: professor Peter Robbie's course in design thinking. "It taught me the importance of designing for your customer," she says, "a life lesson I continue to carry with me."