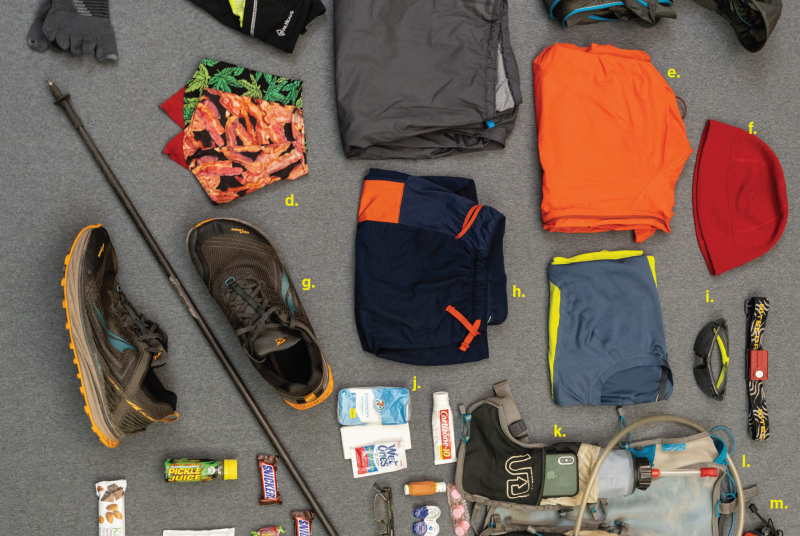 The Things He Carries
Ultramarathoner Eli Burakian '00 has to bring more than willpower and well-trained legs to a 100-mile race.
Ultramarathons are booming as runners seek to push their limits. Burakian, who loves hiking, is drawn to the sport for a different reason: With two young children and a fulltime job as College photographer, he doesn't have time for long walks in the woods. "My joke is that I had to turn my weeklong hikes into day hikes," he says. Running 100 miles takes him around 24 hours, with brief stops at aid stations to refill water bottles or swap layers of clothing. What he wears and ingests can make or break the effort. Burakian took this photo to show us his typical kit for a 100-mile trail race.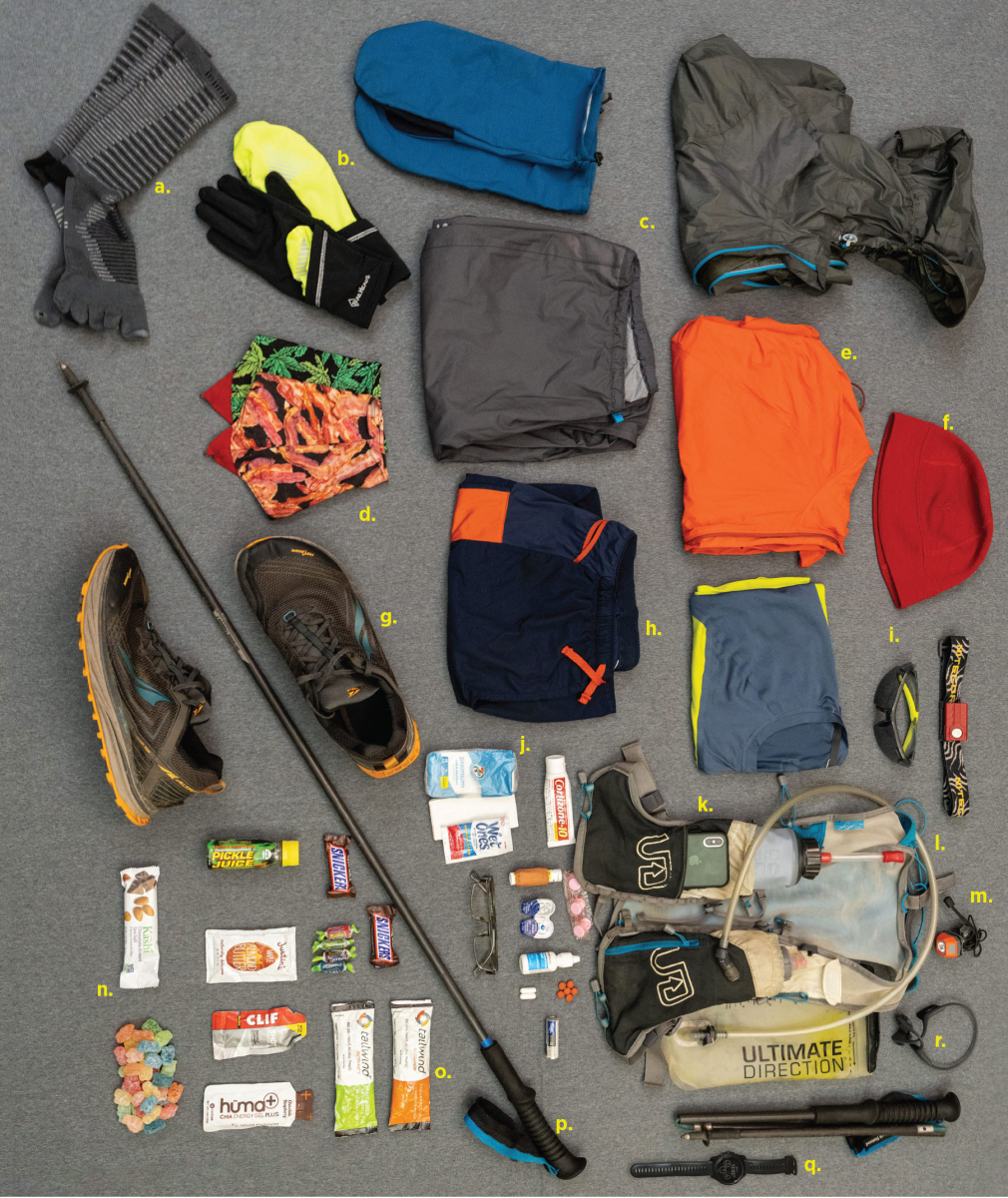 a. Socks: "I'm a huge fan of Injinji toe socks. If I wear these in races I don't get blisters."
b. Convertible running gloves and mittens: "I have Raynaud's [disease] now. When my fingers get cold, they freeze immediately." 
c. Waterproof jacket and pants: Weather doesn't stop just because you're running a race.
d. Gaiters: Lycra shields bare ankles from twigs and bugs.
e. Windbreaker: A light and versatile layer
f. Beanie: This merino wool hat, by Ibex, keeps chills at bay. 
g. Trail running shoes: "I'm an Altra guy through and through."
h. Lightweight shirt and shorts: Moisture-wicking base layers are essential.
i. Sunglasses: Burakian wears shades made by Tifosi.
j. First aid: Tissue paper and a wet wipe, extra contact lenses, chapstick, contact lens solution, prescription glasses, Tums, Pepto pills, Advil, caffeine pills, medical tape, and Cortizone-10 cream
k. iPhone X: For listening to audiobooks and using the Gaia GPS trail navigation app
l. Running vest: This holds a 50-ounce hydration bladder,  two water bottles, and everything else Burakian carries. 
m. Headlamp and backup headlamp: You have to be able to see when you run through the night.
n. Sustenance: Pickle Juice, Albanese sour gummy bears, Jolly Ranchers, Justin's maple almond butter packet, Clif Shot, Hüma chia energy gel, Snickers bars, Kashi bar
o. Tailwind drink mix: In various flavors. "I find it's just the easiest way to get calories down, and you're fueling and hydrating at the same time."
p. Collapsible trekking poles: These weigh just 10 ounces.
q. Watch: "One of the main reasons I got the Garmin Forerunner 945 is because of the battery life. It lasts for a whole 100-mile race." 
r. Bone conduction headphones: "They should make me an ambassador for this brand, the Trekz Aftershokz. I love them."