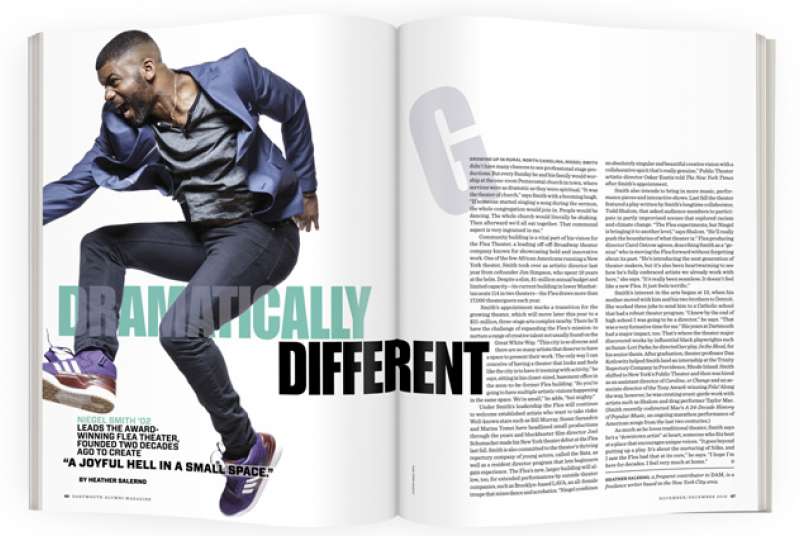 Dramatically Different
Niegel Smith '02 leads the award-winning Flea Theater, founded two decades ago to create "a joyful hell in a small space."
Growing up in rural North Carolina, Niegel Smith didn't have many chances to see professional stage productions. But every Sunday he and his family would worship at the one-room Pentecostal church in town, where services were as dramatic as they were spiritual. "It was the theater of church," says Smith with a booming laugh. "If someone started singing a song during the sermon, the whole congregation would join in. People would be dancing. The whole church would literally be shaking. Then afterward we'd all eat together. That communal aspect is very ingrained in me." 
Community building is a vital part of his vision for the Flea Theater, a leading off-off-Broadway theater company known for showcasing bold and innovative work. One of the few African Americans running a New York theater, Smith took over as artistic director last year from cofounder Jim Simpson, who spent 19 years at the helm. Despite a slim, $1-million annual budget and limited capacity—its current building in lower Manhattan seats 114 in two theaters—the Flea draws more than 17,000 theatergoers each year. 
Smith's appointment marks a transition for the growing theater, which will move later this year to a $21-million, three-stage arts complex nearby. There he'll have the challenge of expanding the Flea's mission: to nurture a range of creative talent not usually found on the Great White Way. "This city is so diverse and there are so many artists that deserve to have a space to present their work. The only way I can conceive of having a theater that looks and feels like the city is to have it teeming with activity," he says, sitting in his closet-sized, basement office in the soon-to-be-former Flea building. "So you're going to have multiple artistic visions happening in the same space. We're small," he adds, "but mighty." 
Under Smith's leadership the Flea will continue to welcome established artists who want to take risks: Well-known stars such as Bill Murray, Susan Sarandon and Marisa Tomei have headlined small productions through the years and blockbuster film director Joel Schumacher made his New York theater debut at the Flea last fall. Smith is also committed to the theater's thriving repertory company of young actors, called the Bats, as well as a resident director program that lets beginners gain experience. The Flea's new, larger building will allow, too, for extended performances by outside theater companies, such as Brooklyn-based LAVA, an all-female troupe that mixes dance and acrobatics. "Niegel combines an absolutely singular and beautiful creative vision with a collaborative spirit that's really genuine," Public Theater artistic director Oskar Eustis told The New York Times after Smith's appointment.
Smith also intends to bring in more music, performance pieces and interactive shows. Last fall the theater featured a play written by Smith's longtime collaborator, Todd Shalom, that asked audience members to participate in partly improvised scenes that explored racism and climate change. "The Flea experiments, but Niegel is bringing it to another level," says Shalom. "He'll really push the boundaries of what theater is." Flea producing director Carol Ostrow agrees, describing Smith as a "genius" who is moving the Flea forward without forgetting about its past. "He's introducing the next generation of theater-makers, but it's also been heartwarming to see how he's fully embraced artists we already work with here," she says. "It's really been seamless. It doesn't feel like a new Flea. It just feels terrific." 
Smith's interest in the arts began at 13, when his mother moved with him and his two brothers to Detroit. She worked three jobs to send him to a Catholic school that had a robust theater program. "I knew by the end of high school I was going to be a director," he says. "That was a very formative time for me." His years at Dartmouth had a major impact, too. That's where the theater major discovered works by influential black playwrights such as Suzan-Lori Parks; he directed her play, In the Blood, for his senior thesis. After graduation, theater professor Dan Kotlowitz helped Smith land an internship at the Trinity Repertory Company in Providence, Rhode Island. Smith shifted to New York's Public Theater and then was hired as an assistant director of Caroline, or Change and an associate director of the Tony Award-winning Fela! Along the way, however, he was creating avant-garde work with artists such as Shalom and drag performer Taylor Mac. (Smith recently codirected Mac's A 24-Decade History of Popular Music, an ongoing marathon performance of American songs from the last two centuries.)
As much as he loves traditional theater, Smith says he's a "downtown artist" at heart, someone who fits best at a place that encourages unique voices. "It goes beyond putting up a play. It's about the nurturing of folks, and I saw the Flea had that at its core," he says. "I hope I'm here for decades. I feel very much at home."                             
Heather Salerno, a frequent contributor to DAM, is a freelance writer based in the New York City area.