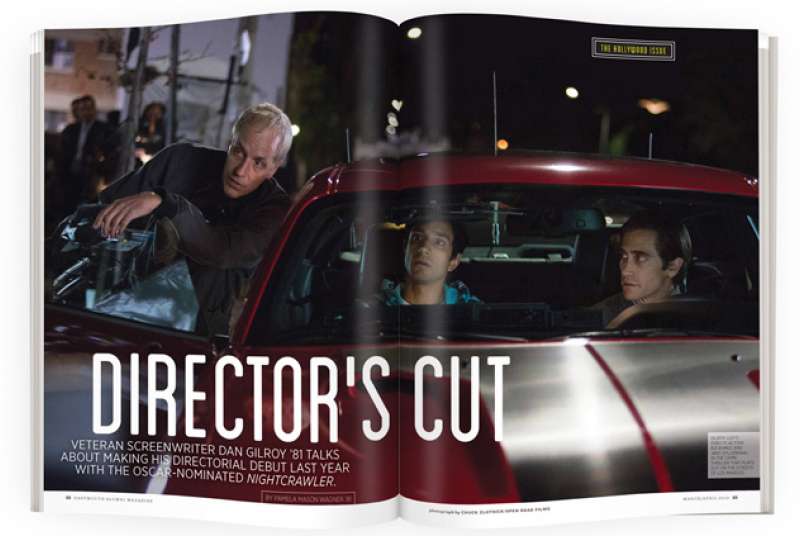 Director's Cut
Veteran screenwriter Dan Gilroy '81 talks about making his directorial debut last year with the Oscar-nominated Nightcrawler.
Screenwriter Dan Gilroy, best known for films such as Two for the Money (2005), Real Steel (2011) and The Bourne Legacy (2012), made his directorial debut in 2014—at age 55—helming his script Nightcrawler to critical acclaim. The film, a gritty tale starring Jake Gyllenhaal and shot mostly on the streets of Los Angeles, earned him his first Oscar nomination for best original screenplay. The film costars Gilroy's wife, Rene Russo, and was edited by his twin brother, John '81, and produced by his older brother, Tony. Here the son of Pulitzer- and Tony Award-winning playwright Frank Gilroy '50 talks about his "very personal" project—and what he learned from his dad.
What was the inspiration for Nightcrawler?
Years ago I heard about the crime photographer Weegee [Arthur Fellig]. He was active in New York in the 1930s, and I was very intrigued with the intersection of commerce and art and crime. When I moved to Los Angeles I heard about the modern equivalent, people with video cameras who drive around and film crime scenes for the local news. I'd never seen that world depicted on film before. It was very visual and very kinetic and I was very excited by this world, but I could not figure out how to turn it into a story. Then a couple years later another piece fell into place when I came up with Lou, the character Jake Gyllenhaal plays in my film. Trying different ways to fit him into the story, I finally realized he was an antihero. And once I had those two ideas—and that was a process of two decades or more—I wrote the screenplay in six weeks.
How did you choose Gyllenhaal as your leading man?
Jake announced five or six years ago that he was turning his back on traditional commercial films and was going to start making films that were more personal and challenged him more. I, too, had been doing a lot of commercial films and wanted to break off into an area that had more personal resonance. So when I finished the script I sent it to his agent, who agreed it would be a good fit. Jake read it very quickly, and I flew to Atlanta, where he was doing Prisoners. I didn't know him at all before that. We had a four-hour dinner and we realized that we both wanted to try to make something unique. We agreed that this process of collaboration would be the hallmark of our relationship. Jake and I rehearsed for months prior to the filming. It was Jake's idea to lose a tremendous amount of weight to play the character. He was my creative partner on the project, and I really feel he's done work that's worthy of every award nomination out there. 
You said if you didn't get to direct this script, nobody would. Why?
Nightcrawler is a very personal film. I didn't write it as a message film. I wrote it to be entertaining and engaging, but there are messages in it that I felt passionate about: comments about journalism, comments about a hyper capitalism that disenfranchises many people. 
What is the film saying about capitalism? 
It's a cautionary tale. Yet I approach it as a success story. The character Jake plays—Lou—is looking for work at the beginning of the film and at the end he's the owner of a thriving business. But it's only a success story in order to allow these other, larger themes to come through. I believe that people with sociopathic and psychopathic tendencies, such as Lou, in this hyper-capitalistic realm we live in globally, are climbing to the top of the ladder and pulling it up behind them. They're gutting the very business and the people who got them there. 
They're breaking corporations up for component parts and putting thousands of people out of work. They are advocates of a wage that people cannot live on. They voraciously fight to keep wages down while building 500-foot yachts and 100,000-square-foot mansions—literally—and then wind up on the cover of Businessweek magazine. I believe that all of the maladjusted behavior that Lou's character shows in Nightcrawler—such as staging a crime in order to film it—would serve him extraordinarily well in the boardroom. 
How does the film portray the impact of contemporary broadcast journalism on society?
In my research I found local television and national news are built on the narrative of fear, selling the consumers a story of fear to get them to watch TV in order to sell commercials. I believe this creates a paranoia that limits our ability to make informed decisions about somebody who is wandering through our neighborhood and whom we judge to be a threat. News stations are selling the story of urban crime creeping into the suburbs. There's a racial component to the story. Stations use the terms "urban" and "suburbs" as code words, but I think we know what they're talking about. 
Did Rene Russo, your wife of 21 years, have to audition for her role?
I wrote the part for Rene because I knew she could walk the difficult line of tough and vulnerable. Rene's previous roles have tended to the former, but I knew she had a far greater, untapped range. I wrote a difficult character to play credibly, but I was confident Rene could bring her to life. And she did.
What have you learned about directing actors from your marriage to an actress?
When I write a screenplay I give it to Rene to read. It's invaluable to have an actor or actress look at your dialogue and tell you where you've made an error or gone astray. She's been invaluable helping me with the screenwriting process. That collaborative spirit carried through onto the set. I love working with actors, I'm in love with an actor literally, but I loved working with them all: Rene and Jake and Bill Paxton and all my other actors.
Your father won a Tony and a Pulitzer in 1965 for The Subject Was Roses. What was it like to grow up in the home of a successful writer?
It demystified the process. Seeing a parent in the house who was writing every day, you realize it comes down to just sitting in a chair, writing for six, seven, eight hours a day for five to six days a week. Witnessing the ups and downs of it and realizing that everything you write doesn't get made or sold was also helpful. When I got out of college I started to realize that writing was a viable option. My dad gave me confidence to want to try it.
What was it like to direct your first feature film at age 55? 
On the downside, it's a physically demanding job and I'm not as strong as I was in my 30s or 40s. The upside is that at 55 I have a very good sense of who I am and what I believe in. I had great confidence on the set because I brought a certain amount of wisdom about how I communicate, my point of view and my ability to get things done.
Can you talk about the logistical demands of production?
We made the film for $8.5 million. We had three months prep time, one month to shoot and four months for post-production. These sound like big numbers but they're not. When I got the job of directing I was basically signing up for no sleep because I had to be there for every meeting, every hire. I was essentially forming a company that brought together 120 people and then disbanding it after a month. We had 80 locations for our film in L.A. I had to visit each one of them five times just to figure out the logistics. So that's 400 site visits. Twenty-four of our 27 shoot "days" were nights. And those were 18-hour days. As the director you're one of the first people on the set and one of the last to leave. I'm not complaining, though!
So it's not as glamorous as people think?
It's very stressful. The people who put the money in are calling all the time: "Where are we? What's going on?" And you're trying to create at the same time. Investing in a film is an extraordinarily risky business, and maybe the way they try to minimize the risk is by making sure people are working for them all the time. 
How important was having your brother Tony as producer? 
Tony's done a number of other films, including Michael Clayton, The Bourne Legacy and Duplicity, so he has a lot of credibility in the entertainment industry. The hardest thing for somebody new who says, "I want to direct," is getting people to believe in them. To have Tony stand alongside me and say, "I'm going to produce this movie and I think Dan can do it," was crucial. And while I was shooting the film to have Tony as a sounding board was invaluable as well. 
You chose your twin, John, to be your editor. Any competition there?
Johnny has edited a number of really wonderful films, Miracle, Narc, Pacific Rim. He cut all of Tony's films, including Michael Clayton, and he's a tremendous editor. But also just to have somebody I know who can support me and protect me and can speak honestly—these are the things you're dreaming of when you make your first film. We are not competitive with each other, none of us brothers. We talk three, four, five times a week. The feeling we have is that literally any tide that raises one of our boats is going to raise the others, and that has proven to be true. 
Speaking of raising boats, what do you think about the fact that only 9 percent of feature films in 2013 were directed by women?
It's a tragedy and an embarrassment. I think it's partly a function of the desire to service the male demographic from 12 to 21 with male-oriented action pieces. That segment of the market has crowded out so many other voices. Also, historically, it's been a male-dominated business. This needs to be broken down. If I ran the studio system I would be giving voice to female and minority directors as often as possible. 
The truth is, Hollywood is an extraordinarily conservative place in terms of people being willing to risk anything or try anything new. In Nightcrawler I cast a guy named Riz Ahmed to play Gyllenhaal's partner. Riz is Pakistani. That has nothing to do with the narrative of the story. I just wanted some multicultural aspect to the film in one of my four main roles. People who wanted to put money into the film said, "Can't we cast another white person in that role, someone bigger?" And I said, "No, I want the film to resemble reality, I want someone who represents the multicultural world that we live in." 
Did any aspect of your Dartmouth education contribute to your career?
I was an English lit major. I took a creative writing class with professor Richard Corum my junior fall. I had never written creatively before and it was in that class that I realized I really loved writing fiction. It was a crucial, crucial class for me. I often wonder if I would be a writer if I hadn't taken that class.
Moviemaking is known as a cutthroat business. How do you maintain your moral compass in Hollywood?
There's a lot of bad behavior that goes with the territory. There are a lot of parties, drinking, drugs and late nights. I avoided all that. In addition to being married 21 years, I have a daughter who is 20. My wife and I don't go to parties all that much. I approach it as a business. I got that from my dad. I saw my dad work at home writing every day. The people I know who are the most successful in this business never go out. They lead the most boring lives. Everybody I know has to get up at 5 o'clock in the morning to go to work. You just don't have time to be amoral or wild or debauched. If the people who rise to the top have one thing in common, it's that they're workaholics. 
What's next for you?
I see myself going forward as a writer-director. I'm writing another script right now that I'd like to direct. It's another film set in Los Angeles. I find Los Angeles to be a very underserved place for stories.                                                 
Pamela Mason Wagner is an Emmy-winning documentary filmmaker who cofounded Turtle Rock Productions in 1993. She lives in New York City.