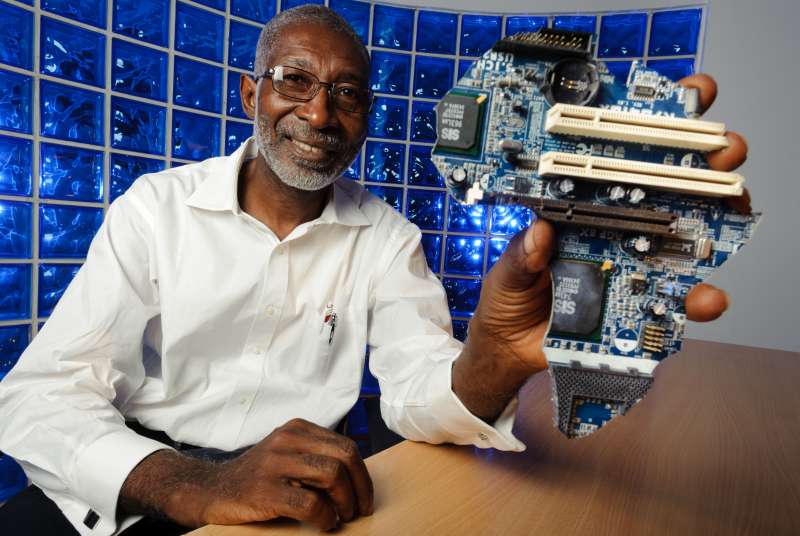 A Digital Africa
Computer scientist Nii Quaynor '72 connects a continent.
When Quaynor returned to his homeland of Ghana in 1979 after a decade studying in America, he was surprised to discover how far behind the continent of Africa was when it came to technology. At the time, he was the only person in the region with a Ph.D. in computer science, and his African colleagues were still using mainframe-like machines the size of refrigerators. "The equipment and the thinking were from decades earlier," he says. "When I realized the depth of the divide, I thought there might be a way that I could help Africa catch up."
Nearly 40 years later, Quaynor is widely recognized as a key figure in bringing Africa into the modern digital age. Shortly after his return, he founded the computer science department at the University of Cape Coast, where he still teaches, with the goal of training a specialized tech workforce to help fuel socioeconomic growth. As the World Wide Web became more accessible in the 1990s, Quaynor started Network Computer Systems, the first commercial Internet service provider on the continent. Dubbed "the father of the African Internet," Quaynor says he recognized the web's potential early on. "I did not want Africa to miss out on that," he says. Despite some setbacks, such as a property dispute where the network was based, which briefly shut his company down, Quaynor remains determined to ensure Africa is well represented in global Internet policies and regulations.
In 2000 he became the first African elected to the board of the Internet Corporation for Assigned Names and Numbers, a nonprofit that oversees more than 180 million domain names and 4 billion network addresses across 240 countries and territories. He was also the inaugural chair of the African Network Information Centre, one of five regional bodies worldwide responsible for registering Internet addresses, serving for a decade beginning in 1995. In addition, in 2000 he established the African Network Operators Group (AfNOG), an organization that connects network engineers and technical experts and offers training programs to better their skills. To date, AfNOG has helped more than 8,000 workers in 45 African nations. "I'm happy that there are many young people coming into the profession," he says. "I think it's the young ones who are going to make a difference."
In 2007 the international Internet Society awarded Quaynor its prestigious Jonathan B. Postel Service Award for his work. He was inducted into the Internet Hall of Fame, too, noting in his 2013 acceptance speech that "enabling people from developing countries to have the chance to benefit from the Internet is still very relevant." Though the number of Africans using the Internet has increased in recent years, it's still far below the rest of the world because of educational and economic barriers. Only 29 percent of Africa's population was active online last year, compared to the global average of more than 50 percent. "There is a technology gap and we have to admit it," says Quaynor. "We have a long way to go, but the good thing is we have pieces of the puzzle being put in place."