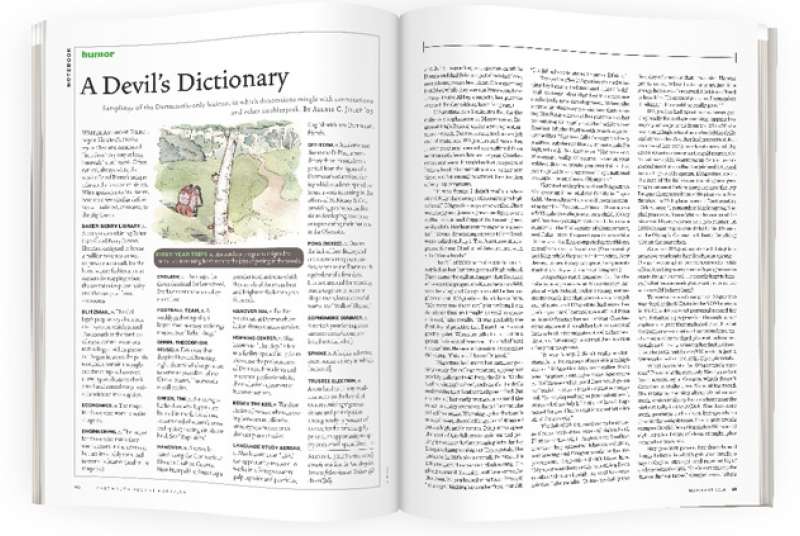 A Devil's Dictionary
Samplings of the Dartmouth-only lexicon, in which denotations mingle with connotations and other doublespeak.
Writer Ambrose Bierce began The Devil's Dictionary in 1881 and continued "in a desultory way at long intervals" until 1906. Often cynical, always witty, the work offered Bierce's unique take on the lexicon of his era. With apologies to Mr. Bierce, here are a few similar definitions—tailored, of course, to the Big Green.
BAKER-BERRY LIBRARY, n. A complex combining Baker (1928) and Berry (2000) libraries, designed to house 2 million volumes as well as provide a catwalk for the latest winter fashions, quiet corners for napping when the dormitories prove noisy and the campus' finest restrooms.
BLITZMAIL, n. The College's proprietary electronic mail system, which placed Dartmouth at the forefront of 1992 communications technology until its phaseout began in 2010. Its public terminals remain throughout the campus, however, allowing students to check email and spread conjunctivitis without interruption.
ECONOMICS, n. The major for those who want to retire at age 35.
ENGINEERING, n. The major for those who think they want careers in the sciences, but are inevitably recruited to work in finance (and retire at age 35).
ENGLISH, n. The major for those destined for law school, Starbucks or the unemployment line.
FIRST-YEAR TRIPS, n. An outdoor program designed to introduce incoming freshmen to the joys of peeing in the woods.
FOOTBALL TEAM, n. A weekly gathering of 98 larger-than-average sociology majors. See "Rebuilding."
GEISEL, THEODOR (DR. SEUSS), n. Evidence that despite Harvard boasting eight alumni who've gone on to serve as president of the United States, Dartmouth is still cooler.
GREEN, THE, n. A rectangular field on which pyres are burned in the fall, idols are constructed of winter's snow and spring mating rituals are held. See "Paganism."
HANOVER, n. A town located along the Connecticut River in Grafton County, New Hampshire, featuring a premier institution to which thousands of America's best and brightest flock each year: Stinson's.
HANOVER INN, n. Further proof that, at Dartmouth, tradition always trumps comfort.
HOPKINS CENTER, n. Also known as "The Hop," a fine arts facility opened in 1962 to showcase the performances of Dartmouth students and renowned professionals for the exclusive enjoyment of Hanover retirees.
KEGGY THE KEG, n. The clear choice of mascot when choosing between an offensive stereotype, a moose or an abstract plane of color.
LANGUAGE STUDY ABROAD, n. Also known as an "LSA," the opportunity to spend 10 weeks in a foreign country gulping wine and practicing English with new Dartmouth friends.
OFF-TERM, n. Implemented due to the D-Plan, a mandatory three-month break period from the rigors of a Dartmouth education, during which students spend 70 hours a week interning in the offices of McKinsey & Co., providing pro bono medical aid to developing countries or representing their nations in the Olympics.
PONG (mixed), n. Due to the lack of fine dining and entertainment opportunities, serves as the Dartmouth equivalent of a first date. It is not unusual for winning teams to go on to become life partners; less successful teams, see "Walk of Shame."
SOPHOMORE SUMMER, n. America's premier $14,000 summer camp (room and board not included).
SPHINX, n. A highly selective, secret senior society in which [redacted].
TRUSTEE ELECTION, n. A vote held to fill any available seats on the board of trustees, raising vigorous debate and participation among nearly 15 percent of alumni; for the remaining 85 percent, an opportunity to apply one's email spam filter.
Alexis C. Jolly writes mostly comedy and lives in Los Angeles. You can follow him on Twitter @AlexisCJolly.