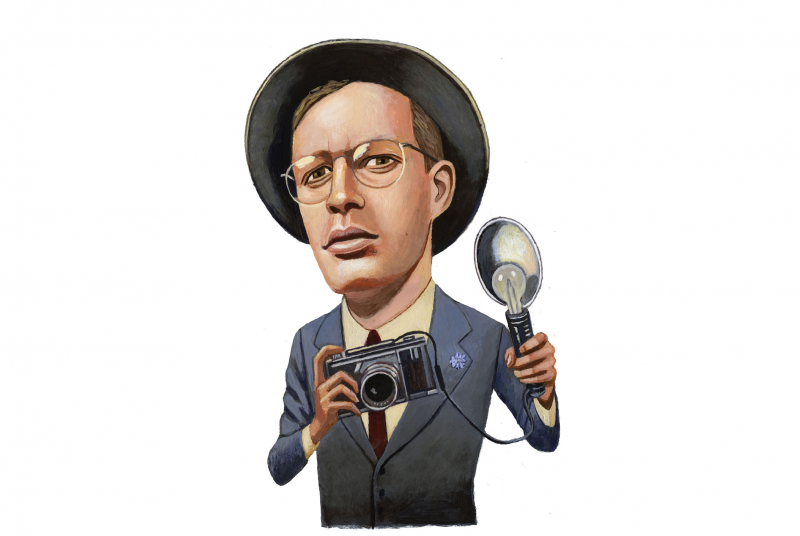 A Photographer's Life and Times
David E. Scherman '36 (1916-97) helped sink a German warship with a handy tube of toothpaste.
Good Company
Following graduation, Scherman immediately bought a Leica camera, took some shots of Manhattan, and landed a job at Life magazine. His new colleagues included legendary photojournalists Alfred Eisenstaedt and Margaret Bourke-White. Scherman later became the only photographer to become an editor at the magazine.
Photo Finish
En route to Cape Town, South Africa, aboard an Egyptian liner on April 17, 1941, Scherman encountered a passenger who saw "flashing lights winking from a dark hulk" before two loud explosions rocked their boat. A Nazi warship made up to look like a merchant vessel had fired at the liner. From a lifeboat, Scherman photographed the enemy ship, Atlantis, and stashed his film in tubes of toothpaste and shaving cream. The disguised surface raider, which had already sunk 22 ships, transported Scherman and other survivors to Portugal, where the Germans held them for two weeks. The British navy posted his images on all of its ships and seven months later identified and sank Atlantis.
Horrors of War
On assignment during World War II, Scherman covered D-Day and the liberation of Paris. He survived being shot down in an observation plane over Germany and managed to walk away from two small plane crashes. He was also among the first photographers to enter Nuremberg, Dachau, and Berchtesgaden.
Act of Cleansing
Scherman and another photographer found Hitler's hideaway apartment in Berlin on April 30, 1945—the day of the Nazi dictator's suicide—before Allied forces arrived. The shutterbugs took turns shooting each other bathing in the Führer's tub to symbolically wash off the war. Scherman allegedly slept in Hitler's bed.
Controversy ensued.
Depth of Field
Among other subjects, Scherman photographed Ernest Hemingway, Queen Elizabeth, Hitler's burning mountain house known as "the Eagle's Nest," and Gen. Dwight D. Eisenhower.
Extracurriculars
"Dang" Scherman, as he was known to his classmates, served as city editor for The Dartmouth, performed with the Dartmouth Players, and participated on the varsity gymnastics team. He was also "the perfect singing partner," according to a friend. "I find him the same guy essentially," wrote his class secretary in this magazine after 1945. "But now a very busy character and reasonably war-weary."
The Time of Life
"I want you to become an editor and claw your way to the top," Life managing editor Ed Thompson told the photographer in 1953. Scherman remained on staff until the weekly folded in 1972, making him one of the magazine's longest-serving employees. He died of cancer at age 81.