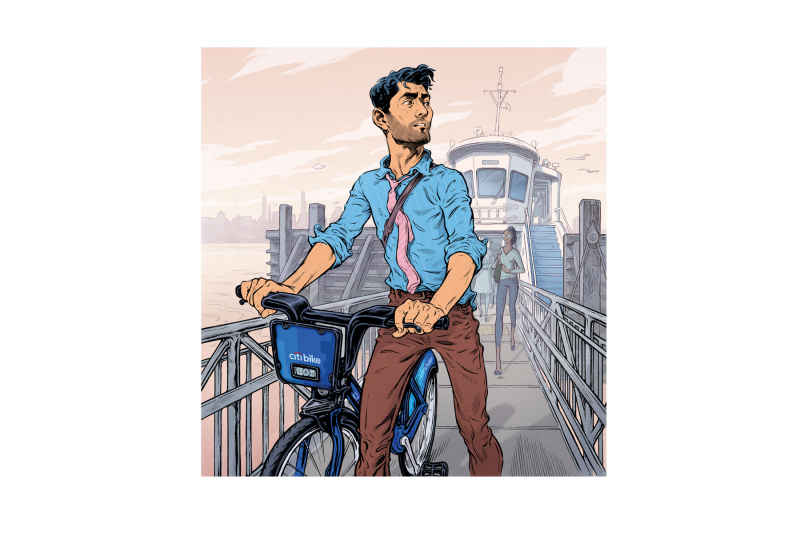 Gear Shift
For Jeffrey Tanenhaus '02, solving a career crisis was as simple as stealing a bicycle.
As Jeffrey Tanenhaus wheeled a Citi Bike onto a ferry boat headed for New Jersey on August 7, 2015, he started to panic.
He had stolen the bike.
A tour guide and event planner, Tanenhaus, then 35, had checked out a Citi Bike, one of New York City's shared road cruisers, but he didn't plan to give it back. Instead of complying with the 45-minute time limit—and the signed agreement to keep the bicycle within the five-borough service area—Tanenhaus planned to ride across the United States. Normally law-abiding and reserved, he was terrified of being arrested on the spot as he crossed the Hudson River. But he was determined to go through with his plan to hitch a trailer to the bank-branded bike and see the country and at the same time flee a career that stressed him out.
"Being a goody-goody ends today. I am breaking bike-share terms of service and crossing state lines with property worth more than $1,000," the geography and government major writes in his recent book, West of Wheeling: How I Quit My Job, Broke the Law & Biked to a Better Life, which chronicles his illicit four-and-a-half-month journey. "Grand larceny is a felony. Consequences are stronger than a B in math."
As it turned out, nobody on the ferry cared that his cargo was illegal, and he walked the bike off the boat and started pedaling. 
The penalty for absconding with a Citi Bike was $1,200 plus New York state sales tax. New York City Bike Share automatically deducted that amount from his bank account when he didn't return the bike within three days. He could have spent less money on a new road bike that weighed half as much and had 20 speeds instead of three. But the clunky blue-and-white Citi Bikes had come to symbolize for Tanenhaus both freedom and reliability—which he says kept him sane while he endured the anxiety and drudgery of his event-planning job.
"It was the same equipment that gave me comfort on my daily commute during a stressful and uncertain time of my career," he tells DAM. "My commutes on the Citi Bike were the only time of the day that I felt in control."
The best parts of his trip were the people he encountered. He used the app Warm Showers, which hooks up long-distance cyclists with places to stay. Many who open their homes to traveling strangers had done what Tanenhaus was doing—left a stressful job in search of a simpler life.
One of his favorite hosts was Beth Godshall, a vegan who lived in Butchertown, a former stockyard neighborhood in Louisville, Kentucky. Godshall's modest home had a vegetable garden and four ducks as pets. She made Tanenhaus garlic bread and took him out for bourbon. Today, the two are still friends. "He was doing a lot of soul seeking and adventure seeking and was very kind," Godshall says. 
Another friend he made on the road was Mark Friis, who hosted him in Redlands, California. The guys bonded over their love of bicycling, and Friis brought Tanenhaus into his middle school classroom to give a presentation about the journey. "I loved that he had the guts to throw everything away and throw caution to the wind," Friis says.
Tanenhaus' favorite part of the country was Missouri, where he rode the flat Katy Trail—a rails-to-trails project in the Midwest—for several days. "I was able to learn about American history on a path that was flat and car-free," he says. 
In the middle of the state, he came across Hermann, a small town full of German immigrants. "There was a winery and brewery," he says. "I camped out in the city park and treated myself to a nice meal at the winery on the hill."
But Tanenhaus also spent many uncomfortable nights along the road, sleeping under a tarp when he couldn't find a host. One day in October he was cycling in Tulsa, Oklahoma, when an angry man in a pickup truck pulled over and screamed at him. The driver then sped off but turned back around, got out of his vehicle, and punched Tanenhaus in the face. The road rager kicked over the Citi Bike and drove off. "I didn't understand what had happened, because I had been treated with such kindness everywhere I had been," Tanenhaus says. "It was out of the blue and completely unprovoked." A motorist who saw the incident drove Tanenhaus to the emergency room, where a doctor stitched him up.
It was late fall by the time Tanenhaus made it to the sparsely populated roads of the Southwest, where he had to weather freezing temperatures, desert rain, and high wind for weeks. He frequently didn't pass another soul for hours and often had to sleep outdoors. But he remained determined to finish the ride and make it to the West Coast. "I couldn't turn back," he says. "I was too far from New York, and there was nothing for me there anymore. I had no job and no apartment. I had to keep going west and hope it got better on the other side of the mountains."
"Rolling into the unknown felt like progress, rather than staying put with a career and city I knew weren't working for me."
As he writes in his book, "Rolling into the unknown felt like progress, rather than staying put with a career and city I knew weren't working for me." After nearly five months and 3,020 miles, he made it to Santa Monica, California.
Tanenhaus fell in love with the country he discovered. "America is quite a hospitable nation, and we are a very generous and trusting people," he says. "I was able to expand my social circle while learning about the country. As a Dartmouth geography major, it all makes sense."
By journey's end Tanenhaus had received so much attention that he was invited to appear on The Late Show with Stephen Colbert. The producers flew him back to New York City to tape the segment, but it never aired.
Ironically, Tanenhaus decided to settle in Tulsa, the city where he had been attacked. He has spent the last few years working on launching a tourism company that offers walking tours focused on the city's architecture, history, and culture. He is also working on a hospitality concept that pairs room rentals for tourists and workers with local cultural experiences. Tanenhaus likes the fact that the urban renaissance elsewhere is far ahead of Tulsa, which he feels needs a fresh start. "Tulsa had the biggest upside in terms of opportunity for me," he says. "I wanted to start my own business, and I saw Tulsa as a blank canvas. This place couldn't get much worse—it can only get better."
And the bike, which he named Countri Bike? He tried to return it, but the ride-share company refused to accept it. Tanenhaus is still a bit salty about how the company treated his experiment. "A word to Citi Bike corporate: Loosen your helmet—it's on too tight," he writes in his book's acknowledgments. Countri Bike still comes in handy, he says: "It makes for a good drying rack for clothes after a workout."                                
Danielle Furfaro is a freelance feature writer and the former transit reporter at The New York Post.