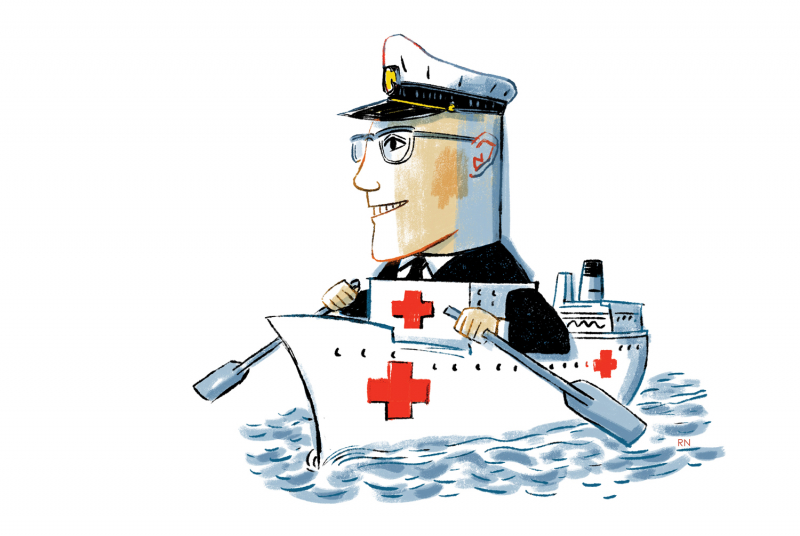 Illustration by Robert Neubecker
Safe Harbor
Naval doctor Charles Eisenberg '02 faced a tough mission when the virus struck.
In April, New York City was the epicenter of Covid-19 in America. As a hospitalist on the USNS Comfort, Cmdr. Eisenberg headed directly into the crisis.
"We felt really special because, as we were pulling into New York, I realized that on multiple different national television channels, we were the story," Eisenberg says. "I was looking at the picture of the ship I was actually on." The Comfort—one of the Navy's two Mercy-class ships, which ordinarily provide on-site emergency care to U.S. combatants during wartime—was originally slated to treat non-Covid patients. That changed, however, because of the overflow of New Yorkers who tested positive in those early days of the pandemic. Eisenberg navigated challenges—from inaccurate test results to a limited number of beds on board. Although armed with a trained team of medical professionals, the Comfort was tight on space for resources, he says. The team coped by setting up a screening area on the pier where his 1,000-bed hospital ship was docked.
"We could use only half of the beds because we were using only the lower racks," Eisenberg says. "We were adjusting the ward configuration of the beds to allow for optimal social distancing and infection-control procedures."
Married and a father, Eisenberg lives in Norfolk, Virginia, and is acting head of cardiology at the Naval Medical Center. An economics major, he says his search for an emotionally fulfilling career prompted him to transition from Wall Street to the military and medicine. He joined the Navy immediately after 9/11. Medicine is not just a career—for him, he says, it is a way to serve. "I was proud that for this medical mission I got to go back and help my people in New York."