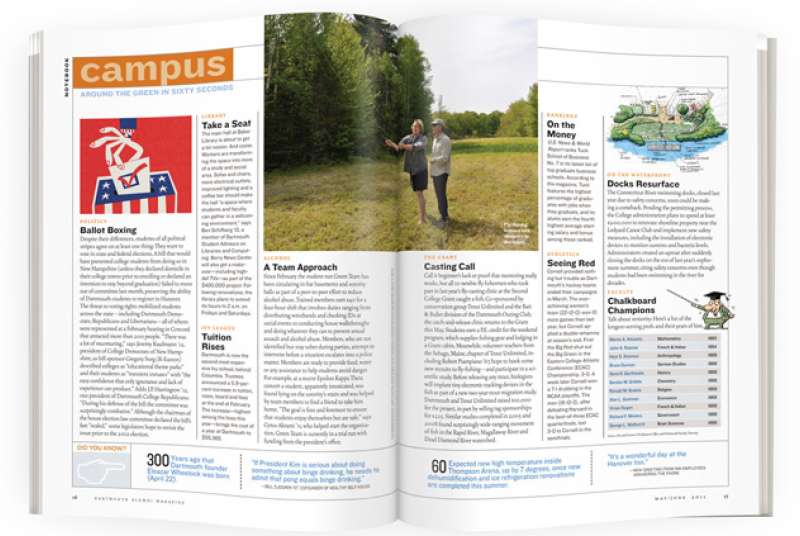 Campus
Around the Green in sixty seconds
Ballot Boxing
Despite their differences, students of all political stripes agree on at least one thing: They want to vote in state and federal elections. A bill that would have prevented college students from doing so in New Hampshire (unless they declared domicile in their college towns prior to enrolling or declared an intention to stay beyond graduation) failed to move out of committee last month, preserving the ability of Dartmouth students to register in Hanover. The threat to voting rights mobilized students across the state—including Dartmouth Democrats, Republicans and Libertarians—all of whom were represented at a February hearing in Concord that attracted more than 200 people. "There was a lot of murmuring," says Jeremy Kaufmann '12, president of College Democrats of New Hampshire, as bill sponsor Gregory Sorg (R-Easton) described colleges as "educational theme parks" and their students as "transient inmates" with "the easy confidence that only ignorance and lack of experience can produce." Adds J.P. Harrington '12, vice president of Dartmouth College Republicans: "During his defense of the bill the committee was surprisingly combative." Although the chairman of the house election law committee declared the bill's fate "sealed," some legislators hope to revisit the issue prior to the 2012 election.
Take a Seat
The main hall at Baker Library is about to get a bit noisier. And cozier. Workers are transforming the space into more of a study and social area. Sofas and chairs, more electrical outlets, improved lighting and a coffee bar should make the hall "a space where students and faculty can gather in a welcoming environment," says Ben Schifberg '13, a member of Dartmouth Student Advisors on Libraries and Computing. Berry News Center will also get a makeover—including high-def TVs—as part of the $400,000 project. Following renovations, the library plans to extend its hours to 2 a.m. on Fridays and Saturdays.
Tuition Rises
Dartmouth is now the second most expensive Ivy school, behind Columbia. Trustees announced a 5.9-percent increase in tuition, room, board and fees at the end of February. The increase—highest among the Ivies this year—brings the cost of a year at Dartmouth to $55,365.
A Team Approach
Since February the student-run Green Team has been circulating in frat basements and sorority halls as part of a peer-to-peer effort to reduce alcohol abuse. Trained members earn $40 for a four-hour shift that involves duties ranging from distributing wristbands and checking IDs at social events to conducting house walkthroughs and doing whatever they can to prevent sexual assault and alcohol abuse. Members, who are not identified but stay sober during parties, attempt to intervene before a situation escalates into a police matter. Members are ready to provide food, water or any assistance to help students avoid danger. For example, at a recent Epsilon Kappa Theta concert a student, apparently intoxicated, was found lying on the sorority's stairs and was helped by team members to find a friend to take him home. "The goal is first and foremost to ensure that students enjoy themselves but are safe," says Cyrus Akrami '11, who helped start the organization. Green Team is currently in a trial run with funding from the president's office.
Casting Call
Call it beginner's luck or proof that mentoring really works, but all 10 newbie fly fishermen who took part in last year's fly-casting clinic at the Second College Grant caught a fish. Co-sponsored by conservation group Trout Unlimited and the Bait & Bullet division of the Dartmouth Outing Club, the catch-and-release clinic returns to the Grant this May. Students earn a P.E. credit for the weekend program, which supplies fishing gear and lodging in a Grant cabin. Meanwhile, volunteer teachers from the Sebago, Maine, chapter of Trout Unlimited, including Robert Piampiano '67, hope to hook some new recruits to fly-fishing—and participate in a scientific study. Before releasing any trout, biologists will implant tiny electronic tracking devices in the fish as part of a new two-year trout migration study. Dartmouth and Trout Unlimited raised $10,000 for the project, in part by selling tag sponsorships for $225. Similar studies completed in 2005 and 2008 found surprisingly wide-ranging movement of fish in the Rapid River, Magallaway River and Dead Diamond River watershed.
On the Money
U.S. News & World Report ranks Tuck School of Business No. 7 in its latest list of top graduate business schools. According to the magazine, Tuck features the highest percentage of graduates with jobs when they graduate, and its alums earn the fourth highest average starting salary and bonus among those ranked.
Seeing Red
Cornell provided nothing but trouble as Dartmouth's hockey teams ended their campaigns in March. The over-achieving women's team (22-12-0) won 10 more games than last year, but Cornell applied a double-whammy  at season's end. First the Big Red shut out the Big Green in the Eastern College Athletic Conference (ECAC) Championship, 3-0. A week later Cornell won a 7-1 drubbing in the NCAA playoffs. The men (18-12-3), after defeating Harvard in the best-of-three ECAC quarterfinals, lost 3-0 to Cornell in the semifinals.
Docks Resurface
The Connecticut River swimming docks, closed last year due to safety concerns, soon could be making a comeback. Pending the permitting process, the College administration plans to spend at least $200,000 to renovate shoreline property near the Ledyard Canoe Club and implement new safety measures, including the installation of electronic devices to monitor currents and bacteria levels. Administrators created an uproar after suddenly closing the docks on the eve of last year's sophomore summer, citing safety concerns even though students had been swimming in the river for decades.
Chalkboard Champions
Talk about seniority: Here's a list of the longest-serving profs and their years of hire: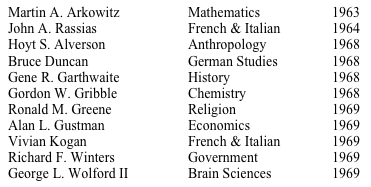 Source: Arts and Sciences Development Office and Dartmouth Faculty Directory