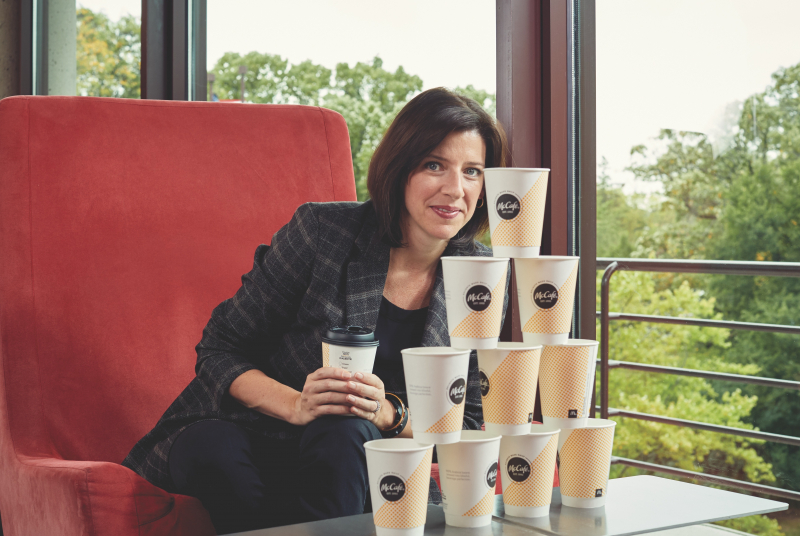 Burger Queen
McDonald's marketer Morgan Flatley '96 seeks the ultimate happy meal.
"Would you like fries with that?" asks Flatley, who is working the drive-through window at a McDonald's in Oak Brook, Illinois. She's not there every day, but often enough to know the job. 
"It gives you an awareness of the consumers coming through," says Flatley, the chief marketing officer (CMO) of McDonald's USA, where she oversees a staff of more than 180 and a marketing budget of $1 billion. "Day laborers. People paying with change they scrounge from the cup-holder. High-end families. It's something I find powerful and exciting about this brand." 
At McDonald's new Chicago headquarters, her marketing team engages in what Flatley calls "consumer obsession." A mother of three, she is immersed in creating the best experience for families. This involves "journey mapping"—examining every interaction point from when customers are greeted until they leave. "Our job is to find the high points and pain points, trying to see how we can help mitigate pain points," she says.
One worrisome area is the drive-through, where wait times are on the rise. The fast-food giant now aggressively employs artificial intelligence and machine learning, which can preselect menu choices presented to consumers based on factors such as weather, traffic, and time of day to shave seconds off interactions and speed up service. For example, cold drinks might be highlighted in hot weather, and if traffic is heavy, food might take prominence because people may be more likely to eat in their cars. One day these technologies may recognize license plates and offer choices based on what people have ordered before.
Flatley's marketing domain includes the culinary team charged with developing new menu items. The well-secured test kitchen resembles a more spacious version of a typical franchise. Members of her team are tweaking a top-secret new McFlurry dessert that will be unveiled in December. Research shows millennials favor between-meal treats, and Flatley says rolling out a new flavor is "a great way to bring consumers back." 
New product development can take 12 to 18 months and involves many layers of testing and sign-off. "You think really hard before you bring something new into the restaurant," she says, recalling her experiences in the drive-through. "The kitchens are already complicated, and it's very humbling to realize how hard the crew is working." 
Flatley came to the Golden Arches in 2017 after nearly 13 years at PepsiCo. Her career began in nonprofit consulting before she joined the advertising firm Saatchi and Saatchi and earned an M.B.A. from Harvard. "I developed this love of the consumer and an appreciation and passion for creativity. That was the beginning of my journey here," she says. 
Adweek named her one of the "30 Most Powerful Women in Sports" in 2016 for her work on Gatorade. Today she is part of a management team that is "significantly outperforming" McDonald's fast-food competitors, according to QSR, a fast-food trade publication. 
One competitive advantage is Happy Meals, which have strengthened parents' loyalty to McDonald's for 40 years. Flatley spearheaded a recent innovation in the kid-pleasing treats when the toys got nixed for a limited-time U.S. book promotion, Discover Space with Snoopy: In Cooperation with NASA.
"I think about the power of our scale: 14 thousand restaurants, 25 million customers a day. How can I use that scale to leave the world a better place?" the CMO asks. "Whether it's kids and vegetables, nutrition, books—I want to have a better impact on the world for future generations."