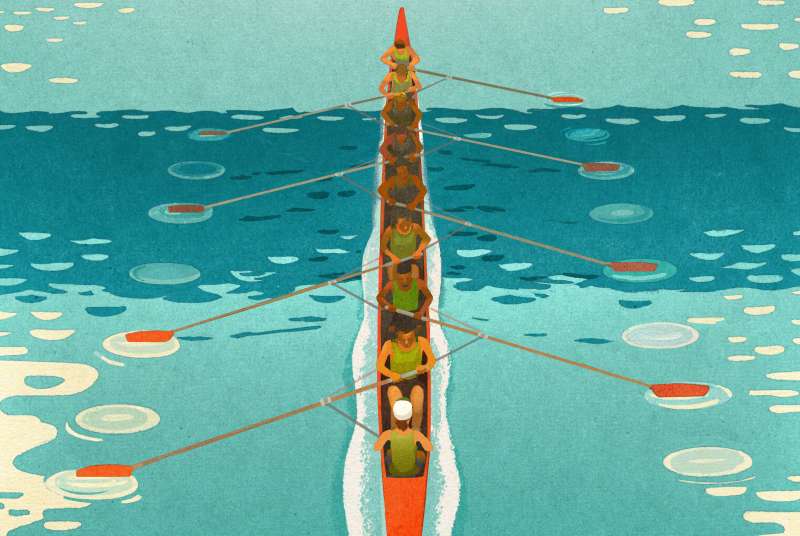 Illustration by Mick Wiggins
Buddha on the Water
A crew coach's quiet confidence enlightens a novice rower.
When I came to Dartmouth, I was 17 and had never excelled in sports. In high school I'd been the kid nobody wanted on their team because I was clumsy. Now I wanted to pursue athletics in a serious way. I'd heard that rowing and rugby welcomed newcomers. I intended to try both.
I went to the rowing club's introductory meeting at Zimmerman gym. I milled around with other freshmen waiting for the team's new coach, Scott Armstrong, to show up and convince curious would-be beginners to take up an oar.
One of my fellow freshmen—or so I thought—stepped forward and introduced himself as our coach. Tall and lanky, he had short blond hair and a boyish face, and he wore jeans and a T-shirt like everyone else. Though he was only 24, he spoke with an enthusiastic authority that captivated me. He said he had never rowed before college. But with hard work, he had won a seat on the varsity team at Brown, which beat Harvard and Yale at a big race called the Eastern Sprints. Only a back injury kept him off the U.S. Olympic team.
"If you really believe you can do it, and if you work really hard, you can win all your races and compete for your country," he told us. Many years later I read a saying attributed to Buddha: "When the student is ready, the teacher appears." I know teachers don't appear out of thin air, but as Coach Armstrong spoke, I felt he was speaking directly to me. Everything in the room but his voice faded out. I was hooked. I didn't bother going out for rugby.
Unfortunately, my confidence was unrelated to underlying facts. At 6 feet, I was shorter than most elite rowers, but I didn't know that. I didn't know the difference between port and starboard or anything about poor techniques such as "a drunken octopus" or "catching a crab." When I first heard the word "cox," I thought it was part of a dirty joke.
Our coach had never coached, and six of us were walk-ons who had never rowed. Dartmouth had never won any rowing championships. Ever. On top of that, unlike the waters where Harvard and Yale trained, ice covered the Connecticut River near Hanover all winter.
But we believed deeply and trained hard. At our meet against Yale, Armstrong gave us a barn-burning pep talk that fired me up so much I could barely think straight. We burst ahead at the start.
"Drive!" our coxswain shouted as we pulled the oars as fast as we could. After a minute, we had the lead. Then the Yale eight, who had paced themselves better (and had more experienced rowers and no frozen river), glided past us. I felt crushed. To further grind our egos, we had to give the Elis our shirts, wet with the sweat of defeat. This ritual piled humiliation on top of devastation.
"You need to pull harder than the other team and believe you can do it."
After a few days Armstrong helped us regain our confidence. "You need to pull harder than the other team and believe you can do it," he said. And so once again we believed. We worked harder. We wanted it more. Our next race was against Boston University. This time we started even faster. I'm sure I didn't breathe for the first 20 strokes. Halfway through the race the more experienced BU shell slid past us.
Afterward, someone suggested we should have paced ourselves better. I angrily disagreed. Pacing? What's pacing? My false and naive theory, which Armstrong opposed, was that we had to expend every atom of energy during the race and push ourselves so hard we passed out or at least threw up at the end of the race.
In spite of my passion, we won only one  race that season. We didn't even make the final of the Eastern Sprints, which I now understood were the rowing championships of the Eastern Association of Rowing Colleges.
The same dismal pattern repeated itself my sophomore year. And junior year. Head down, I visited Armstrong to tell him I wanted to quit. I had lost my belief that rowing was taking me or the team anywhere.
I was surprised when he tried to stop me. I had suspected—wrongly, as it turned out—that after so many defeats he, too, had lost faith in the team and me. Also, truth be told, I had not been the easiest guy to coach or row with. I was bull-headed. I griped to others about our failures. Yet once again Armstrong told me and the team, "If you really believe you can do it, and you work really hard, you can do it. You can win all your races—and the Eastern Sprints."
Instead of quitting, I doubled down. Over the summer I trained so hard I was too tired to be obstinate. The demanding bouts on the water taught me pacing. I became quieter and calmer and a better team player. I still believed everything Armstrong said, but now my faith in him had matured. I finally understood what he'd been trying to tell me. At last I truly believed.
I brought what I learned—and my hard-won confidence—to Dartmouth my senior year, where I was happy to find I wasn't the only one who had been inspired to train harder. A core group of us had gone on individual missions that summer. That year we lost only one race and won the gold medal at the esteemed Eastern Sprints, a victory that shocked the rowing world. No other crew with so many walk-ons has won since then. Three of my teammates and I then competed internationally.
Sometimes solutions to complex problems are best solved when boiled down to things as simple as Armstrong's message: "Believe in yourself and pull harder." At several crucial moments in my life I've called him to ask for advice. The last time was three years ago when I was beginning to write about my research for a wider audience. I worried whether anyone would like what I planned to do.
Armstrong didn't know about academic careers, but he knew I could transcend my fears to focus constructively on what was important. "What you are doing is important," he said. "Especially now with the growing obesity and healthcare crises. Believe in yourself, and go for it."                 
Jeremy Howick is director of the Oxford Empathy Programme and the author of Doctor You: Introducing the Hard Science of Self-Healing.