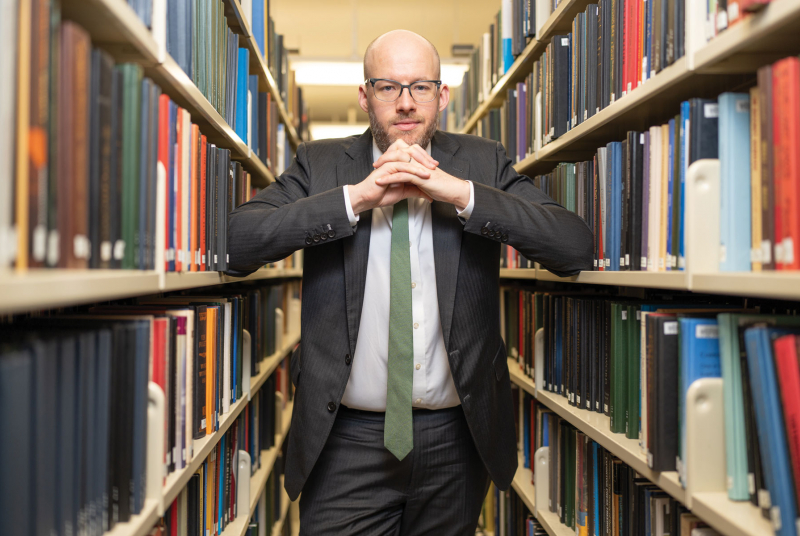 Public Domain
New director Brent Reidy '05 focuses on library's future.
In his new position, Reidy oversees the four research centers of the New York Public Library (NYPL), which hold 55 million items ranging from Shakespeare folios to the newly acquired archives of Joan Didion and John Gregory Dunne. How to preserve the library's treasures for the future—including recordings of performances on formats that won't be around forever and documents that were never on paper in the first place—keeps him up at night. "How many kinds of software do we need to maintain 'backwards' compatibility for generations to come?" he wonders. "There's a profound humility that comes with the responsibilities we face." 
Drawn to Dartmouth's bucolic setting and emphasis on undergraduates, Reidy planned to focus on math and mechanical engineering. After he played several of his piano compositions for Jon Appleton, the impressed music professor asked Reidy what he wanted to do with his life. "I don't think I'd ever asked myself that question," says Reidy, who declared his music major that day and later earned his doctorate in musicology at Indiana University.
Reidy, who still plays piano, started in 2017 at the NYPL for the Performing Arts at Lincoln Center. He later developed the NYPL's ambitious, ongoing digitization strategy, doubling its digital storage capacity. "Of course, we want people to come to New York City and spend time digging through the boxes," he says. "It's hard to have an online experience that's superlative to that. But the more we can make it possible to have all the information that you need from a distance—that is our dream."
Reidy's push to democratize the library doesn't surprise his mentor and friend, Dartmouth music professor Steve Swayne. "He thinks expansively and leads from a generation that has different ideas of what a library is about," says Swayne.  
Reidy lives in Brooklyn with his wife, Rachel Karpf '07, a theater producer and Paramount's vice president of experiences and live stage. Although they had similar interests and several dozen mutual friends at Dartmouth, they didn't meet until after graduation, when a friend recommended him to replace a last-minute cancellation for a lecture series Karpf ran. "I'm 6-foot-8," Reidy laughs, "so I don't know how we missed each other."