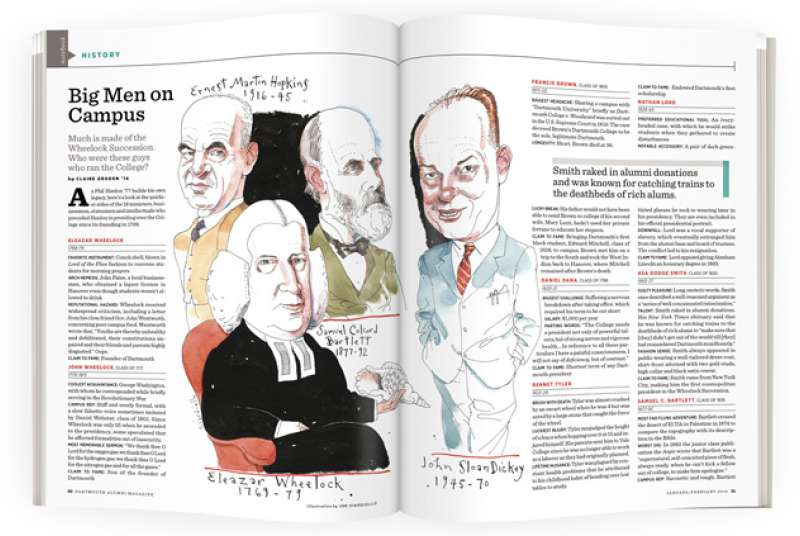 Big Men on Campus
Much is made of the Wheelock Succession. Who were these guys who ran the College?
As Phil Hanlon '77 builds his own legacy, here's a look at the quirkier sides of the 18 ministers, businessmen, statesmen and intellectuals who preceded Hanlon in presiding over the College since its founding in 1769.
Eleazar Wheelock
1769-79
Favorite Instrument: Conch shell, blown in Lord of the Flies fashion to convene students for morning prayers
Arch-nemesis: John Paine, a local businessman, who obtained a liquor license in Hanover even though students weren't allowed to drink
Reputational Hazard: Wheelock received widespread criticism, including a letter from his close friend Gov. John Wentworth, concerning poor campus food. Wentworth wrote that, "Youths are thereby unhealthy and debilitated, their constitutions impaired and their friends and parents highly disgusted." Oops.
Claim to Fame: Founder of Dartmouth
John Wheelock, Class of 1771
1779-1815
Coolest Acquaintance: George Washington, with whom he corresponded while briefly serving in the Revolutionary War
Campus Rep: Stiff and overly formal, with a slow falsetto voice sometimes imitated by Daniel Webster, class of 1801. Since Wheelock was only 25 when he ascended to the presidency, some speculated that he affected formalities out of insecurity.
Most Memorable Sermon: "We thank thee O Lord for the oxygen gas; we thank thee O Lord for the hydrogen gas; we thank thee O Lord for the nitrogen gas and for all the gases."
Claim to Fame: Son of the founder of Dartmouth
Francis Brown, Class of 1805
1815-20
Biggest Headache: Sharing a campus with "Dartmouth University" briefly as Dartmouth College v. Woodward was sorted out in the U.S. Supreme Court in 1819. The case decreed Brown's Dartmouth College to be the sole, legitimate Dartmouth.
Longevity: Short. Brown died at 36.
Lucky Break: His father would not have been able to send Brown to college if his second wife, Mary Lunt, hadn't used her private fortune to educate her stepson.
Claim to Fame: Bringing Dartmouth's first black student, Edward Mitchell, class of 1828, to campus. Brown met him on a trip to the South and took the West Indian back to Hanover, where Mitchell remained after Brown's death.
Daniel Dana, Class of 1788
1820-21
Biggest Challenge: Suffering a nervous breakdown after taking office, which required his term to be cut short
Salary: $1,000 per year
Parting Words: "The College needs a president not only of powerful talents, but of strong nerves and vigorous health….In reference to all these particulars I have a painful consciousness, I will not say of deficiency, but of contrast."
Claim to Fame: Shortest term of any Dartmouth president
Bennet Tyler
1822-28
Brush with Death: Tyler was almost crushed by an oxcart wheel when he was 4 but was saved by a large stone that caught the force of the wheel.
Luckiest Injury: Tyler misjudged the height of a fence when hopping over it at 15 and injured himself. His parents sent him to Yale College since he was no longer able to work as a laborer as they had originally planned.
Lifetime Nuisance: Tyler was plagued by constant health problems that he attributed to his childhood habit of bending over low tables to study.
Claim to Fame: Endowed Dartmouth's first scholarship
Nathan Lord
1828-63
Preferred Educational Tool: An ivory-headed cane, with which he would strike students when they gathered to create disturbances
Notable Accessory: A pair of dark green-tinted glasses he took to wearing later in his presidency. They are even included in his official presidential portrait.
Downfall: Lord was a vocal supporter of slavery, which eventually estranged him from the alumni base and board of trustees. The conflict led to his resignation.
Claim to Fame:  Lord opposed giving Abraham Lincoln an honorary degree in 1863.
Asa Dodge Smith, Class of 1830
1863-77
Guilty Pleasure: Long, esoteric words. Smith once described a well-reasoned argument as a "series of well concatenated ratiocination."
Talent: Smith raked in alumni donations. His New York Times obituary said that he was known for catching trains to the deathbeds of rich alums to "make sure that [they] didn't get out of the world till [they] had remembered Dartmouth munificently."
Fashion Sense: Smith always appeared in public wearing a well-tailored dress-coat, shirt-front adorned with two gold studs, high collar and black satin cravat.
Claim to Fame: Smith came from New York City, making him the first cosmopolitan president in the Wheelock Succession.
Samuel C. Bartlett, Class of 1836
1877-92
Most Far-flung Adventure: Bartlett crossed the desert of El Tih in Palestine in 1874 to compare the topography with its description in the Bible.
Worst Dig: In 1882 the junior class publication the Aegis wrote that Bartlett was a "supernatural, self-conceited piece of flesh, always ready, when he can't kick a fellow out of college, to make him apologize."
Campus Rep: Sarcastic and tough. Bartlett once told students, "Gentlemen, I came here in the capacity of president of Dartmouth College, to take charge of young gentlemen, but if, by any unforeseen circumstance, it becomes necessary for me to assume the management of a menagerie of young monkeys and baboons, I shall be equal to that undertaking also."
Claim to Fame: Bartlett almost lost his job when 44 of the 61 members of the class of 1881 wrote to the board of trustees requesting his firing. Though the board conducted an investigation, he was allowed to remain president for another 11 years.
William Jewett Tucker, Class of 1861
1893-1909
Preferred Method of Travel: The longest and slowest available train routes, which he used for personal time to reflect and think
Brush with the Law: Tucker was put on trial for heresy while serving as a minister at Andover Seminary for publishing a journal that entertained Darwinism and other then-radical ideas. His case wound its way to the Massachusetts Supreme Court, where he was acquitted.
Frat: Psi Upsilon
Claim to Fame: Bringing Dartmouth into the modern world, in part by overseeing an increase of faculty, students and buildings as well as a revamped curriculum
Ernest Fox Nichols
1909-16
Nicest Back-handed Compliment: At his inauguration dinner one speaker, who was upset to see Nichols leave his career in radiation research, said, "There may be, there doubtless are, a thousand men qualified to do thoroughly well what a college president has to do. Where will you find another to measure the pressure of light or determine the heat from the fixed stars?"
Famous Friends: His inauguration was such a major event that guests included Alexander Graham Bell and Woodrow Wilson, among dignitaries, scientists and nearly 100 other college presidents.
Final Appearance: Nichols died when his heart stopped in the middle of a presentation at the National Academy of Sciences. When he paused mid-sentence and slumped over the podium, many in the auditorium thought for a moment that the scientist was just catching his breath.
Claim to Fame: Dartmouth's first president since John Wheelock who was not a member of the clergy
Ernest Martin Hopkins, Class of 1901
1916-45
Campus Misbehavior: As a freshman Hopkins met then-College President Tucker during disciplinary hearings for hazing a fellow freshman. He was caught in the act of submerging the boy's head in a pail of water.
Did Father Know Best? A Harvard graduate, Hopkins' father did not want his son to attend Dartmouth. "As a matter of fact, I don't want to have you go through life feeling you couldn't get into Harvard," he told his son.
Most Tragic Task as President: During Hopkins' presidency nine students died in Theta Chi fraternity due to a carbon monoxide leak. Hopkins personally informed the students' parents.
Claim to Fame: Hopkins was responsible for both the Orozco and Hovey murals, which polarized alumni and earned Hopkins headaches for their controversial imagery. His one piece of advice to his successor: "Well, I don't think I'd have anything to do with murals if I were you."
John Sloan Dickey '29
1945-70
Nervous Habit: Though Dickey quit smoking before his presidency, he still had a habit of holding a cigarette in his hand and mangling it during meetings.
Unusual Injury: Dickey limped onto campus to start his presidency with a torn ligament suffered during a softball game against the British embassy and Canadians. The softball that delivered the injury was thrown by Lester Pearson, who later became prime minister of Canada.
Academic Struggle: Spelling. When Dickey was a student, his English professor, Stearns Morse, told him, "I think you bring the most original system of spelling to Dartmouth that I have ever seen."
Claim to Fame: Converting Dartmouth to a civilian campus after it became a Navy institution during World War II. He re-established the fraternities, student government, The Dartmouth and a nonmilitary curriculum.
John G. Kemeny
1970-81
Mind Mentor: Kemeny was a mathematical assistant to Albert Einstein because, according to Kemeny, "Einstein wasn't very good at math."
Choice Pick-up Line: "Goddamn it!" These were Kemeny's first words to his future wife—a young Smith student. She and her friends were attending a conference at Princeton and arrived at their hosts' house four hours late, much to Kemeny's displeasure.
First Language: Hungarian. Kemeny didn't speak a word of English until he moved to the United States at 13 years old to flee the Holocaust.
Brush with History: Kemeny spent a year working on the Manhattan Project in Los Alamos during his undergraduate years at Princeton.
Claims to Fame: Co-invented the BASIC computer language and opened Dartmouth to women
David T. McLaughlin '54, Tu'55
1981-87
Inaugural Trip to Dartmouth: McLaughlin arrived for his freshman year after hitchhiking part of the journey from Michigan.
Campus Affiliations: Phi Beta Kappa, Green Key Society, Casque & Gauntlet
Mentor: McLaughlin developed a close relationship with Dickey, who was president while McLaughlin was an undergrad. "John became almost a surrogate father to some extent while I was a student," McLaughlin said.
Claim to Fame: Gerald Ford, then a Michigan congressman, attempted to recruit McLaughlin to play for the University of Michigan's football team.
James O. Freedman
1987-98
Favorite Authors: Albert Camus, V.S. Naipaul and William Faulkner, among others
Pet Crusade: Fighting intolerance on college campuses, especially anti-Semitism
Biggest Headache: The Dartmouth Review. The student publication once published a cover featuring the Jewish president dressed as Hitler, triggering an emergency faculty meeting in which Freedman unleashed a venomous tirade against the Review. Among other choice words, he called the Review "mean-spirited," "cruel" and "ugly."
Lifelong Struggle: Depression, which caused him to drop out of Harvard Law School and dogged him for the rest of his life
Claim to Fame: Freedman led one of the most comprehensive academic overhauls in Dartmouth history and was credited by The New York Times for making Dartmouth a "haven for intellectuals."
James Wright
1998-2009
Expected Career Path: Wright grew up in the mining town of Galena, Illinois, and joined the Marines after high school to put off what he saw as an inevitable future in the mines.
Most Controversial Act: Less than six months into his tenure, Wright announced the Student Life Initiative, which sought to abolish the Greek system. Campus-wide hubbub, including a 1,000-person protest on the President's House lawn, ensured the initiative's failure.
Regular Good Deed: Wright sent care packages that included maple sugar candy and Robert Frost poems to Dartmouth graduates serving in Iraq and Afghanistan.
Claim to Fame: Perhaps the most widely known president, having taught an estimated 3 to 5 percent of all living alumni when he took office
Jim Yong Kim
2009-12
Current Job: President of the World Bank
Alleged nicknames: "J-to-the-K" and "Stinky Pete," according to 2011 Commencement speaker Conan O'Brien
Childhood Method of Avoiding Bullies: Growing up as one of few Asians in Muscatine, Iowa, Kim and his younger sister were assumed to be skilled in kung fu by the other children.
Brag-worthy Compliment: President Obama said of Kim: "I just found out he is a five handicap in golf. I'm a little resentful."
Claim to Fame: First Asian-American president in the Ivy League                
Claire Groden is a reporter-researcher at the New Republic in Washington, D.C.